You might receive a Stop 0x000000D1 i.e DRIVER_IRQL_NOT_LESS_OR_EQUAL error after you enable an iSCSI Initiator data to digest setting that uses CRC or that uses checksum.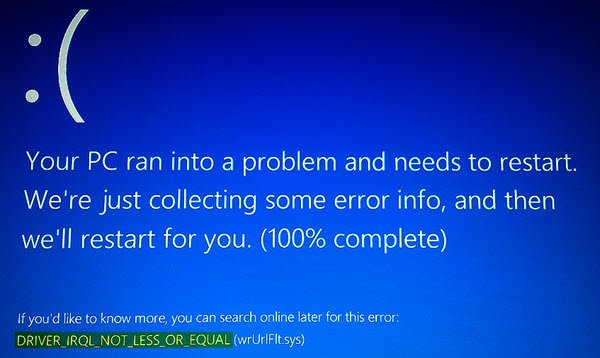 DRIVER_IRQL_NOT_LESS_OR_EQUAL BSOD – iSCSI Initiator
The DRIVER_IRQL_NOT_LESS_OR_EQUAL bug check has a value of 0x000000D1. This indicates that a kernel-mode driver attempted to access pageable memory while the process IRQL that was too high. This error occurs, a driver has tried to access an address that is pageable (or that is completely invalid) while the interrupt request level (IRQL) was too high.
This can happen because the iSCSI Initiator incorrectly processes sensor data from a device after it receives a nonfatal check condition when iSCSI data digest verification is enabled. This issue usually occurs when tape devices or other non-fixed-disk SCSI devices are used.
If you face this issue in Windows 11/10, you may try these suggestions:
Can you boot in Safe Mode? If you can, then it makes things easier. If you have recently installed any driver or software, you can boot Windows 11/10 in Safe mode and troubleshoot. If you had already enabled the F8 key earlier, things are easier as you press F8 while booting, to enter Safe Mode.
If you cannot enter Safe Mode, then you may then have to boot into Windows 11/10 with your Windows Installation Media or Recovery Drive and select Repair your computer to enter Troubleshoot > Advanced Startup Options > Command Prompt. You can now use CMD to run commands. You may use a Windows 11/10 DVD or a bootable USB drive, or you can burn Windows 11/10 ISO to a USB drive using another computer and then use it.
Similar Stop Errors that may help you are:
If you face this issue on Windows 7 then, to correct this issue you could visit KB982674 and request a Hotfix.
Apply this hotfix only to systems that are experiencing the above mentioning problem.
Not all "0x000000D1" Stop Errors are caused by this issue.