If the Dev Error 11557 in Modern Warfare 2 and Warzone 2.0 keeps troubling you, this post may help. This error can occur in many ways, from sudden crashes and freezes to frustrating disruptions during gameplay.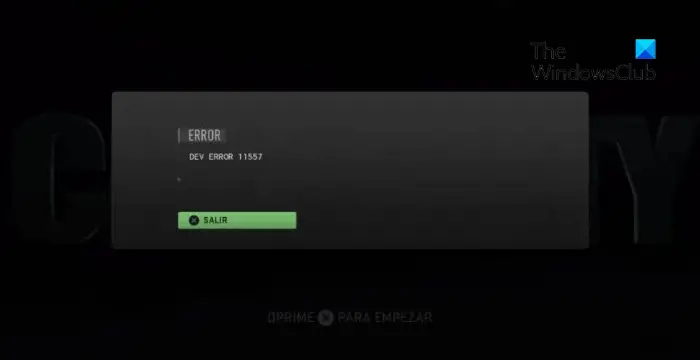 Fix Dev Error 11557 in Modern Warfare 2 and Warzone 2.0
To fix the Dev Error 11557 in Modern Warfare 2 and Warzone 2.0, run the game as an admin and disable overclocking. Other than that, follow these suggestions:
Check System Compatibility
Update Graphics Drivers
Scan the Game Files
Modify In-Game Settings
Disable Overlay
Update DirectX to its latest version
Reinstall the game
Now let's see these in detail.
1] Check System Compatibility
Before starting with different troubleshooting methods, check if your device meets the required specifications to run both games. Here are the recommended requirements:
OS: Windows 10 64 Bit (latest update) or Windows 11 64 Bit (latest update)
CPU: Intel Core i5-6600K / Core i7-4770 or AMD Ryzen 5 1400
RAM: 12 GB
Hi-Rez Assets Cache: Up to 32 GB
Video Card: NVIDIA GeForce GTX 1060, AMD Radeon RX 580, or Intel ARC A770
Video Memory: 4 GB
2] Update Graphics Drivers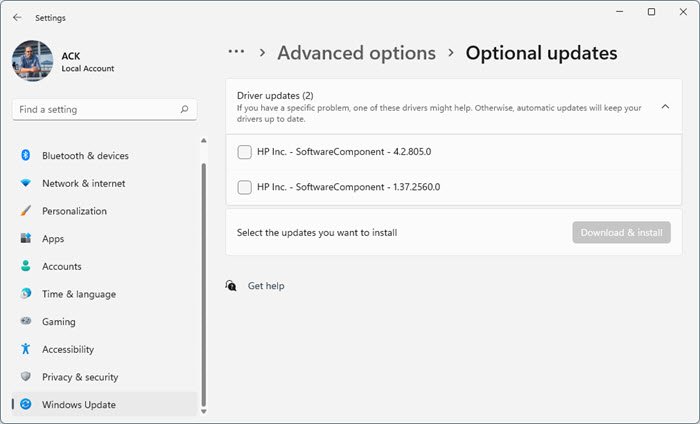 Next, check if the graphics drivers are updated to the latest version. The Dev Error 11557 Modern Warfare 2 and Warzone 2.0 can also occur if the graphics drivers are outdated or corrupted. Here's how to update the graphics drivers:
Press Windows + I to open Settings and navigate to Update & Security > Windows Update.
Click on View optional updates, and a list of available updates will appear; choose the one to install.
You may want to use free Driver Update software. NV Updater and AMD Driver Autodetect will update the graphic card driver if that's the case.
3] Scan the Game Files
The game files can get corrupted due to a bug or recent update. This could also be why the dev error 11557 occurs in CoD Modern Warfare and Warzone. To fix this, Verify the game files of game files on Steam and scan the game files on the Battle.net client.
On Steam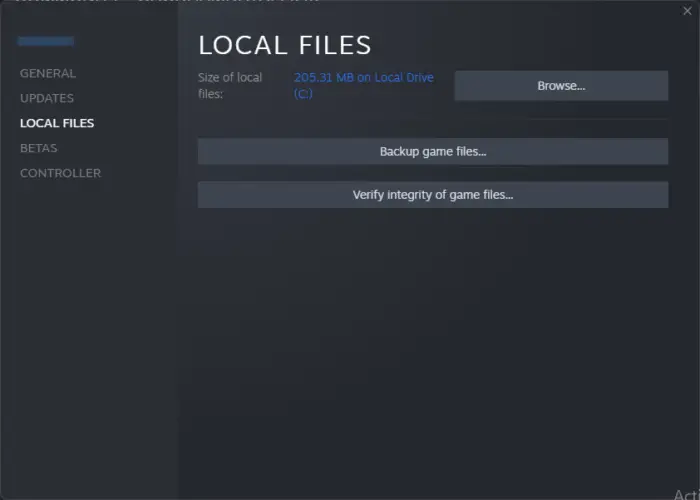 Open Steam and click on Library.
Right-click on CoD Modern Warfare 2/Warzone 2.0 from the list.
Select Properties > Local Files.
Then click on Verify Integrity of Game Files.
On Battle.net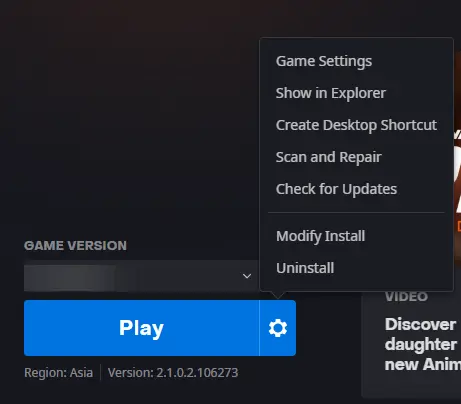 Launch the Battle.net client and click on CoD Modern Warfare 2/Warzone 2.0.
Click on the Gear icon and select Scan and Repair.
Now click on Begin Scan and wait for the process to complete.
Close the Battle.net launcher, and restart your PC once done.
4] Modify In-Game Settings
Misconfigured in-game settings are another reason the Dev Error 11557 occurs in Call of Duty. Modify these settings and see if the error's fixed. The process is almost similar in both games. Here's how:
Launch the game and navigate to Settings > Graphics > Quality > On-Demand Texture Streaming > Show More.
Here, set the allocated texture cache size to minimum.
Next, go to Account > Network settings and turn off Crossplay communications.
Restart the game once done and check if the error's fixed.
5] Disable Overlay
NVIDIA and Steam Overlay offer various tools and features. These include performance metrics, taking screenshots, etc. Turning off this feature can help fix errors with Call of Duty Modern Warfare 2 and Warzone 2.0. Here's how you can disable Overlay in Steam and GeForce Experience.
6] Update DirectX to its latest version
Microsoft DirectX is a collection of application programming interfaces that handle tasks related to game programming and video. If its files are corrupted, various bugs and errors can occur. Here is how you can update DirectX.
7] Reinstall the game
If none of these suggestions helped you consider reinstalling the game. This has been known to help most users fix the error.
Read: Fix Call of Duty Vanguard Server snapshot error
We hope one of these suggestions helps you.
How do I fix Dev Error 11557 Warzone 2?
To fix the error 11557 in Warzone 2, disable overclocking and modify in-game settings. However, if that doesn't help, update the graphics drivers and run the game in clean boot mode.
How to fix the Warzone 2.0 Purchase Modern Warfare 2 to have access error message?
The Purchase Modern Warfare 2 to have access can occur due to a bug or glitch. If you have already purchased the game, and you still see this message, restart the Game/PC and the Router and see. If that doesn't help contact Support.