For those who do not know, Avast Free Antivirus now includes Avast Passwords. If you have encountered the Avast Passwords error code 0x8009000BU on your device when you try to open Avast Passwords, then this post is intended to help you with the most applicable solutions.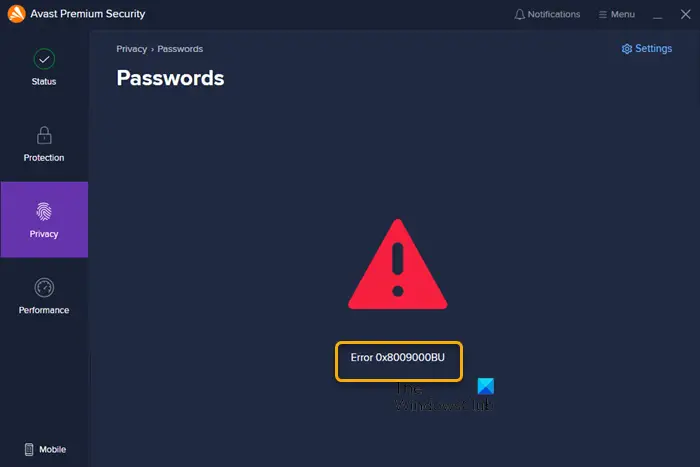 You may encounter this error due to any of the following common reasons;
Conflict with your Windows account.
Unscynchronization between Avast Antivirus and Avast servers.
Restriction from Google accounts related to applications.
Functional issues.
DNS settings.
Firewall restriction.
Avast Passwords error code 0x8009000BU
If error code 0x8009000BU is shown when you try to open Avast Passwords on your Windows 11/10 device, you can try our recommended solutions in the order presented below to see if the issue will be resolved on your system! We suggest you first make sure to restart your PC and check your DNS settings and firewall settings to be sure there are no restrictions whatsoever.
Manually turn on and sync password
Repair Avast
Contact Avast Support
1] Manually turn on and sync password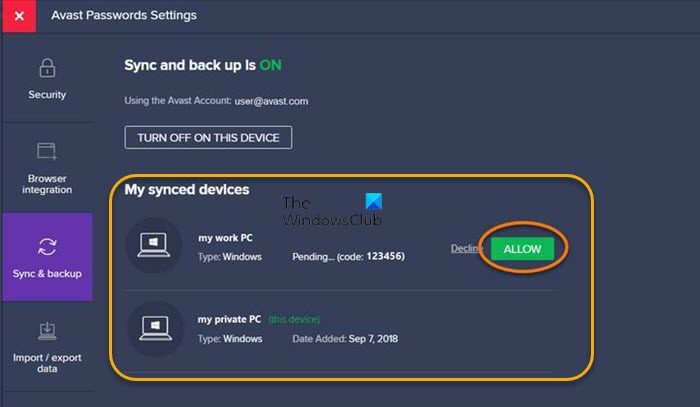 The Avast Passwords error code 0x8009000BU that has occurred on your Windows 11/10 device could be due to a mismatch between the Avast Antivirus and Avast Passwords. In this case, to resolve the issue in hand, you can manually turn on and then re-sync the password.
Do the following:
Launch Avast Antivirus.
Click on Privacy on the left navigation panel.
Select Password from the right side.
Select Settings from the top-right side of the screen.
Now, choose the Sync & Backup option.
Next, click on Turn On.
Log in using your credentials if prompted.
Finally, ensure the system is syncing under the My synced devices.
Read: Avast Core Shields keeps turning off and won't enable
3] Repair Avast
The app might be experiencing a glitch, so to fix general functional issues with the AV program, you can simply repair Avast. You can perform this task in either of 3 ways, using the Avast inbuilt repair function or repair Avast via the Settings app or via Programs and Features applet in Control Panel on your PC.
To repair Avast using the inbuilt function, do the following:
Launch the Avast application.
Click on Action Menu at the top right corner.
Select Settings.
Navigate to the General tab.
Click on Troubleshooting from the list of sub-menu items.
On the right pane, scroll down to the Still having problems section.
Click on the REPAIR APP button.
Click on Yes at the confirmation prompt and wait for the initial scan to complete.
Finally, click on Resolve all on the next screen to fix all the identified potential issues related to Avast.
Restart the computer when done.
To repair Avast via Programs and Features applet in Control Panel on your PC – click Avast Free Antivirus or Avast Premium Security, and select Uninstall, If prompted click Yes on the UAC dialog and then click Repair on the Avast Setup wizard that appears. When done click Restart computer if prompted to immediately re-boot your PC and complete the repair. Otherwise, if a restart is not necessary, click Done.
If the issue persists, try the next solution.
Read: Avast Bank Mode not working or missing on Windows PC
3] Contact Avast Support
If you have recently changed the password for your Windows account, try changing it back to the old password. If this does not resolve the issue, or you have not recently changed your Windows account password, you can contact Avast Support.
Hope this helps!
Related post: Avast Password Manager not working or showing
Why is my Avast Passwords not working?
If Avast Passwords is not working, to fix this issue, one solution is you need to enable the Avast Passwords extension on your browser manually. Open your browser's settings and select the add-ons/extension option. Then look for disabled add-ons/extensions and re-enable Avast Passwords.
You can continue using the free or paid version of Avast Passwords if it is installed on your device. If you have an active Avast Passwords subscription, you can still renew it. If you need to uninstall and reinstall Avast Passwords, we recommend contacting Avast Support first.
How do I reset my Avast authorization password?
To reset Avast Passwords on your Windows 11/10 device, follow these steps:
Open Avast Antivirus and select Privacy > Passwords.
When prompted to enter your Master Password, click Settings in the top right corner of the screen.
Click Reset Avast Passwords and delete my data.
Click Delete to confirm.
Avast Passwords is now reset.