Some users are reporting that after upgrading or updating Windows 11/10, when they boot their system or whenever they try to use a USB dongle that works with Aladdin driver, they encounter the aksdf.sys Blue Screen error and Windows 10 crashes. The aksdf.sys process belongs to a USB dongle driver and if you have any software that uses this driver, the error is likely to occur.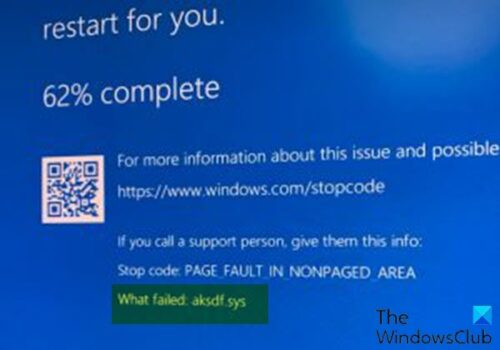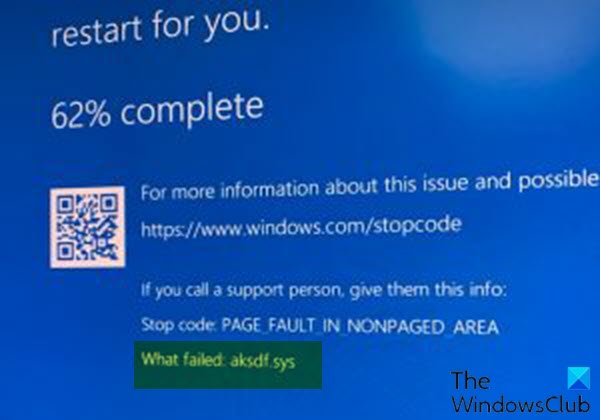 Fix aksdf.sys Blue Screen error
If you're faced with PAGE_FAULT_IN_NONPAGED_AREA (aksdf.sys) stop error, you can try our recommended solutions below in no particular order and see if that helps to resolve the issue.
Uninstall driver via Command Prompt
Update driver
Rollback to previous Windows 10 version
Let's take a look at the description of the process involved concerning each of the listed solutions.
If you can log in normally, good; else you will have to boot into Safe Mode, enter Advanced Startup options screen, or use the Installation Media to boot to be able to carry out these instructions.
1] Uninstall driver via Command Prompt
Hardware Against Software Piracy, aka Aladdin HASP, is a suite of protection and licensing software. It uses two system files aksfridge.sys and aksdf.sys (filter driver to support external devices). These system files have a problem with May 2004 update.
Do the following:
First of all, download the haspdinst zip file. [Link removed as the tool has been taken down].
Once the download is complete, unzip the file to your C: drive.
Now, press Windows key + R to invoke the Run dialog.
In the Run dialog box, type cmd and then press CTRL + SHIFT + ENTER to open Command Prompt in admin/elevated mode.
In the command prompt window, type or copy and paste the command below and hit Enter.
haspdinst.exe -kp -r -fr -v -purge
Once the command executes and uninstalls the driver, try updating your system. The process should be complete without the aksdf.sys Blue Screen error.
2] Update driver
Since the problem is somehow USB dongle driver related, you can try updating the driver to the latest version and see if that helps.
Do the following:
Press Windows key + X to open the Power User Menu.
Press M key on the keyboard to open Device Manager.
On the Device Manager console, locate and expand the device's list to see Sentinel driver.
Once you see it, do a right-click on it and select Update Driver.
Choose Search automatically for drivers from the next window.
Follow the onscreen prompts to complete the driver update.
Alternatively, you may also automatically update your drivers or check with the provider to see if they have any latest patch that can help.
3] Roll back to previous Windows 10 version
If after you have exhausted the above solutions but you're still faced with this BSOD error on Windows 10, you can rollback to the previous version of Windows 10 you upgraded from.
Hope this helps!