Can't watch videos or play audio on Firefox? Animations not working or Pictures not showing? If Firefox Videos, Sound, Pictures, and Animations are not working then this post offers ways to fix the problem. You may need to check your settings as well as the installed plugins and extensions.
Videos, Sound, Pictures, Animations not working in Firefox
We will look into these possible solutions:
Fix video and audio playback problems on Firefox for Windows N version
Fix Media plugins stopped working after Firefox update
Fix: Images not loading in Firefox
Quality of images look bad
Allow Firefox Plugin Container
Enable Flash Player Support
Fix video, audio playback problems on Firefox for Windows N version
Due to strict anti-competitive practices in Europe, Microsoft maintains a dedicated version of Windows "N" for the country. It has everything except for Media player, and any streaming related technology including apps like Skype, Xbox and so on.
If you are using Windows 10 N, you need to download Media Feature Pack for N versions of Windows 10 from the Microsoft site. Additionally, you should download media codecs for playback of media in apps and the browser:
This should resolve most of the problems of video, and audio playback in Firefox. If your problem is particularly with no audio on Youtube with Firefox, check out SoundFixer.
Fix Media plugins stopped working after Firefox update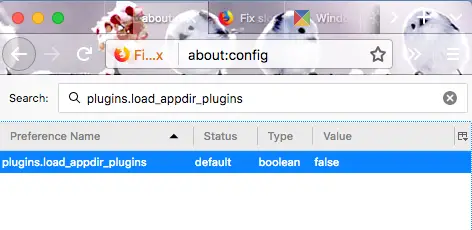 Some media plugins stop working after a Firefox Update as the location where they place their files are no longer supported. If you want them to work, you will need to enable a setting.
Type about:config in the address bar, and hit enter.
Accept the Risk warning that appears.
Next, search for plugins.load_appdir_plugins settings.
Double click to enable it or set it as true.
Restart Firefox.
That said, it's best to find an alternative to such plugins. Most of the popular media player including VLC install codecs which works on browsers as well, and support a wide variety of format.
Fix Images not loading in Firefox
Check image load settings in Firefox
Type about:config in the address bar, hit enter, and accept the Risk warning that appears in the next screen
Search for permissions.default.image.
Right-click, and reset.
If it was set to 2, then it means image download was disabled. While 3 means allowing images loading from the same website, but want to disable 3rd party images.
Check image permissions for a specific website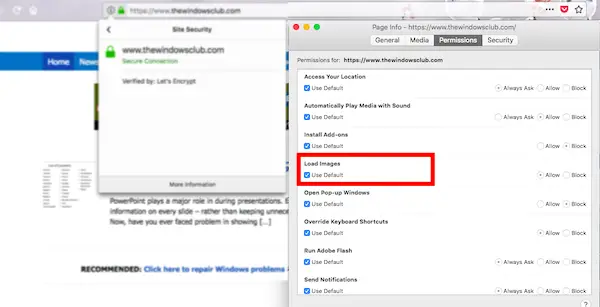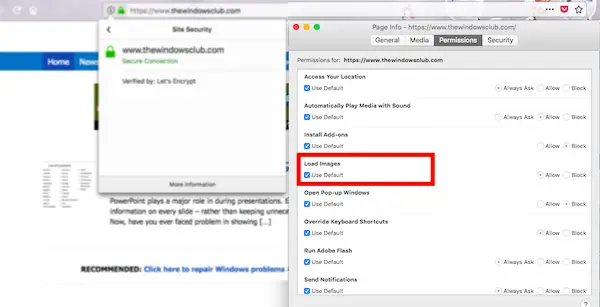 Firefox allows you to prevent images from loading for certain websites to make pages load faster. If you have trouble viewing images for a specific website:
Click the Site Identity Button. It's a small circle with "i" inside it.
Then again click on the arrow button next to secure/insecure status and click on more information.
This will open the Page Info window.
Switch to the Allow next to Load Images permission.
panel, and make sure to set
Close the Page Info window.
Quality of images is bad
This usually happens when you are using internet accelerator software. These software compress images, and hence they all look bad and blurry. Make sure to disable such software.
Nowadays, these features are built into Internet Security software. So if you are using one, check if there is a speed-specific setting that might be the root cause of this problem.
Allow Firefox Plugin Container
Firefox now comes with a plugin container that loads each plugin separately. It allows Firefox to stay open even if the plugin crashes. Since this runs separately, the internet security and Firefox might have this blocked. Check on the blocks, and anything related to Firefox should be set to full access, and allow.
Enable Flash Player Support
Websites still using Flash will prompt you to enable the support when you visit the website. Flash is usually not recommended because of security issues it comes along with it, but if you need to enable it, this is how you do it
Go to Adobe's Flash Player download page and download the Flash installer.
Quit Firefox, and install it.
Start Firefox, and go to Plugins section.
Activate Shockwave Flash for all the time or choose to Ask to activate.
Ask to activate is better as it makes sure no website can download malware on your computer when there a security flaw in Flash.
Last but not least, make sure audio is working on Windows at other places. Sometimes we miss on this check, and a driver issue is what it had been all the way down.
Hope this helps!