It's uncommon, but if you cannot find your files and folders on your Windows 11/10 PC, you should be worried. Usually, it happens because you may have moved to another folder and deleted it. But if that's not the case, it could be because of malware in the folder, and the security software has removed it. In this post, we will check how to resolve the files and folders that suddenly disappear in Windows.
Files and folders suddenly disappeared in Windows 11/10
Follow these methods one by one, and know which one worked for you.
Check Recycle Bin and carry out a Search
Show Hidden files and folders
Check Quarantine Section
Antivirus Configuration
Change Indexing options
Access to Antivirus or security software may need an administrator account.
1]  Check Recycle Bin and carry out a Search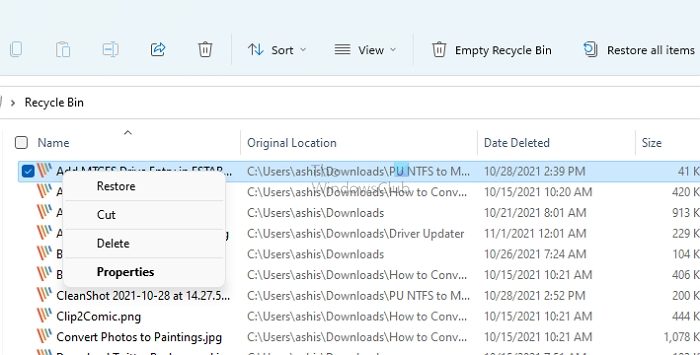 These two should be the first approach to find them if you have accidentally deleted or moved them. Recycle Bin allows you to restore the file almost instantly.  Before restoring it, make sure to note the file's location, which is visible in the list mode.
The second best method is to search for the folder name or file name or the content within the file. Windows search should be able to find it. Once it appears in the result, right-click and open the file location.
2] Show Hidden files and folders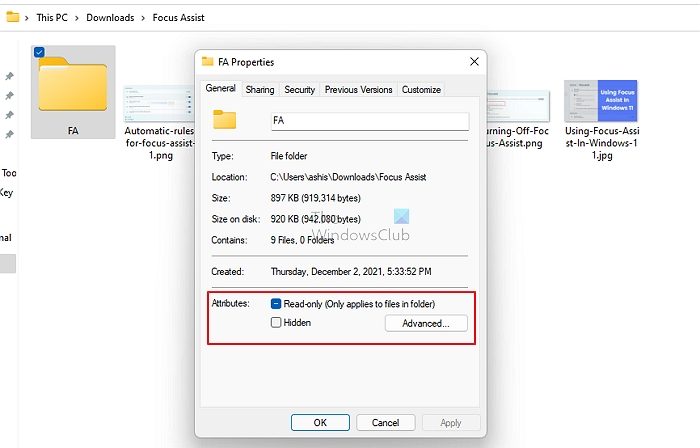 Windows allows you to set a file or folder hidden from the default view. You may have set the missing file or folder as hidden and forgotten.  So the best way to search for them is to enable this view and look for it.
Open File Explorer and click on View > Show > Hidden Items menu. Go to the folder where you expected the file to be, and then check if the folder is visible. If you can find the folder and look a little transparent, you can make it visible.
Right-click on the folder and select properties. In the General tab, under the Attributes section, uncheck the box next to hidden.
3] Check Quarantine Section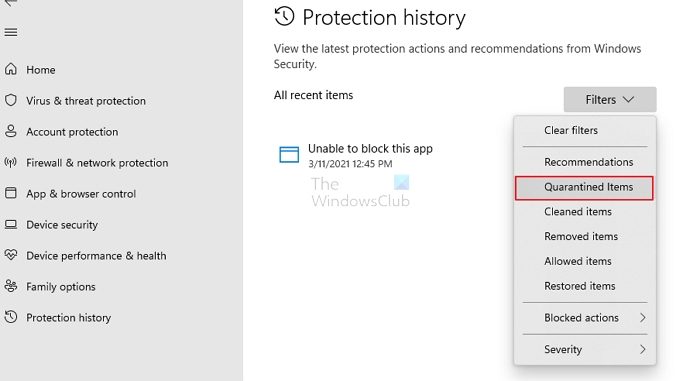 All Antivirus or security solutions block the file or folder if there is a virus or malware inside it. It is possible you may have missed a notification about it. It is usually available in the Quarantine section. You can always restore the file from there and mark them as Restored.
4] Antivirus Configuration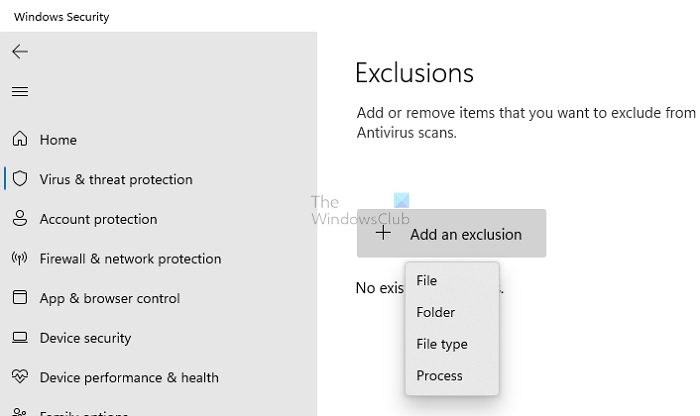 If you are sure that a file or folder and its content are safe, you can add it to the exclusion list. For example, in Windows Security,  Controlled folder access allows adding folders, apps, etc., into the safe list. There is also an exclusions section where you can add a file, folders, file types, and programs.
Read: Exe files getting deleted randomly.
5] Change Indexing options
Windows Search works based on indexing. The search will not be instant unless the folder or file is in the index. Similarly, if the file or folder is removed from indexing, Windows will not find it. To configure it, follow the steps: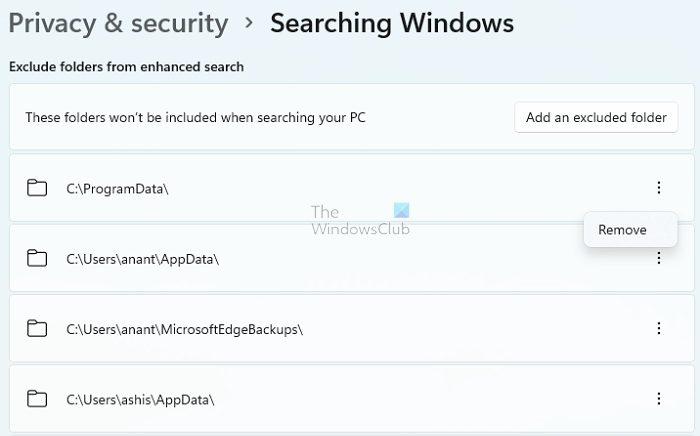 Open Windows Settings (Win + I)
Navigate to Privacy & security > Searching Windows
Check if any of the known folders are under excluded folder list.
If yes, then click on the menu, and then choose to Remove
Wait for some time, and you should be able to find it. If this method doesn't work, you can look at two more settings. Advanced Indexing options and Indexer troubleshooter. Both of them will help you configure advanced options and resolve any issues that could be restricting the search result.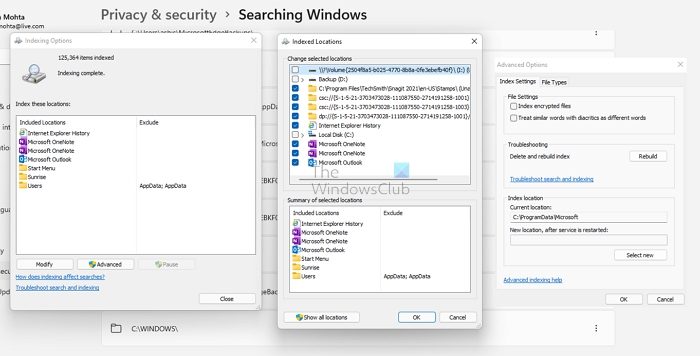 6] Enable Desktop Icons
It is possible to keep icons, files, and folders hidden on the Desktop hidden. If you created the file or folder on Desktop using File Explorer and then looked at it on the Desktop, you may not find it.
Right-click on the Desktop, select View and click on Show desktop icons. Users hide these files as they look very annoying when too many. Also, hidden desktop icons look a lot better when taking a screenshot.
Related: Exe files getting deleted randomly in Windows 11/10.
Can folders simply disappear?
Usually, no, but the search index may be corrupted if you cannot find it. The best way to resolve this is by adding the folder to the index and rebuilding it. Once done, you can search for the file or folder and open it in File Explorer.
How do I recover lost files in Windows 11/10?
If some files are deleted accidentally from your Windows 11/10 system, then you can use some best free data recovery software to get back the deleted files. Recuva, Glarysoft File Recovery Free edition, EaseUS Free Data Recovery Software, etc., are some good options to use. In case you need to recover files lost during the cut-and-paste process, you can either use a system restore point or a file recovery tool.
Hope this will be helpful.