Windows 10 has a beautiful way to organize things. While the tradition of having default folders for documents, music, video and pictures continues in Windows 10/8/7, it also allows you to create Libraries so that you can organize your files without having to actually move them.
File Management Tips for Windows 10
This article offers some useful tips for file management in Windows 10 – including how to access subfolders and contents without opening Windows Explorer.
1: Using Default Folders For Managing Files
When you install Windows 10, it gives you four folders by default:
Documents
Pictures
Music and
Videos
These are also called Libraries, as you can tag and add files to these folders without having to move the files from their original location. For this section, we will focus on actually saving files to these folders.
Since the folders are already renamed in a way that users can recognize the contents of these folders, it is advised that you save your files accordingly. If they are Word documents, you can save them to Documents folder. If you are saving music files, you can put them in the Music folder and so on.
The only drawback of using default folders for file management in Windows is that these folders are particular to each user of the system. This means that if the user profile goes corrupt, you are at risk of losing these files. This also means that you have to make sure you back up these folders before reinstalling Windows 7 or before upgrading from one edition to another.
To overcome problems that come with using default folders in Windows, you can try the following tip.
2: Use A Separate Drive And Create "Organized Structure" For Folders
Personally, I do not recommend storing any kind of data files on system drive other than system and temporary files. For data files that are necessary for you, use a separate drive. This ensures that you still have the files intact in the event of your user profile going corrupt without you backing up the files. In fact, I even store the Outlook PST files to a separate drive so that when I reinstall Microsoft Office, I do not have to miss out on previous emails, contacts, reminders and tasks. I can simply add the PST to my Outlook to get all the emails, contacts, tasks and calender back.
Windows allows you to use up to 255 characters (including spaces and some special characters) to rename files and folders. You can utilize this feature to name your folders clearly – so that a simple glance can tell you about its contents. For example, if you are into business accounting, you can create a master folder named "Accounts". Inside this folder, you create folders indicating fiscal years – e.g.: "2001-2002", "2002-2003" and so on. Inside each of these, you can create folders indicating months: "April", "May", "June" and so on. If you have more than one client, you can further create subfolders where you will store files related to each client. That means that the subfolder "2011-2012" can have a subfolder named "May" wherein there are subfolders indicating your clients: "client1", "client2" and more. Here is an example of structured folder hierarchy.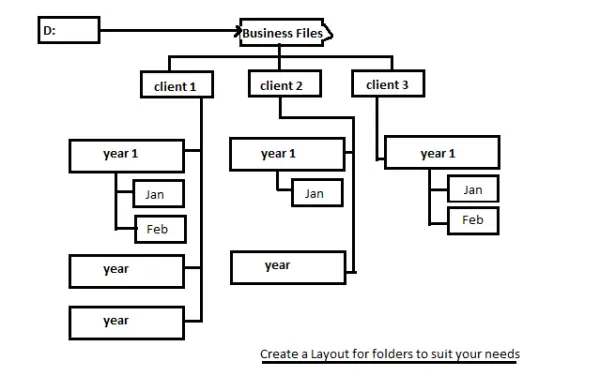 Alternatively, you can create a master system using client names as topmost folders within which, you create folders relating to year and months. This helps you manage your files according to your priority: either by fiscal years or by clients. You can use paper and pen to give a thought to your needs and design a structure before actually implementing on your computer. This will help you reflect better on your file storage and access needs. Give it a try and let us know if it proves to be a better way to manage your files in Windows.
PS: I would also store a copy of this entire folder structure to a cloud-based storage just as a precaution. There may be cases when you cannot access your hard drive or you may have to access those files from somewhere else. In such case, you can access your cloud based copy using a web browser. Microsoft OneDrive provides for synchronization of your local files with its cloud storage and vice versa. You can create a free account and download the desktop client for syncing files from skydrive.live.com. When installing OneDrive sync folder to your hard disk, select a drive that is different from the one containing system files – for reasons same as those mentioned in the first section of this article.
3: Using Libraries For File Management In Windows Efficiently
Libraries allow you to categorize your files. In addition to the four default libraries already mentioned above, you can create as many libraries as you wish. If you wish to save music according to genre, you can create libraries named "pop", "rap", "classical", "reggae" and more. Similarly, if you wish to save documents according to your clients, you can create libraries saying "client1", "client2 "and more. While the folders can be anywhere on the local disk, you can right click on the folder icon and select one of the existing libraries or create a new library to add the folder to. Remember that the libraries will contain only pointers to the original files so in event of deletion of these libraries, you will not lose your files. This image shows you how to go about creating a new library using Windows Explorer.
If you do not wish to add entire folders but only files, open Windows Explorer and right click Libraries in the left pane. In the resulting context menu, select New and then Library to create a new library. You can then drag and drop individual files to the new libraries. For adding many files at once, use SHIFT or CTRL to select more than one file.
4: Use Jump Menus To Access Files
Jump menus contain two types of files – ones that you recently used and ones that you pinned to the Jump menu so that you can access it easily. To open a jump menu related to any application, right click on the application when it is on the taskbar. This may mean you will have to open the application before accessing the Jump menu. When the Jump menu opens, you can see files that you recently used. To pin a related file to the Jump menu, open Windows Explorer and drag the file to the application. When the file icon is placed on the application icon in taskbar, you will get a message in the following format: Pin <file name> to <Application name>. You can then release the file icon to pin it to the Jump menu of that application.
5: Dock Parent Folder To Windows Taskbar
If you regularly use some folders that are contained in another folder, you can dock the parent folder to the Windows taskbar so that you need not open Windows Explorer and navigate to get to your files. For this tip, let us use the above example, where we created a file system based on years, months and then clients.
Right click on any empty space on the Windows taskbar. In the context menu that appears, click Toolbars and then New Toolbar. You will get a Select Folder dialog box. Browse to the parent folder, which in this case is Business. Select the folder and click Choose Folder. Remember to choose the parent folder and not to open it else you will get an error. The parent folder is docked to the Windows 7 taskbar. You can now click on ">>" sign next to this folder name to access its contents (all the sub-folders and files) without having to open Windows Explorer.
Clicking on this folder will show you its content in form of cascading menus. You can browse to any sub-folder to open it and click the file you wish to open. Since the main folder is always visible on the taskbar, it saves you lot of time too. And yes, you can dock entire drive or frequently used folders to the taskbar if you want.
There are many more tips for file management in Windows 10. I have only discussed the main ones that I personally use. If you have any others to share, please do so.
Read next: File Explorer Tips and Tricks.