Quick Access was introduced in Windows 11/10, which enables us to open conveniently the folders which require being frequently accessed. This is pinned on the top of the left navigation pane in File Explorer. When you access certain folders quite frequently, those are automatically listed under Quick Access. In this guide, we will exhibit the steps to Pin Recycle Bin to Quick Access.
Recycle Bin is a very useful folder in Windows, that store files which you delete. As the name itself suggest, it saves you the trouble when you accidentally end up deleting an important file. You can easily restore it from Recycle Bin. If you need to access Recycle Bin, pinning it to Quick Access makes sense.
Pin Recycle Bin to Quick Access in Windows 11/10
To pin the Recycle Bin to Quick Access in Windows 11/10, press Windows Key + E on your keyboard to launch File Explorer.
Now enter shell:desktop in File Explorer address bar and hit enter. It should open up the all the icons, folders, and files that are present on your desktop.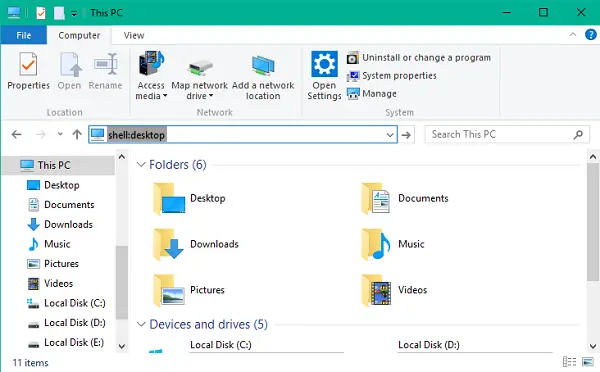 Assuming that you have pinned Recycle Bin to your desktop, double-click on its icon to open Recycle Bin contents.
Navigate to the Home tab and click on the Pin to Quick Access button on far left in the ribbon menu, as shown in the below image.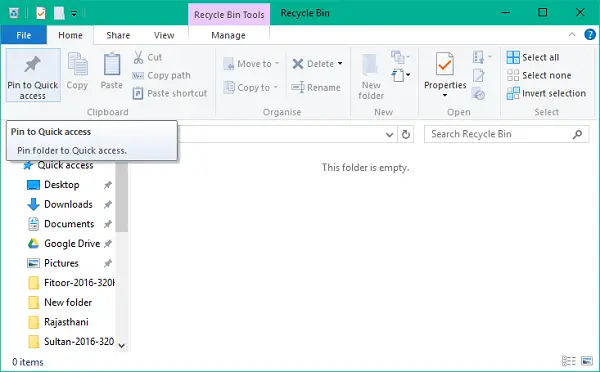 The Recycle Bin will get pinned to your Quick Access items, and now you can quickly access it from the left navigation bar in File Explorer window.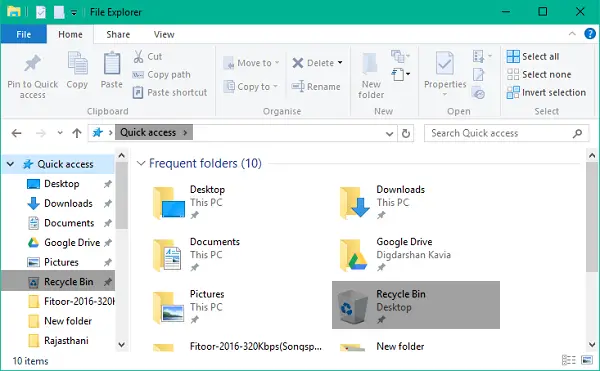 I hope this helps!
NOTE: If you have set File Explorer open to This PC instead of Quick Access, you can also make the Recycle Bin display in the Computer folder.
Do these posts interest you?