If you have deleted all the cache files from your PC and wondering why it didn't make any difference to the storage space, you probably forgot to empty the Recycle bin. Every time we delete any file or folder from our PC, it goes to the Recycle bin and you can restore those files whenever you want.
We often forget about emptying the Recycle bin until it starts occupying too much space, however, there are a few tips that you can use to empty the recycle bin automatically while you sign out on Windows 11/10. This can be especially useful if you tend to delete a lot of files.
How to empty Recycle Bin automatically while signing out
There are two different methods to empty the Recycle Bin automatically while you are signing out for Windows 11/10. Remember that you need to be logged into your PC as the administrator to use these methods.
1] Use a Bat file to empty Recycle Bin while signing out
You can empty the recycle bin automatically by creating a Powershell script in text document format. This script will delete all the items from your recycle bin when you turn off your PC.
To open a text document, right-click anywhere in the black space on your desktop and select New from the context menu, and then select Text Document from the dropdown menu.
It will create a text document file on your desktop. Open it and copy-paste the given code there.
PowerShell.exe -NoProfile -Command Clear-RecycleBin -Confirm:$false
Then save your text file with an extension of .bat, for example, if you are saving it as an empty recycle bin, add .bat after the file name.
Hit Enter and it will be saved as a Windows Batch File on your Desktop.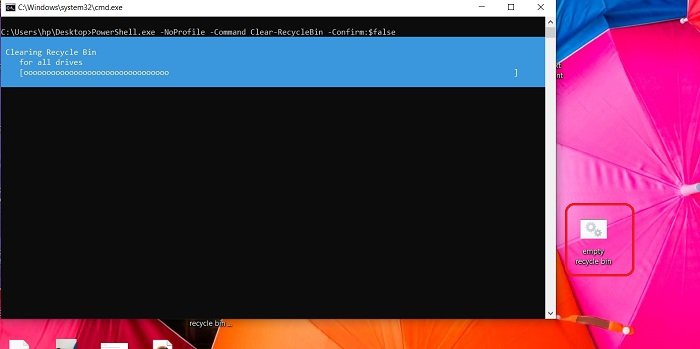 I know we said the recycle bin files will be deleted automatically, but you actually have to run this Windows Batch File to delete them. It's just a single-click process.
Click on the Windows Batch File and the files in your recycle bin will be deleted.
Related: Force Windows to empty Recycle Bins of all Users at the same time.
2] Empty Recycle Bin automatically while signing out using Group Policy Editor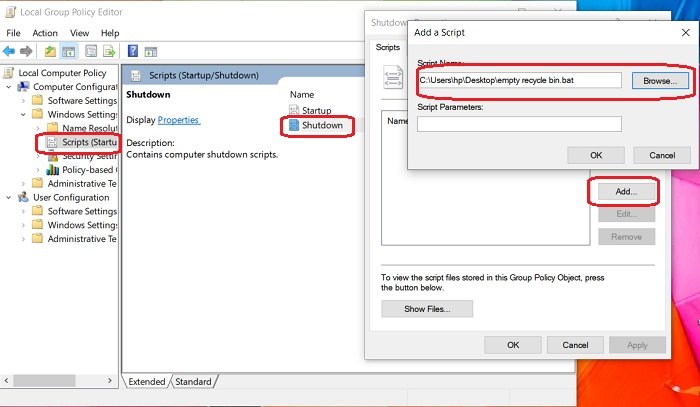 This is a fully automated method to empty the recycle bin when you turn off or sign out of the PC. Using the Group Policy Editor, you can make the process automatic.
To open the Run the dialogue box by pressing Windows Key and R hotkey together.
Type gpedit.msc and hit OK.
Once Group Policy Editor is open, go to:
Computer Configuration > Windows Settings > Scripts > Shutdown
Click on Shutdown and click on Add.
Browse and add the Windows Batch File we created in the above method.
Click OK.
Now, this script is set to run automatically whenever you shut down your PC. Thus, your recycle bin will automatically be emptied when you shut down your PC.
I have tried these methods on my Windows 10 PC and it might not work on the earlier versions of Windows.
Since this method will automatically delete all your files and folders from Recycle bin, make sure you have crossed checked the files in the bin.
3] Storage Sense
The third method is to do it via Storage Sense. You can automatically delete files from the Recycle Bin via Storage Sense.
Windows 11
Follow these steps:
Open Settings by Win + I or from the Start Menu.
Make sure that you are on the System tab and click Storage.
Enable and then select Storage Sense.
You will see Delete files in my recycle bin if they have been there for over
Select the lifespan of your bin files, after which they ought to be deleted by Storage Sense. The options are:

Never
1 day
14 days
30 days
60 days.
Windows 10
Press Win+I to open your PC Settings. Type Storage Sense in the search box and open it. Click on Configure Storage Sense or run it now.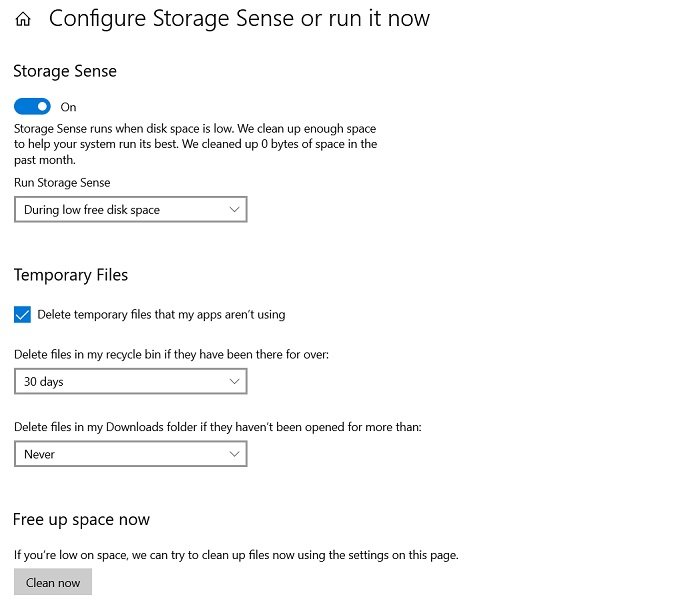 Here you choose and set the time span of the files you want to delete, it could be every day, every week, or month. Or you can set it to delete when the disk running low in space.
Similarly, you can adjust the settings to delete the temporary files on your PC.
You can also free up space instantly by clicking on Clean Now.
If you don't want the files to be deleted automatically or want to delete them manually, make sure you set the settings to Never.
How to remove Recycle Bin icon from Desktop
Run gpedit.msc to open the Local Group Policy Editor. Select User Configuration > Administrative Templates > Double-click Desktop. Now double-click the Remove Recycle Bin icon from the desktop and click on the Setting tab.
Does empty Recycle Bin delete files forever?
Yes, when you empty your recycle bin, the files and folders are not deleted forever. You may need to use a data eraser software to delete the files from the hard disk. To recover files deleted from the Recycle Bin, you need to use a data recovery software – You can use it to restore your data.
Hope this helps.