Using Storage Sense, you can now delete files in Recycle Bin & Downloads folder automatically after 1/14/30/60 days in Windows 10, using Storage Sense to clear up wasted disk space. Most of the people often download lots of files to their computer but forget to delete the unnecessary files. Windows 10 now introduces a feature where you can automatically delete files in Downloads folder & Recycle Bin after a specified number of days.

If you use a file on a daily or even weekly basis, keeping that in your Downloads folder makes sense. However, many PC users often download files but forget about it after some days. The same thing happens with the Recycle Bin as well. Although we delete files from Desktop or other drives but often forget to empty the Recycle Bin.
To get rid of the potential low storage problems, Microsoft earlier included a feature called Storage Sense.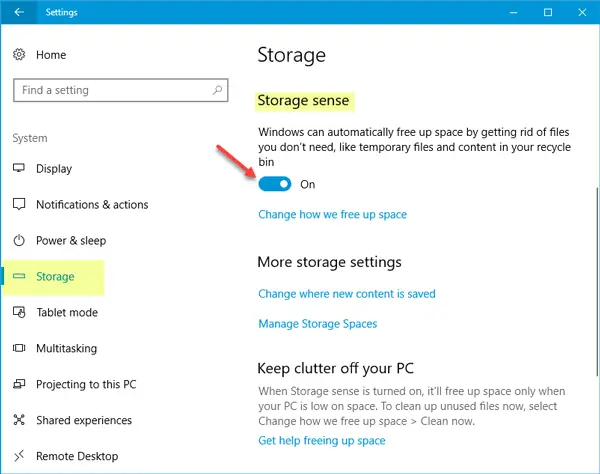 If you download Windows 10 now, you can get even more features alongside Storage Sense. Now you would be able to delete files from Recycle Bin as well as Download folder automatically after a specified number of days.
Windows 11 user? This post will show you how to use Storage Sense in Windows 11 to free up disk space.
Delete files in Downloads folder & Recycle Bin automatically
This feature is included in the Windows Settings panel. Open it by pressing Win+I and go to System > Storage. On your right-hand side, you will find an option called Storage Sense. If this is turned off, toggle the button to turn it on.
At the same place, you will see another option called Change how we free up space. Click on it to set it up. On the next page, you will see three options-
Delete temporary files that my apps aren't using
Delete files that have been in the recycle bin for over 1/14/30/60 days
Delete files in the Downloads folder that haven't changed in 1/14/30/60 days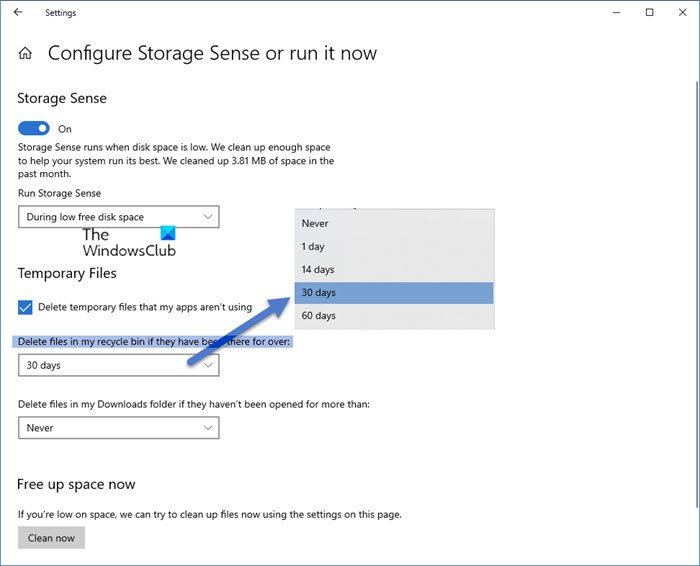 You need to check the 2nd and 3rd options. You can also use all three of them if you want to remove all the temporary files that your apps have used earlier but aren't using anymore.
Do remember to not keep any useful files file in the Download folder as they will get automatically deleted after the specified days henceforth.
Auto Recycle Bin for Windows PC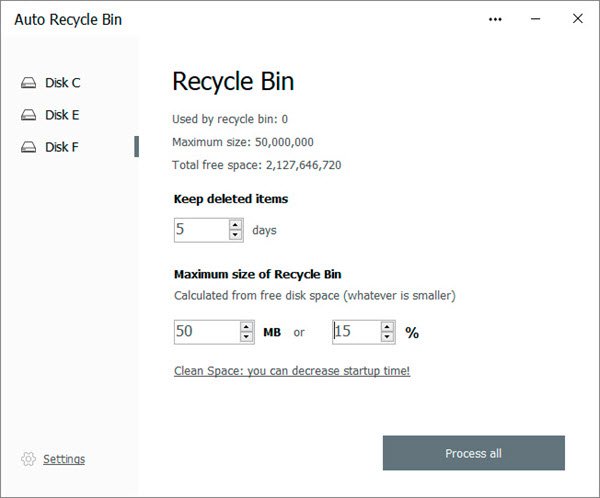 There is a third-party freeware called Auto Recycle Bin that offers more options to automatically empty Recycle Bin in Windows.
It can delete items in the Recycle Bin after a specified period of time, remove large items earlier, and keep small items for a longer time. It also supports multiple disks.
Related: How to empty Recycle Bin automatically while signing out.
Hope this helps!