Missing Recycle Bin issue at times plagues users of Windows 11/10/8/7. At times you may find it missing from your desktop and are left wondering where the Recycle Bin icon has gone and how to get it back. Whatever the case may be, we will show you how to get it back on your desktop.
Can't find Recycle Bin on desktop
The Recycle Bin is one important place to make items ready for deletion. So, it assumes some importance but sometimes it displays erratic behavior. For example, it just disappears. Even Cortana fails to find it. The good part is you can get it back via the following methods.
Where is the Recycle Bin in Windows 11/10?
If you can't find Recycle Bin on desktop, then you have the following options:
Restoring Recycle Bin
Recreate Recycle Bin
Repair Recycle Bin
Ensure that you are not in Table Mode
Let us look at these methods in detail.
1] Restore Recycle Bin
If you've accidentally disabled the Recycle Bin, Windows will fail to show it on your Desktop screen. So, before you try anything odd, make sure it hasn't been disabled accidentally. If it is, do this to fix the issue.
Click the Start button, choose Settings. Select 'Personalization' setting and from the left pane choose Themes.
Then under 'Related Settings' heading, click on the 'Desktop icon settings' link. A list of icons will appear in the 'Desktop Icons' window.
Make sure if the box against 'Recycle Bin' is checked or not. If not, check the box to make it appear on your Desktop screen again.
2] Recreate Recycle Bin
If the above steps fail to restore the Recycle Bin icon, it may have been deleted. So, you'll need to recreate it. Here's what you should do.
Launch Windows File Explorer, select the 'View' tab and choose 'Options' on the right. Click the drop-down arrow and select 'Change folder and search option'.
Next, when the 'Folder Options' window appears on your computer screen, switch to 'View' tab 'Show hidden files, folders and drives' and turn off the box next to 'Hide protected operating system files (Recommended)' before hitting the Apply and O.K. buttons.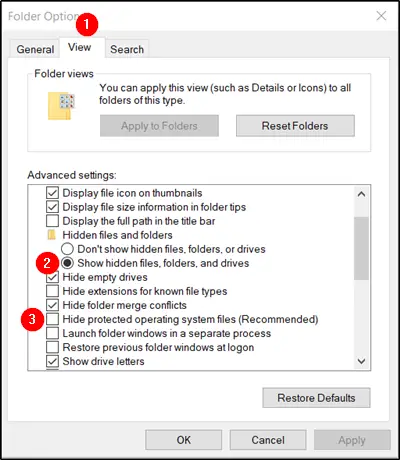 Now, return to File Explorer and click on 'This PC' on the left of the bar, then go to "C:" drive. Here, You'll find right at the top a file named '$Recycle.Bin'.
Access the contents of this folder and you should see the Recycle Bin icon right there at the top.
When seen, right-click the Recycle Bin, hover over 'Send To' and click 'Desktop (create shortcut)'.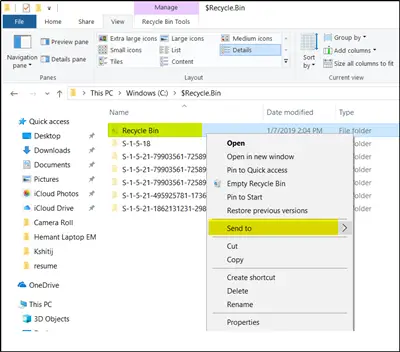 The action when confirmed will recreate the Recycle Bin icon on your Desktop screen. Although this icon appears quite similar to the original one, it differs from its predecessor. How? you won't see it fill up when you add items to it, and you can't empty it by right-clicking the shortcut. However, you can still drag items into it like the normal bin.
When you are ready to empty the contents in the folder, simply double-click the shortcut, right-click the recycle bin in the window that pops up, choose 'Empty Recycle Bin' option.
Once you have your shortcut set up, go ahead and re-activate 'Hide protected operating system files' to keep the important files and folders hidden away.
3] Repair Recycle Bin
You should try this method if the above 2 methods fail to yield the desired results. Sometimes, Recycle Bin is removed from the Desktop screen due to corrupted Windows system files. So, to fix this Follow the steps below and see if it helps to resolve the issue.
Press 'Windows + X' Keys on the keyboard. Right-click on 'Command Prompt' and choose 'Run as administrator'. Click 'Yes' if prompted.
When the command prompt window opens, type in the following commands one by one and then press Enter.
DISM.exe /Online /Cleanup-image /Scanhealth
DISM.exe /online /cleanup-image /restorehealth
sfc /scannow
This should fix the issue.
You could also try to reset a corrupted Recycle Bin.
4] Ensure that you are not in Table Mode
Go to the Start menu, choose Settings and select System setting. Choose Tablet Mode from the left pane of the box and make sure the buttons next to the options below are set to off position.
Hide app icons on the taskbar in tablet mode
Automatically hide the taskbar in tablet mode.
As Windows 11/10 is designed to work on both desktop and mobile devices, it might be possible that your computer has slipped into Tablet Mode, which does not show desktop icons. This is commonly observed in devices working as both, a PC and a tablet.
Hope this helps – but if you need it, then there are more ways to restore accidentally deleted Recycle Bin.