If you are an administrator of a Windows 11 or Windows 10 computer, at times you may want to empty the Recycle Bin of all the Users at the same time, without having to log in to the other user accounts.
To do so, open an elevated command prompt, type the following command and hit Enter.
rd /s c:\$Recycle.Bin
This command will empty the Recycle Bin of all users on C Drive.
Empty Recycle Bins of all Users using Command Line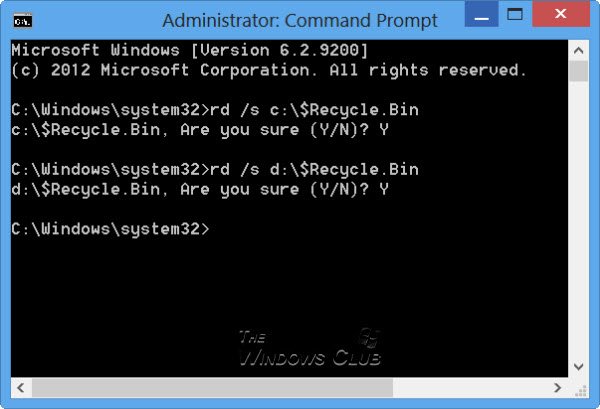 If you have more than one drive on your computer, you will have to run the command for every drive on your computer, as shown above in the image, since each drive keeps its own Recycle Bin.
Be careful in using the correct command, lest you end up deleting the wrong files or directory!
Incidentally, if you are looking for a freeware to manage the Recycle Bins on all your drives, individually, you may check out Karen's Recycler from karenware.com..
This free software lets you view information about each drive's Recycle Bin, including a number of deleted files, space occupied by deleted files, and free space in it.
BinManager is another tool you may want to check out.
If you do not want to clutter up your desktop with a Recycle Bin or pin it to your Start Menu, you could display it in the taskbar or add it to the Notification Area or place it in the Computer folder too.