Despite using a paid subscription for Office 365, many Office 365 users reported seeing advertisements and notifications being displayed in Windows File Explorer. While the advertisements were peculiar to the English version of Office 365, it still covers a huge chunk of the user base.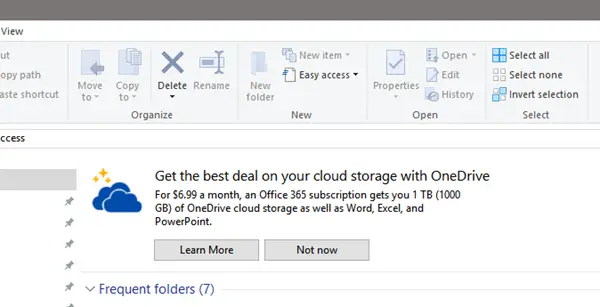 Advertisements are part and parcel of free software & services. But if the software or service is paid, it is considered inappropriate to show advertisements anywhere. However, Microsoft seems to be pushing its products to its existing users. Some users reported that the issue isn't particular to the language of the pack, but the region. It probably doesn't occur with EU users.
Said Microsoft a while back:
As part of an effort to explore new ways of educating our customers on features in Windows 10 – we are testing out new notifications within File Explorer. They're designed to help customers by providing quick, easy information about things they can do or new features they can try to have a better experience with Windows 10.
Some Reddit users have reported seeing such ads. If you are seeing these notifications and would like to disable the ads, here is how you can go about dong it.
Turn off OneDrive ads in Explorer
In the Start Search, type File Explorer Options and click on the result. This will open the File Explorer Options – earlier called Folder Option – settings box. While the cause and specifications are being debated, the workaround would be as follows:
Click on the 'View' tab and then uncheck the 'Show Sync Provider Notifications' checkbox.
Click Apply and restart your File Explorer.
The Explorer ads will stop displaying now.
Turn off Show sync provider notifications via Registry
To disable the Show sync provider notifications settings using Windows Registry, navigate to the following key:
HKEY_CURRENT_USER\SOFTWARE\Microsoft\Windows\CurrentVersion\Explorer\Advanced
Now set the 32-bit DWORD named ShowSyncProviderNotifications to 0 to disable notifications. A value of 1 enables them.
Unfortunately, this is not the first time that ads have appeared. Promotional ads on Windows isn't anything new. Ads have appeared on the Taskbar, the share menu, the lockscreen and the Start Menu as well. Interestingly, when Microsoft was questioned about the same, they called them 'suggestions' not advertisements because the products they are promoting are Microsoft's own.
Turning off notifications is a difficult thing with Windows because all the controls are scattered. The solution provided above would be good enough for the File Explorer, not for ads elsewhere. These posts will show you how to turn off ads elsewhere: