If you need to keep an identical set of files and folders on two different computers or on different disks or in different locations, file and folder synchronization utilities will help you do so easily. They will keep an identical set of working files at two or more locations such as different computers or even online storage. Most of us are aware of Microsoft SyncToy. But if you are looking for third-party freeware, these utilities also keep a record of files you create, modify or delete.
Free File and Folder Sync software
If you do not want to manually backup folders every time, or perhaps transfer files regularly, take a look at our list of file and folder synchronization freeware for Windows 11/10/8/7, for doing the job efficiently and effectively.
FreeFileSync
AllwaySync
SyncBack Free
Synkron
File Synchronizer.
Let us take a look at them in a bit more detail.
1] FreeFileSync
FreeFileSync is an Open-Source folder comparison and synchronization tool that is optimized for the highest performance and usability, without an overloaded user interface. The tool allows comparing files either by content, size, or date. A user has to simply drag and drop folders he wants to compare or synchronize.
The program allows you to sync the folders automatically or just move selected files manually between the folders. It even allows creating your own synchronization rules. Besides this, there are Filters that help users control files that are overwritten, assuring nothing essential gets lost.
Features:
Detection of moved and renamed files
Copy locked files using Windows Volume Shadow Copy Service. (Windows only)
Native 32 and 64 bit builds
Built-in support for very long filenames (more than MAX_PATH = 260 characters).
Support for file sizes larger than 4 GB.
Option to move files to Recycle Bin instead of deleting/overwriting them.
Portable version available (selectable via the installer).
Opt-in for automatic online updates.
Localized versions are available for many languages.
2] AllwaySync
As the name suggests, AllwaySync performs a real all-way file and folder synchronization. The application supports virtually all file systems and does not contain any adware.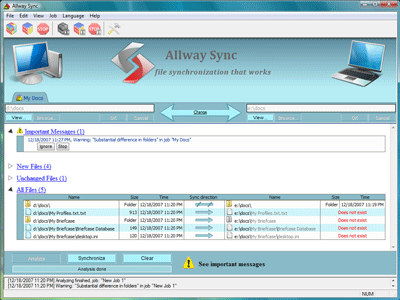 AllwaySync features an easy-to-use interface for Windows that supports more than 30 languages. The implementation of innovative algorithms makes the syncing task much easier. All the file modifications and deletions are tracked in a database. AllwaySync is free for personal use but has certain limitations.
Features:
Flexible configuration and customization
Supports files of any size
Easy-to-use graphical interface
Supports virtually any file system (FAT, NTFS, SAMBA, Netware, X-Drive, CDFS, UDF, and more).
Can be installed on a desktop, laptop, USB stick, external HDD or a U3-enabled device
Capable of synchronizing more than 2 folders
Synchronize data between your desktop PCs and laptops over a network.
3] SyncBack Free
SyncBackFree helps you easily backup and synchronize your files to the same drive, a different drive or medium (CDRW, Compact Flash, etc), an FTP server, a Network, or a Zip archive.
Even if you lose a file it is easy to recover them as the program supports a convenient restore tool that replicates folder trees along with the files in them. SyncBack Free requires no registration and no payments. It's completely free for personal, educational, charity, government, and commercial use.
TIP: Mirror Folders lets you mirror a folder.
4] Synkron
Synkron is a cross-platform application that runs on multiple platforms such as Windows, Mac, and Linux, and helps you keep your files and folders always updated.
The simple Qt application allows you to synchronize multiple folders but before doing it, perform a thorough analysis. It includes plenty of useful features that help configuring synchronization options. It also has the ability to restore overwritten and deleted files.
 Features:
Syncs multiple folders at once
Applies wildcards to sync only the files you want, excludes unwanted files
Restores files if overwritten or deleted in previous syncs
Includes various options that allow configuring synchronization in detail
Cross-platform
5] File Synchronizer
File Synchronizer is a great option for synchronizing large collections of media files such as MP3s, Videos, and much more without copying every file. The application features a 'Clone Mode' that synchronizes a folder to match a master folder, simplifying your work.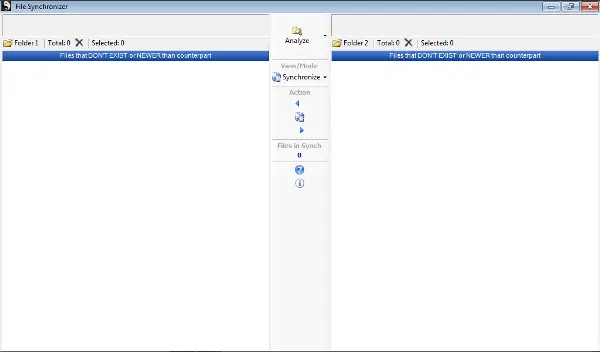 File Synchronizer has the ability to work as a great backup utility. It keeps a backup of only those files that have changed for speedy backups. It also works well with external drives and computers connected over wired or wireless networks.
If you have a folder with plenty of sub-folders and files and if you want to sync it with another folder, maybe even on another drive or an external media, then this freeware will scan both the folders and tell you what's missing were, allowing you to sync the.
It is great for synchronizing large collections of media files such as MP3s, Videos, etc without copying every file. It saves your time by only copying the files that are new or different. You can also use the Clone Mode to synchronize a folder to match a master folder.
Download it here at latshawsystems.com.
PS: Also, take a look at TreeComp, BestSync, and SeaFile.
Let us know if you have any alternative freeware to suggest.