FreeFileSync is an Open-Source folder comparison and synchronization tool for Windows. It is optimized for the highest performance and usability without an overloaded UI interface.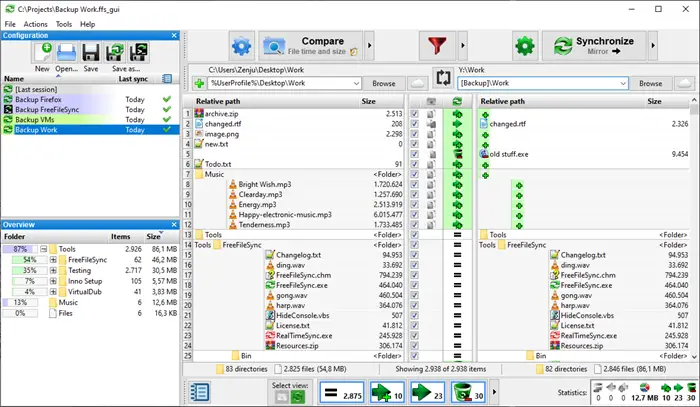 FreeFileSync is a folder comparison and synchronization software that creates and manages backup copies of all your important files. Instead of copying every file every time, FreeFileSync determines the differences between a source and a target folder and transfers only the minimum amount of data needed. FreeFileSync is Open Source software, available for Windows, macOS, and Linux.
Compare & Sync files and folders
FreeFileSync lets you easily compare and synchronize files and folders on your computer.
Features:
Compare files (bytewise or by date) and synchronize them
Handle conflicts and propagate deletions
Volume Shadow Copy Service
Multiple folder pairs
Batch capability
Binary comparison
Optimized performance
Cross-Platform
Synchronization database for the propagation of deleted files and conflict detection
Support for multiple folder pairs with distinct configurations and more.
FreeFileSync download
You can download FreeFileSync from its home page.