This post features solutions to fix Fall Guys error code 200_1040. Fall Guys is a cross-platform multiplayer royale game. In the game, contestants complete escalating rounds of absurd obstacle courses until one winner remains. But recently, many users have been complaining about Fall Guys error code 200_1040. Fortunately, you can follow some simple steps to eliminate this error. The entire error message reads:
EPIC GAMES ACCOUNT ERROR
Session expired, please restart your game. Error Code: 200_1040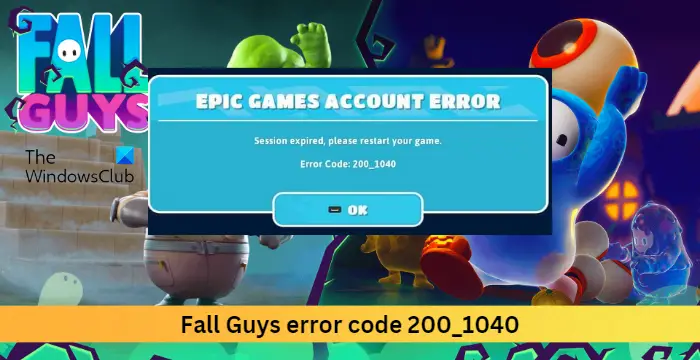 The error code 200_1040 in Fall Guys occurs if the session has expired, or due to an authentication error or network failure.
Fix Fall Guys Error Code 200_1040 on Epic Games Launcher
To fix Fall Guys Error Code 200_1040 on Epic Games Launcher, you need to follow these methods:
Restart PC and try again
Check Fall Guys Server Status
Run Network Adapter Troubleshooter
Run these Network Commands
Modify DNS Settings to Open DNS
Now let us see these in detail.
1] Restart PC and try again
Restart your game or PC as well as your router and try again and see if that helps.
2] Check Fall Guys Server Status
You can also check the Fall Guys server status. It's possible the game servers are under maintenance or facing downtime. You can check the server status on Epic Games Official Website.
3] Run Network Adapter Troubleshooter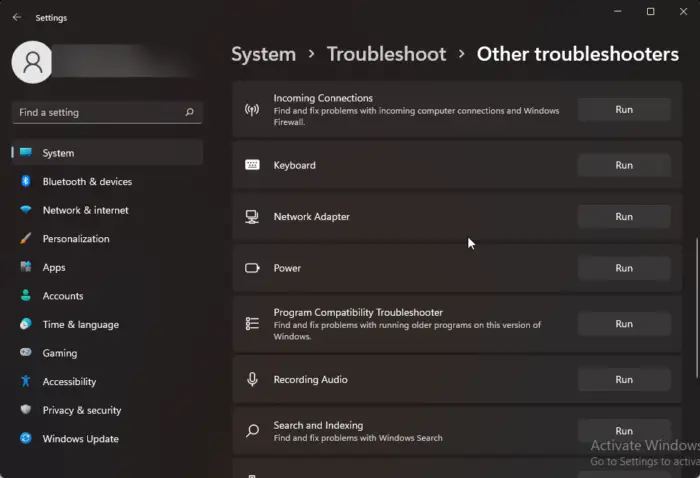 Next, try running Microsoft's Automated Troubleshooting Services as a first step to diagnose and repair common Network issues. Here's how:
Press the Windows key + I to open Settings.
Scroll down and click on Troubleshoot > Other Troubleshooters.
Click on Run beside Network Adapter and follow the instructions on-screen.
4] Run these Network Commands
Running these network commands will reset the TCP/IP stack, renew the IP address, Reset Winsock and flush the DNS client resolver cache. Here's how you can do it:
Press the Windows key, search for Command Prompt, and select Run as Administrator.
Type the following commands one by one and hit Enter.
netsh winsock reset
netsh int ip reset
ipconfig /release
ipconfig /renew
ipconfig /flushdns
Restart your device once done, and check if the Fall Guys error code gets fixed.
5] Modify DNS Settings to OpenDNS

As the error code 200_1040 on Fall Guys is a server-related error, modifying the DNS settings to make your PC use OpenDNS can help fix it. Here's how:
Open Control Panel, navigate to Network and Sharing Center, and click on Change Adapter Settings
Right-click on your Wi-Fi connection and select Properties
Select Internet Protocol Version 4 (TCP/IPv4).
Click on the Properties button and enter the following values:

Preferred DNS server: 208.67.222.222
Alternate DNS server: 208.67.220.220

Click OK and exit.
Hope something helps.
Fix: Epic Games Error Code 200_001 
How do you fix Fall Guys Launch error?
First, check if your PC meets system requirements. Then verify the integrity of your Game files. Sometimes game files can get corrupted due to a bug or a recent update. This could also be the reason why this issue is troubling you.