There are a few issues that a user may face when using Windows Media Creation Tool to install or upgrade their Windows 11/10 OS. This post talks about a particular issue 0x80042405 – 0xA001A that you might face while creating a USB installation media for installing Windows 11/10.
We're not sure what happened, but we're unable to run this tool on your PC, Error code 0x80042405 – 0xA001A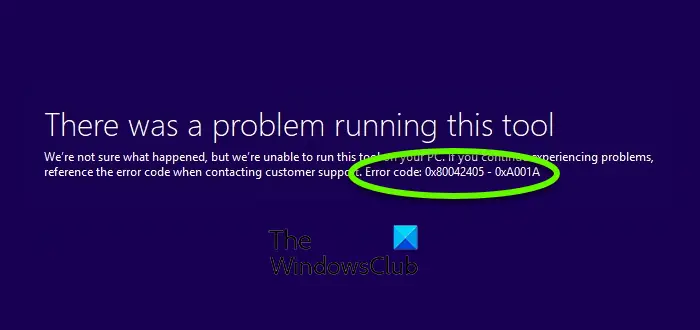 Fix Media Creation Tool error code 0x80042405 – 0xA001A
Windows Media Creation Tool is a great utility for Windows users and it has helped a lot of users install Window on their computers. The issue that we are talking about in this post is the one that you might face while creating a bootable USB installation drive. The error code is 0x80042405 – 0xA001A and is a common error faced by users due to some issues with the USB hardware.
Follow the fixes mentioned in this post to resolve this issue.
1] Format the USB drive and try
Try reformatting the USB drive. Open This PC, right-click your USB drive, and select Format. Select FAT32 as the drive type and uncheck Quick Format option. Now try running the Media Creation Tool again and see if it worked out for you or not. Most probably it should because formatting your drive as FAT32 will give it a proper type and would any minor issues with the drive.
2] Run the tool from inside the drive
If that didn't work out for you, you can try another fix that has been reported working by many users. Follow the first fix and reformat your drive. Now copy the latest version of Media Creation Tool to the USB drive. Now run the tool from inside the drive. This has somehow proven to be a working fix and can get your USB drive up and running with Windows inside it.
3] Disable USB Selective Suspend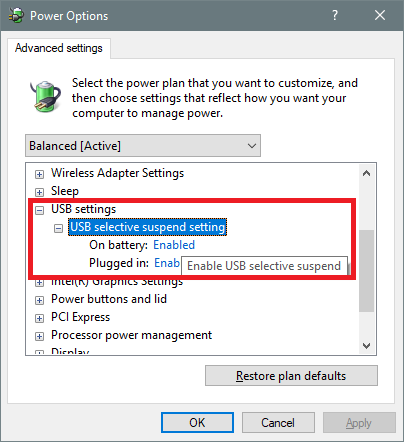 Disable USB Selective Suspend via Power Options and see if that helps you. If it does not, remember to revert the setting.
4] Use a third-party tool
If nothing seems to be working, there is still a workaround. And that is using a third-party tool. But for that, you will need to download the Windows Installation Disc ISO file on your computer. You can download the ISO file using the second option on the Media Creation Tool and later on use that ISO to create a bootable USB. The tools that you can use are Rufus or Universal USB Installer. Both these tools are free to download and very easy to use.

Related read: Windows Media Creation Tool Errors 0x80080005-0x90016, 0x800704dd-0x90016, 0xc1800103-0x90002, 0x80070002-0x20016 or 0x80070456 – 0xA0019.
These were a few fixes that you might want to give a shot. Do comment down if you have any other solution. Also, do not forget to mention which one of the above solutions worked out for you.