If you trying to upgrade to Windows 10 or upgrading to a new update from Microsoft, then there may be occasions where the installation may fail leaving you with error 0x800704B8 – 0x3001A. Microsoft states specific upgrade error codes that start with the digits 0x800 imply general operating system errors. These are not unique to the Windows upgrade process. A few examples include devices not functioning, timeouts, devices not functioning, and a process stopping unexpectedly.
Windows Boot goes through multiple phases which makes sure that your computer is not compromised. If you get a Windows Update Error Code 0x800704B8 – 0x3001A, it means that there is an extended error has occurred during the first boot phase.
If your upgrade process on Windows failed with an error message stating:
Error 0x800704B8 – 0x3001A

The installation failed in the FIRST_BOOT phase with an error during BEGIN_FIRST_BOOT operation.
In this case, use our troubleshooting guide to quickly fix it.
Windows Update error code 0x800704B8 – 0x3001A
Let us understand how to fix the installation failed in the first boot phase error with the help of the below-mentioned solutions.
Check your disk space
Disable/uninstall third-party antivirus applications
Disconnect all external hardware
Perform a clean boot and then try
Search in Log files.
Let's look at all these solutions in more detail.
1] Check your disk space
If you are trying to install Windows in a drive having low disk space, the installation will fail. We must check the free disk space on your hard drive before carrying out the Windows upgrade. There should a minimum of 30 GB of free space available on your system.
You can check the free disk space on your system by following the below steps:
Press 'Win + E' keys to open the File Explorer window.
On the left pane, click on 'This PC' (or < the name of your computer>).
You can now look at the drive you wish to install/upgrade Windows 11/10.
If the drive has a minimum of 30 GB of free space, then it is safe to begin the installation. If the drive is running low at space, you will need to free up some space by deleting or moving some folders.
2] Disable/Uninstall third-party antivirus applications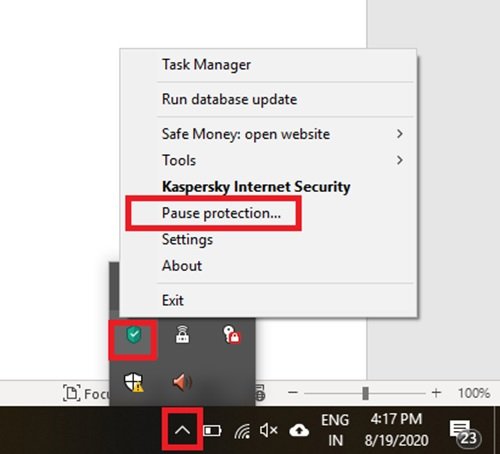 A third-party antivirus software application can be the cause of the error 800704B8 – 0x3001A that you are facing during the installation/upgrade of Windows on your computer system. You should try temporarily disabling the application or completely uninstalling the software. Sometimes, third-party security software may interfere in the process and may cause this error.
You can follow these steps:
Right-click on the Third-Party Antivirus Program icon from the system tray.
From the context menu options, select 'Disable' or 'Pause Protection'.
Now select the time frame for which you want the Antivirus to remain disabled.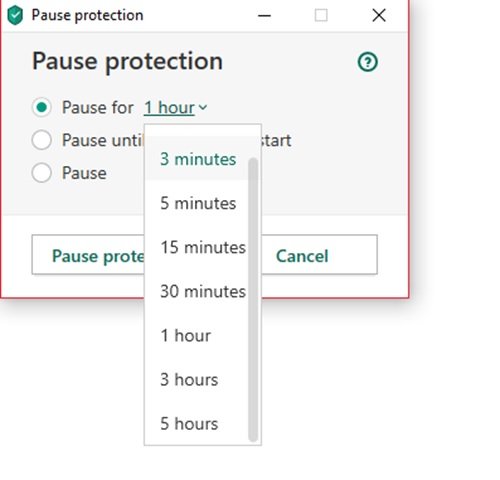 Once successfully disabled, try to carry out the installation process once again and see if the error resolves or not.
3] Disconnect all external hardware
To resolve the error try disconnecting all unnecessary external devices that are connected to your system. Please note this does not include your mouse, keyboard, and display as these are essential for the system.
4] Perform a clean boot
Use the following steps to perform a clean boot in Windows 10.
You will first need to sign into the system as an administrator.
Now, type 'msconfig' in the search box on the taskbar and select System Configuration from the search results.
In the 'System Configuration' window, click on the 'Services' tab, and select 'Hide all Microsoft services.'
Once selected hit 'Disable all'.
Now click on the 'Startup' tab of System Configuration window and select 'Open Task Manager'.
Once the 'Task Manager' window opens, click on every startup item, and then select 'Disable'.
Now, close the 'Task Manager' and select 'OK' on the 'Startup' tab of 'System Configuration'.
Note – If you do not have an administrator account, you will have to create one. Use this guide to create an admin account.
Now when you restart your system, it is in a clean boot state. Now try and see if you meet with success.
5] Search in Log files
Here is another thing you can do, look for Setup Error log files which might be named as "xxxxxxx_APPRAISER_HumanReadable.xml, setuperr.log and setupact.log"
Search in those logs if there are instances of anything related to disk space. It may be similar to "DISKSPACEQUERY: Final disk space needed estimate".
If that's the case, the update needs more space on your hard drive to complete the installation.
Related errors:
That all! We hope you have successfully fixed error 800704B8 – 0x3001A.