Some users encountered error code 0x80070008 while trying to update the Windows operating system to the latest version. There are many reasons for this issue such as insufficient disk space or memory, corrupted Windows Update system files, etc. In this post, we will discuss the issue in detail and find the solutions to resolve the 0x80070008 Windows Update Error.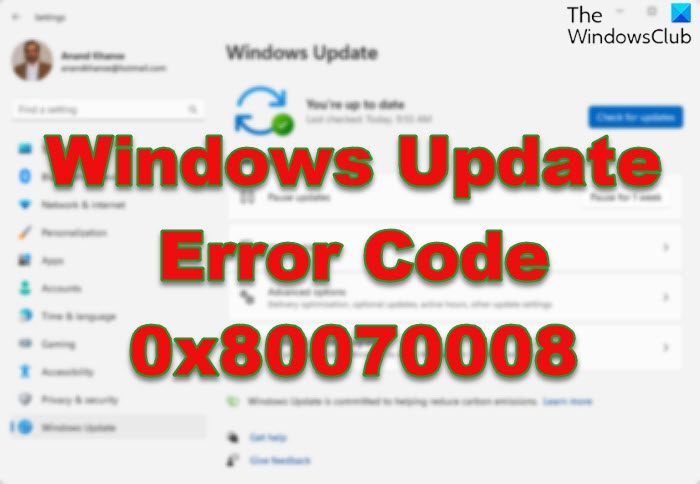 0x80070008 – ERROR_NOT_ENOUGH_MEMORY, The system is out of memory.
Fix Windows Update Error Code 0x80070008
Lack of disk space or insufficient memory can cause Windows Update Error Code 0x80070008 to appear in Windows 11/10. The following are all the solutions you need to resolve this issue.
Run Disk Cleanup Tool
Close unnecessary programs that are running
Clear the SoftwareDistribution Folder & catroot2 folder contents
Run the Windows Update Troubleshooter
Install the Windows Update Manually
Reset Windows Update components to default.
Start executing from the first solutions.
1] Run Disk Cleanup Too
As mentioned earlier, error code 0x80070008 appears if our computer lacks the space to install the driver. To resolve the issue, you can delete temporary files using Disk Cleanup. After clearing an ample amount of space, we need to reboot your computer and then run Windows Update. Hopefully, this will do the trick for you.
2] Close unnecessary programs that are running
Open your Task Manager and close all non-OS programs that may be consuming high resources.
3] Clear the SoftwareDistribution Folder & catroot2 Folder contents
In Windows OS, there is a folder called SoftwareDistribution that stores temporary files related to Windows updates. If you are facing the said error while Windows Updates, then it is good to remove those temporary files from that folder. The catroot2 folder stores the signatures of the Windows Update package and helps in its installation.
After completing all the steps, reboot your computer and check if the issue persists.
4] Run the Windows Update Troubleshooter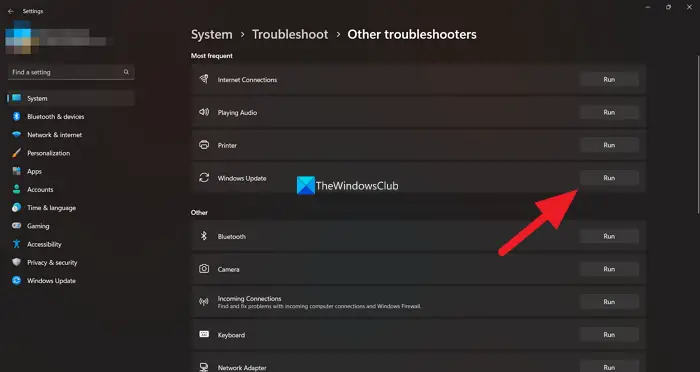 If you get the said error code while installing Windows updates on your computer, the Update Troubleshooter can help you to fix the issue. Follow these steps to run Windows Update troubleshooter.
Press Windows key and click on the Setting option
Scroll down the screen and click on Troubleshoot option.
Then click on Other troubleshooter or Additional troubleshooters, here you will find a list of troubleshooter tools.
Now select Windows Update and click on Run.
The Windows Update Troubleshooter will run automatically to detect and resolve issues that prevent you from getting the latest updating of Windows 11 or 10. Once the task is completed, restart your computer and hope your issue will be resolved.
5] Install the Update Manually
Sometimes you may encounter the said error if Windows updates fail to install automatically. So it is advisable for you to install updates manually. To do the same, you need to download the update from Microsoft Update Catalogue, which can be accessed from catalog.update.microsoft.com. You can enter the version of the update you want to get, download and then install it. Hopefully, your issue will be resolved.
6] Reset Windows Update to default
Since this error code is also displayed when Windows Update Agent is corrupted, you can try the following suggestions:
After doing so, reboot your computer and check if the issue is resolved.
How do I fix error 0x800f0831 when I install an Update in Windows 11?
Windows Update Error Code 0x800f0831 is similar to this one; you can use all the solutions mentioned in this post to resolve it as well. However, we also have a dedicated guide just to fix that error message, so we recommend you check that out and get rid of this problem.
How do I fix a Windows Update that won't Update?
If Windows is not updating, you should first run the Windows Update troubleshooter. It is a free utility that can scan what's wrong with your computer and resolve it for you. If that doesn't work, clear the Software distribution, and Catroot2 folders, as that will remove the corrupted cache.
Also read: Fix 0x8024a21e Windows Update Error.