Google Chrome browser lets you turn on or turn off Dark Mode. If you want to know how to enable the Dark Mode feature in Chrome for Windows 11/10, read on. Dark Mode is a setting or theme in different devices that makes the user interface dark. Most devices usually use the light theme by default. But you can change this default theme to the dark mode theme on your device, provided an option to do so is available in your device settings. The dark mode theme uses a dark interface and the color of the text on this theme is usually white.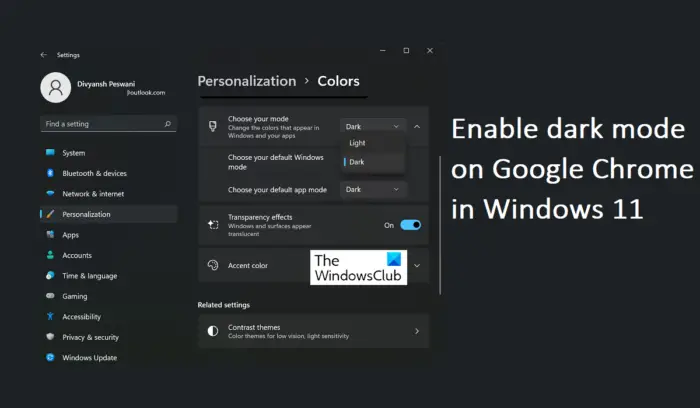 Google introduced the dark mode on their Chrome browser. Enabling the Dark Mode on your Chrome Browser can substantially change your browsing experience, and it may suit you more than the default light mode. If you're someone who prefers the Dark Mode and wants to turn it on, you can follow this guide in which we discuss the various ways to turn on the Dark Mode on Google Chrome in Windows 11.
Enable dark mode on Google Chrome in Windows 11/10
With a new edition of the OS came a change in how the Dark Mode can be enabled on Google Chrome. On a Windows 11/10 computer, there are two ways in which the Chrome Dark Mode can be enabled.
Enable Chrome's dark mode using Windows Settings
Install a Dark theme via the Chrome Store
1] Enable Chrome's dark mode using Windows Settings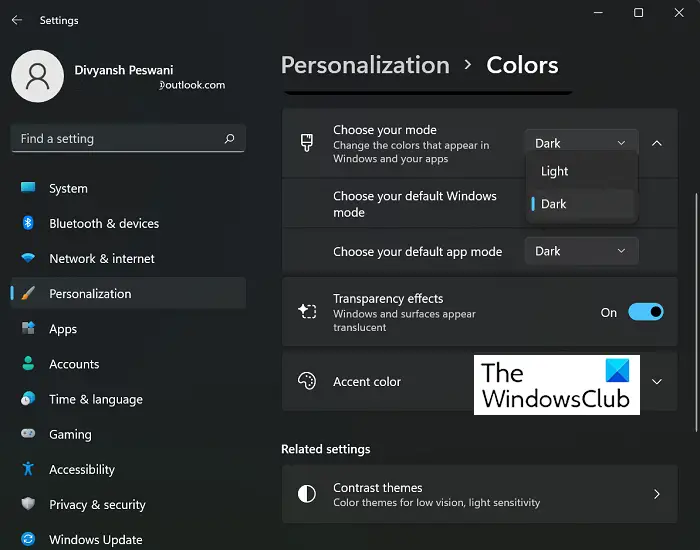 Windows 11
Google Chrome, like several other third-party apps, fully supports Windows' dark mode. So, if you were to enable the dark mode on your Windows PC, then Chrome would automatically start running in the dark mode.
Press the 'Win + I' key combination to open Windows Settings
Click on the Personalization tab and further select Colors
Here, you have the "Choose the Mode" drop-down with three options; Light, Dark, and Custom. Click on Dark
Clicking on Dark would turn both; the app view and the window view to dark mode. You can select the Custom option to set different colors for the two. After applying this settings change, open Google Chrome to find that it is now running in dark mode.
Windows 10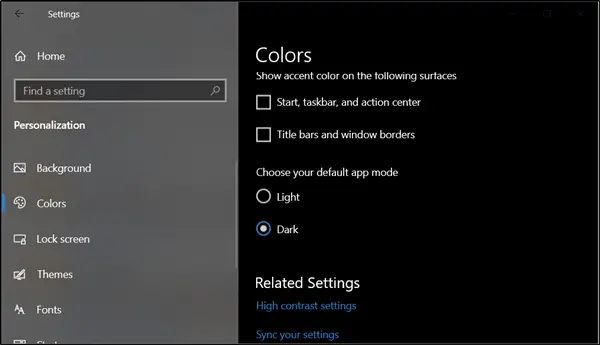 Press the 'Win + I' key combination to open Windows Settings
Click on the Personalization tab and further select Colors
When done, move to the adjacent right-pane and scroll down to locate 'Choose your default app mode' section.
Under it, you will find two options listed,
Check the Dark option to enable Google Chrome Dark Mode feature.
Not only the opened tabs of the browser will be displayed in the Dark Mode but also the 'Context Menu', when you right-click to take action.
To disable the feature and reverse the changes, simply uncheck the 'Dark' option. This action will restore defaults.
2] Install a Dark theme via the Chrome Store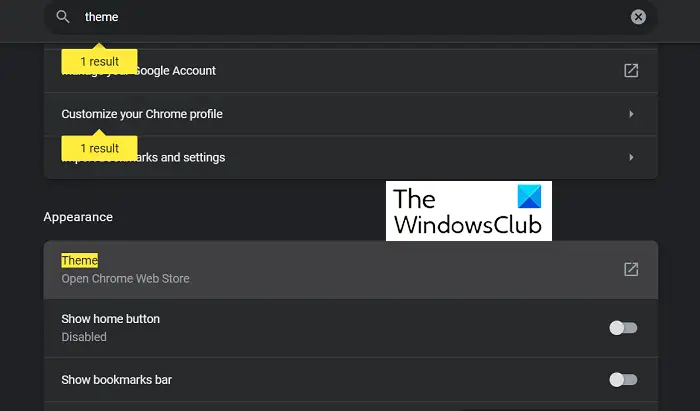 Another way to turn on dark mode on Chrome, an indirect workaround, is by installing a dark-colored theme via the Chrome Store. This ought to give you a dark mode experience while browsing on Chrome. Here's what you're required to do:
Open Google Chrome
Click on the triple-dotted icon and further select Settings
From the search bar at the top, enter "theme" and click on the Theme option that appears under the 'Appearance' setting. This will open the Themes webpage on the Chrome Web Store
Search the word "Dark," or any other keyword based on your preferences and hit enter to find several options for Dark themes on Google Chrome
Once you've found a relevant theme, select it and click on "Add to Chrome". This is the same as adding a browser extension. Install it and you can start browsing Chrome that's running a dark-colored theme. The process for disabling dark mode is analogous to the steps mentioned above. Just follow the steps and either, enable light mode or disable any version of a dark browser theme you downloaded.
Chrome dark mode not working
If Dark Mode is not working for you, when you try to set it via Windows Setings you can use a Dark Theme from the Chrome Store or force Chrome to use Dark Mode for all websites by enabling this flag: chrome://flags/#enable-force-dark. If this does not help, backup your browser data and opt to reset Chrome browser.
How do I get rid of the black background on Windows 11?
See these posts if you see a Black desktop background, Black background behind Folder icons or a Back Screen on your Windows PC. The issues, as well as the solutions, are different for these scenarios.
Is dark mode better for your eyes?
It's a common concern that users have when opting for a dark mode application if using Black Mode would be better for their eyes. In some cases, it has been recorded that enabling the dark mode can help reduce eye strain. It doesn't have a straightforward impact on eye strain, but it helps smoothen out the browsing experience.
Related read: Enable Dark Mode on any website using Dark Reader for Chrome and Firefox.