When you open the Windows 10 Mail app or Outlook to configure Email Security, you may receive an error — This setting can't be applied to any of your accounts when trying to change some settings. In this post, we are sharing what it means and what you can do about it when you receive it on Windows 10 Mail App.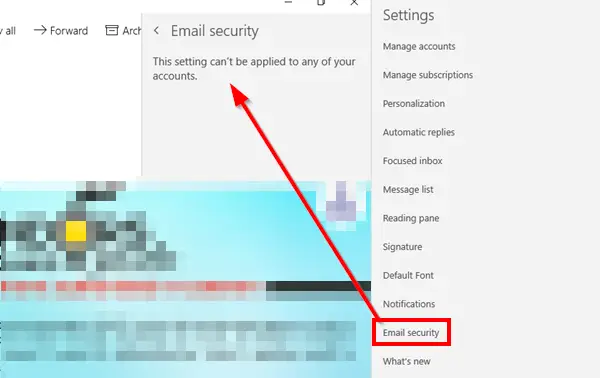 This setting can't be applied to any of your accounts
The first thing you should know that it is not an error. It's a clear message that the settings are not available for the accounts you have on Windows 10 Mail app or Outlook.
Why is Email security not available for your email account?
The Email security section allows you to change options for S/MIME Digital signature and Encryption. These options are only available for account types that support these features. You can configure by going to Settings > Email security. However, if you do not see any option but only a message which says This setting can't be applied to any of your accounts., then its because none of the accounts configured in Windows 10 Mail support it.
If your account would have supported it, then this is how it will look. Here you can choose to always sign with S/MIME, automatically select certificates and turn on Encryption for all the emails.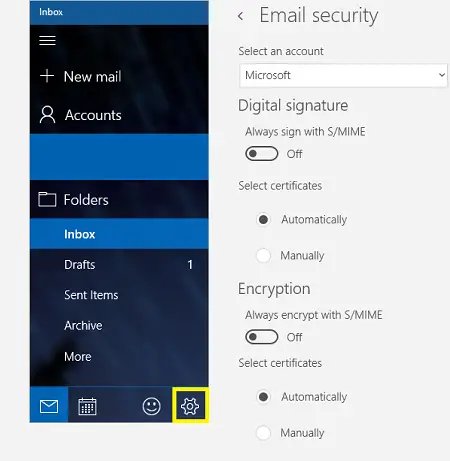 That said if it already on for you, but you are not able to see it in Windows 10 Mail, then you have few options. You can try to reinstall Windows 10 Mail app or check if you have the certificates installed. If it is enabled, you can configure according to options shown in the above image.
Pre-requisite for S/MIME Digital signature and Encryption
If you doubt that if Windows 10 Mail supports it, then yes, it does. However, S/MIME is enabled only for Exchange accounts. You can't use S/MIME signing and encryption with a personal account such as Outlook.com
Second, you should have a valid Personal Information Exchange (PFX) certificates are installed on the device. To get these certificates, it is best to contact your IT admin. They should be able to create PFX certificate profiles in Configuration Manager or Microsoft Intune.
What do you mean by Encrypt Email Messages?
S/MIME or Secure/Multipurpose Internet Mail Extensions is a widely used and accepted protocol for sending digitally signed and encrypted messages. Many businesses make sure to encrypt their Emails using S/MIME, or if you are using Office 365, then you have Information Rights Management.
If you are using Outlook, then it is available in the Trust Center in options. You can import certificates and choose how to encrypt emails.
I hope the post was able to help you understand why you had received the error This setting can't be applied to any of your accounts Error for Windows 10 Mail app. If you were trying to figure out because of curiosity, then I hope you understand it.
However, if you have an Exchange accounts for which the S/MIME is enabled, then check with the pre-requisites.