Windows 11/10 offers a plethora of features as compared to its older versions. Microsoft has been releasing successive patches to the latest version to solve the myriad of problems. With coherent updates, users will be able to solve the potential problems associated with both operating systems and also sometimes with the system. Window users have reported encountering the error "Element Not Found".
Element Not Found error in Windows 11/10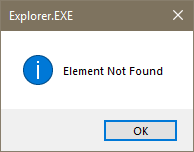 This error is said to occur when you try to open an app, Edge, CMD, images or even when you open the Settings. Its also said to pop up when opening .jpg images.It seems that Window users face this problem after upgrading their OS to Windows 11/10. Usually, the error occurs due to corrupted files, driver problems and some unsupported software. We provide you with some quick solutions to fix the error. The Lenovo CAPOSD or OneKey software is known to cause such issues, so check if you have it installed on your PC – and if you have, then uninstall it and see if it makes the error go away.
1] Update the Display Driver
Open Run box and type devmgmt.msc to open the Device Manager.
Expand Display Adapters section.
Choose the Display Driver and right-click on it.
Click on Update Driver option from the drop-down menu and follow the on-screen instructions to install the latest version of the driver.
Restart your computer.
2] Run SFC Scan Command
System File Checker (SFC) is the utility command that helps to restore the corrupted file or the system files gone astray. Following steps will guide you on how to run the SFC command.
Type the command "sfc/scannow" and hit Enter.
Wait for the verification to be 100% complete and restart your system.
3] Run DISM
Run DISM to repair a potentially corrupted Windows system image.
4] Reset the app
If it is some specific Windows app that is giving you this problem, you can reset that Windows Store app and see if it helps. If it is specific desktop software that is giving you this problem, you may want to consider, repairing, resetting or reinstalling it.
5]  Reset your Windows 11/10
If all the mentioned solutions don't work for you, then try this as a last hope. This solution will delete all the installed applications but retains your personal files.
Open Settings and use the Reset This PC option to do the needful.
That's all. Hope these solutions would help in resolving the problem. If the problem persists, then try finding out the update that's causing an error and uninstall the same. Check if uninstalling one update will fix the issue. If the problem persists try installing back the update again. Hope this trial and error method would work out for you.