Microsoft Edge is the default browser designed for Windows 11/10. The latest Microsoft Edge comes up with oodles of new features that provide faster access, ease of web organization, built-in personal assistant, longer battery life and many more. While Edge is the most preferred browser these days, it has both pros and cons.  One such problem many users face is the vanishing of the Edge browser from sight.
A few Windows users have complained about the disappearance of Microsoft Edge from the Start Menu and Taskbar. While this issue seems to be baffling, there appears to be no way out to add this default Edge browser in the Start and Taskbar menu. To solve this mysterious act of browser disappearing, we bring you some solutions that might help to fix the problem.
Why did my Edge icon disappear?
If the Edge icon is disappeared from your Desktop, someone might have deleted it accidentally. You can check your Recycle Bin and restore the Edge icon from there (if it is in Recycle Bin). If the Edge icon is not available on Taskbar, someone might have unpinned it. You can pin it again to the Taskbar. If these things do not work, you have to try some other fixes explained below.
Edge Browser missing and Icon has disappeared
Follow these methods to bring back the Edge browser icon when it goes missing:
Pin Microsoft Edge to Taskbar/Start
Reset Microsoft Edge browser
Scan using System File Checker
You will need admin permission for some of the suggestions.
1] Pin Microsoft Edge to Taskbar/Start
It may be possible that the Edge icon is just unpinned from the taskbar or Start menu. You can locate it by following these steps.
Search for Edge. Right-click on the search result and select Pin to Start.
If that doesn't work, then follow the below-mentioned steps:
Next, open the Task Manager by clicking Ctrl+Alt+Del and search for Microsoft Edge. Right-click on Edge and click on Open File Location.
Right-click the Microsoft Edge folder in the new window and select Pin to Start or Pin to Taskbar.
2] Reset Microsoft Edge browser
You may have to Reset, Repair or Reinstall the Edge browser via Settings.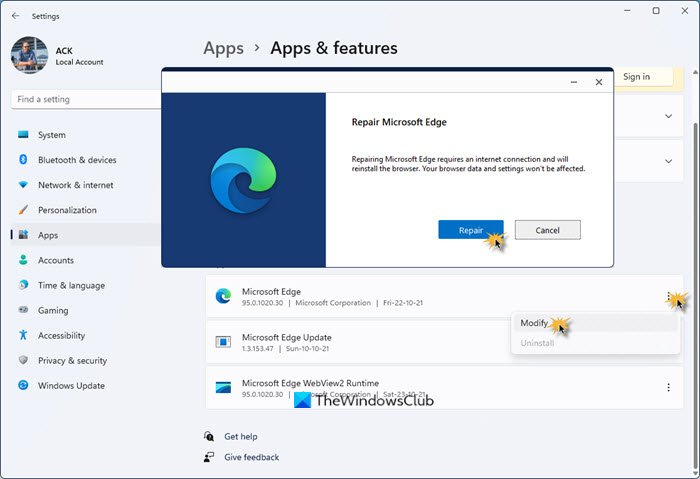 To reinstall or repair the Microsoft Edge browser on Windows 11, do the following:
Press Win+I to open Windows 11 Settings
Select App settings
On the right side, click on Apps and features
Search for Edge in the Apps list
When Microsoft Edge appears, click on the 3-dotted link
From the flyout select Modify
Finally, click on Repair to start the reinstallation of the Edge browser.
Alternatively, if you wish, you can download Edge and fresh-install it, like any other program.
3] Scan using System File Checker
The System File Checker (SFC) is the utility command that helps restore corrupted or missing system files. The following steps will describe to you how to run the SFC command.
Search Command Prompt in the Start Menu.
Right Click on the search result and Run as administrator.
Type the following command and hit Enter:
sfc/scannow
How do I get my Microsoft Edge icon back on my desktop?
If the Microsoft Edge icon has disappeared from your desktop or if you have accidentally deleted the Edge icon from your desktop, you can restore it back. To do so, click on Windows Search and type Microsoft Edge. After that, right-click on the Edge icon and select Open file location. Now, right-click on the Edge icon in File Explorer and go to "Send to > Desktop." If you are on Windows 11, first, click on Show more options in the right-click context menu.
I hope the solutions mentioned above helped you in solving your problem.
Read: Why are some Extensions missing on the Microsoft Edge browser?