Now that the new Microsoft Edge based on the Chromium engine is rolling out, you may find some of the extensions missing after the upgrade process. Legacy Edge HTML and the new Edge do not use the same core, and hence the migration process might have resulted in some extensions missing from the browser. In this post, we will tell why extensions are missing in the new Edge, how you can install missign extensions and how to turn on extensions if it was turned off by Edge.
Browser Extensions are missing on Edge
When you install the new Edge, it can migrate the extensions which you choose as part of the data migration process. If they are available in the new Microsoft Edge Add-ons store, then they will be migrated, and available after installation is complete. If they are missing, then it's because the developers are yet to publish their extensions in the Microsoft Edge Add-ons store
How to download Extensions not available in the Microsoft Edge Addons store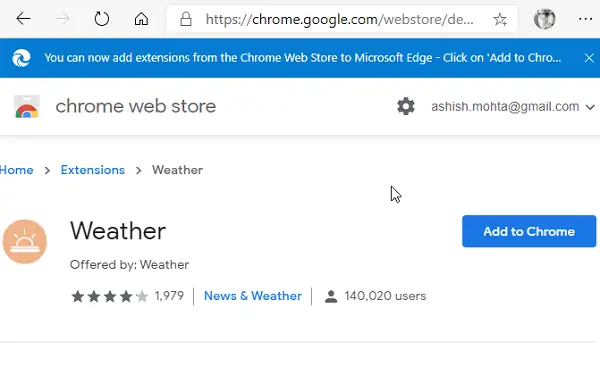 The new Microsoft Edge uses the Chromium engine, which means most of the extensions on Chrome Web Store will work on Edge. Since the developers already have their extensions in the Chrome store, so I would suggest to look in the Chrome Add-on store and install it. The best part is that Microsoft officially allows you to Install Chrome Extension on Edge without any complicated procedure.
Go to the Chrome Web Store and click on  Allow extensions from other stores in the banner at the top of the page.
Find the extension you want to install, and then click on the Add to Chrome button.
Why does Microsoft Edge turn off some of the extensions?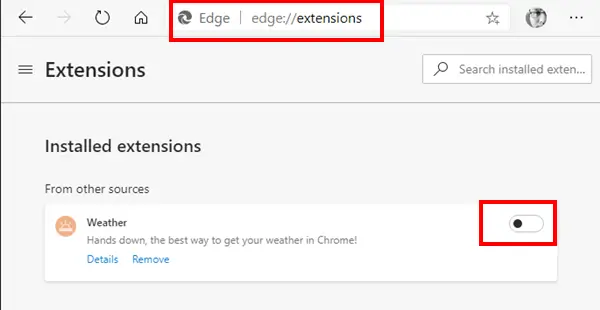 If you can see the extension after the migration, but you notice that Microsoft Edge has turned it off, then there is a reason for that. If an extension change browser settings like the default search engine, new tab page experience, and more, Edge turns it off to protect the users. Since this is a migration, the new Microsoft Edge needs your permission for those extensions to change the settings.  To turn on those extensions:
Type edge://extensions/ in the new tab, and then press the Enter key
Locate the extension, and turn on the toggle for that extension to enable it.
You may be prompted about any change these extensions try to make, and once you confirm, they will be enabled.
I hope the post was easy to understand, and you were able to find why some of the extensions were missing in the new Microsoft Edge.
Make sure first check if there were turned off, and then look for a replacement.