If Driver Update keeps popping up on your Windows 11 PC, then this article is important to you. It's a nagging popup that comes out even when all drivers are updated automatically. Some users claim that when they click on the popup, they are asked to provide card details to purchase the app. Some have tried to do everything they have seen online, but all in vain.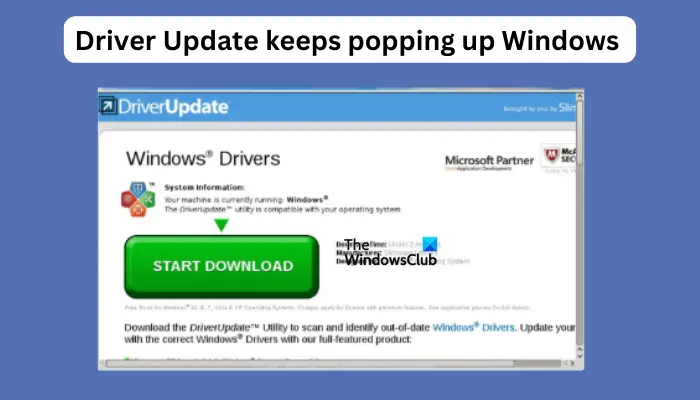 The popup seems to come from DriverUpdate, an app developed by SlimWare. The solutions in this post will fix both the virus and the popup if it's a technical issue on your computer.
Why does Driver Update keep popping up?
The reason you get the Drive Update popups is that you may have the DriverUpdate software installed on your PC. It may or may not have been installed with your knowledge. But if you want to remove it, you must disable the popups from the software settings or uninstall it completely.
Fix Driver Update keeps popping up Windows 11
If Driver Update keeps popping up on Windows 11, when you launch your browser or while your PC is running, try the following solutions to fix the issue.
Disable Automatic driver updates
Uninstall DriverUpdate software
Remove DriverUpdate redirect from your browser
Scan for PUPs
Let us look at these solutions in detail.
1] Disable Automatic driver updates
We don't recommend Windows users disable automatic driver updates on their computers. However, in certain circumstances, it could be the only way to resolve some issues like driver updates popups on Windows 11. To disable automatic driver updates on Windows 11, follow the steps below:
Press Win + R, type control in the Run box, and then hit Enter to open Windows Control Panel.
Next, search for Change device installation settings in the Control Panel search box and open it.
Tick the box next to No (your device might not work as expected).
Finally, select Save Changes.
3] Uninstall DriverUpdate software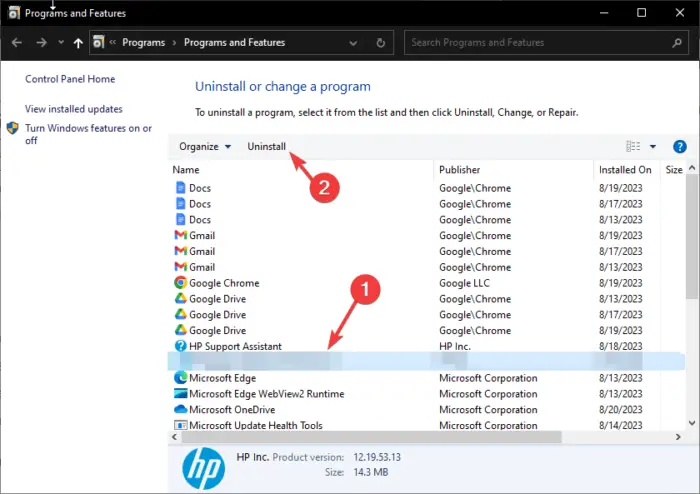 If the Driver Update app by SlimWare is the cause of the issue, the best way is to remove it from your computer. To do this, open the Run dialog box, type appwiz.cpl, and then press Enter. Locate the Driver Update app or any other suspicious app, and uninstall it from there.
Related: Windows keeps installing old AMD drivers
4] Remove Driver Update redirect from your browser
When you remove a redirect from your browser, you block any attempts of third-party sites to rend redirects to your PC browser. Sometimes, malicious sites use redirects to scam people and might be the ones responsible for the Drive Update popups. Follow the steps below:
Locate and click on your browser's icon and choose Properties.
Next, go to the Shortcut tab and check for any http://site.address at the end of .exe in the Target section.
This solution is for those users who get the Drive Update popup when they open their browser or certain websites.
5] Scan for PUPs
Your PC might be compromised by PUPs or malware that generated the popup to steal your personal details for malicious activities. To fix this, you need to scan your system.
AdwCleaner is a very popular and efficient stand-alone freeware for Windows computers that helps remove Adware, Potentially Unwanted Programs or PUPs, Toolbars, Browser Hijackers, Crapware, Junkware & other forms of malware.
You should also follow this with a full-scan using your antivirus software.
We hope you get something useful in this article.
Read: Windows Installer keeps popping up or starting, Preparing to install
Why does Windows keep updating my drivers?
Windows may keep updating your drivers because you have enabled the automatic driver updates feature on your computer and there is some glitch. If you don't want these updates, you can clear the contents of the SoftwareDistribution folder and then disable the feature using the steps we highlighted in this article. We recommend allowing automatic driver updates, though.
Read next: Restart to repair drive errors keep showing up after reboot.