The Downloads folder is where all downloaded files are stored by default. Some users have reported that, at times, it stops responding to the system. In case the Downloads folder of your Windows 11/10 computer isn't responding, then please read through this article for the resolutions.
Downloads Folder not responding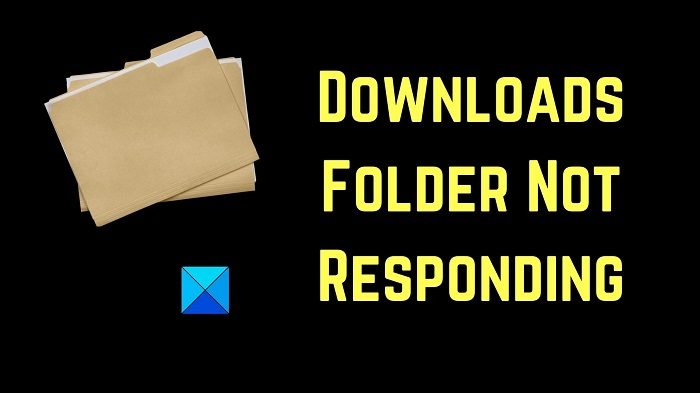 Try the following solutions sequentially to resolve the problem in discussion:
Restart the Explorer task
Optimize Downloads folder
Run SFC scan
Delete extra downloads from the Downloads folder
Run a Disk Cleanup
1] Restart the Explorer task
Probably, the issue isn't with the Downloads folder but the File Explorer itself. Now if the folder isn't responding, it might freeze the File Explorer too. So, you would have to restart the Windows Explorer process using the Task Manager.
2] Optimize Downloads folder
Optimize the Downloads folder as follows:
Right-click the Downloads folder.
Now click on Properties.
Go to the Customize tab.
Click on the drop-down that says Optimize this folder for. And select General items from the drop-down. It must have been set to Pictures or Video by default.
You can also select Also apply this template to all subfolders if the folder contains any subfolders.
Apply the settings and restart Windows Explorer.
In this way, you can make the folder content display faster.
This will also help fix a Slow loading Downloads folder in Windows.
3] Run SFC scan
At times, the problem in discussion is caused due to missing system files. In this case, you need to run SFC as follows:
Search for Command prompt in the Windows Search bar and select Run as administrator in the right pane corresponding to the application. Then type the following commands in the elevated Command prompt window:
SFC /scannow
Restart the PC if required.
4] Delete extra download files from the Downloads folder
The Downloads folder is saved in system drive which is usually the C: drive. Now, if the system drive is overloaded with data, then it slows down the system. Thus, delete useless downloads from the Downloads folder and you will notice a significant difference in the speed of the system.
5] Run a Disk Cleanup
If you wish to free space further than what you could by deleting files, you can perform a Disk Cleanup on the system. This will delete junk files and folders.
Search for Disk Cleanup in the Windows Search Bar and open the application.
Check all the boxes associated with temporary files. Then click on OK and finally select Clear files.
How do I find the Downloads folder?
The Downloads folder can be found in the This PC folder. Furthermore, by default you can find it in the left pane of the File Explorer window.
How to change the default download location?
Mostly, the Downloads folder is the default download location for most online downloads. However, this can be changed when you get the Save as option during the downloading process.