We recently spoke about how to add a color frame to photos using Word. The way we did, it was by using the options already available in the program. However, what is available might not be pleasing to all users, which is why it would make sense to download and add new ones.
Download Page Borders for Microsoft Word
Now, the task of downloading new borders is quite simple, but do not expect to add them to images in the same way as the ones built into Microsoft Word. Worry not, though; we are going to explain everything you need to know.
1] Visit the Image section from your favorite search engine
OK, so the first thing you will be asked to do is visit your favorite search engine's official page. In this article, we will be using DuckDuckGo due to its improved privacy when compared to the others.
2] Add the required search query
In order to find the best borders for your image in Microsoft Word, be sure to search using the words, borders for Microsoft Word. You can choose to be more specific in a bid to locate the exact type of borders you're looking for.
3] Select the image size
After coming face-to-face with the results, you must first decide on the size of the border. If you're using DuckDuckGo, please click on All Sizes, then select from any of the options available. If you're using Google Search, you will want to select Tools > Size and then choose the right option.
As for those who prefer Microsoft Bing Search, then we suggest clicking on Image Size, then either select from the options via the dropdown menu or add a specific dimension.
4] Download your new border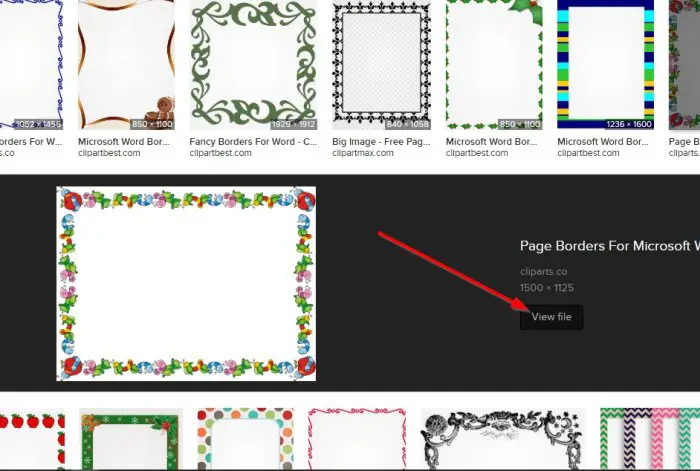 When it comes down to downloading your new borders, click on the image in DuckDuckGo, then select View File. A new tab will appear with the photo fully loaded. Simply right-click on the picture, then choose Same Image As.
Save it to the preferred location on your hard drive, and that's it.
5] Websites to download free borders
Clipart Library: If you're not too interested in searching for borders via search engines, then we suggest looking to ClipartLibrary for a few options. At the moment of writing, there are 39 borders on the page. That number is small, but you may be able to find what you're looking for.
ClipArt Mag: Another great website you should consider, is one called ClipArtMag. Users will find a decent amount of borders on the website for download, and as expected, they are available free of charge. From our point of view, these are great borders to choose from, so take your time and find the one that fits your needs.
Clipart Logo: Finally, you may want to take a look at ClipartLogo as this website also has a good amount of borders designed for Microsoft Word. You are bound to find a frame that is pleasing to the eyes, so look around thoroughly.
Hope this helps.