Need help using your new Surface Book or Surface Pro 4? Well Microsoft has relesed User Guides for these two new products and they are now available for download from the Microsoft Download Center. These guides are usually not available in the product packaging, and need to be downloaded seprately by the user.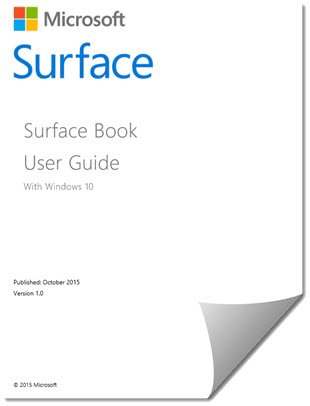 Surface Book is the new ultra-thin, high-performance Windows 10 laptop with exceptional power and versatility. Surface Book is the fastest laptop ever created that weighs slightly over 3 pounds and has a 13-inch screen. The software giant claims that Surface Book is two times faster than Apple's MacBook Pro – and will change the way laptops will be made in future.
Surface Pro 4 is a 12.3 inch Windows 10 device with a slim bezel, attractive looks and improved specifications.  It weighs just 1.69lbs which is equal to 766 grams. Powered with 6th Gen Intel Core m3, i5 and i7 processors Surface Pro 4 is a powerful device and lets you run multiple programs at a time.
Surface Book and Surface Pro 4 User Guides
Both the guides broadly cover the following topics:
Features of Surface
The basics
Keyboard Shortcuts on Surface
Surface Pen
Storage options
Surface Audio Features
Accessibility, Personalixation
Clean and Care, simple maintenance
Registration, repair and warranty
Apps and the Windows Store
Audio, Camera features
And much more!
These guides comes handy when you are looking for keyboard shortcuts and few other settings. These guides are also good to read for maintenance of your Surface Book or Surface Pro 4. Whether a novice or an expert, this guide can definitely help you solve some problems.
Click here to download Surface Book user guide. Go here to download the Surface Pro 4 user guide.