The Microsoft Surface app offers an easy way to control most of the Surface-specific settings and have quick access to device information. You can also use it to find Safety, warranty, and regulatory-related information whenever you need it.
How to use Microsoft Surface app
With Microsoft Surface App, you don't need to navigate through the maze of settings or worry about messing with its features. You can access all the device information like serial number, Surface model name, UEFI version, and related drivers right under its Dashboard.
Upon launching the app, you see the main screen with 4 different sections namely-
New PC Accessories – This tab directs you to a page where you to explore computer accessories and peripherals from Microsoft. Also, you can enjoy great deals on the latest PC accessories and tech gadgets at the Microsoft Store.
New Surface Accessories – Offers a new assortment of accessories that can help you protect your device, charge it more efficiently, access innovative Microsoft 365 experiences, and do a lot more.
Work Remotely – Hosts a range of innovative and versatile devices that can help you get more work done and eliminate friction between people and technology.
Get Service – Outlines the most efficient way to get service for Surface from trusted experts using certified parts or start the replacement process online. In either case, you'll be back up and creating the best work on your Surface.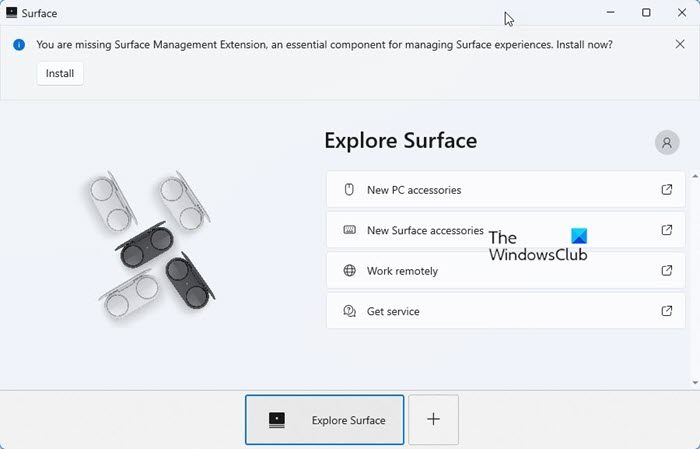 At the bottom of the app screen, you'll find the '+' tab. It helps you set up your Surface Accessories like Surface headphones or Surface earbuds with the help of animation.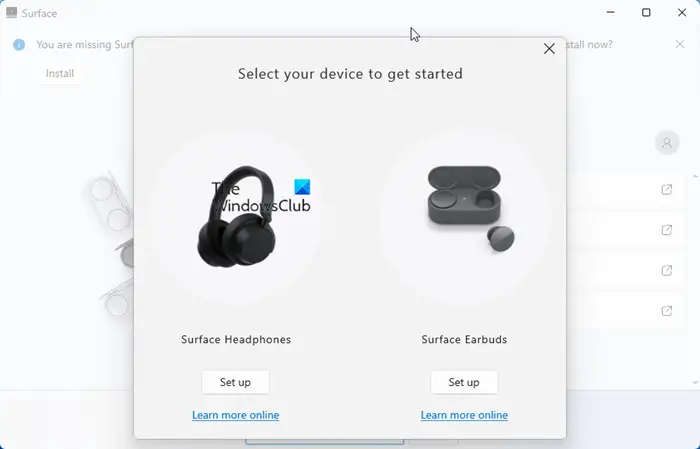 Although good, there are some complaints reported about the functioning of the app. Many users say they cannot open the app after the interface update on a Surface and the app fails to move past the loading screen, even after choosing the repair/reset option.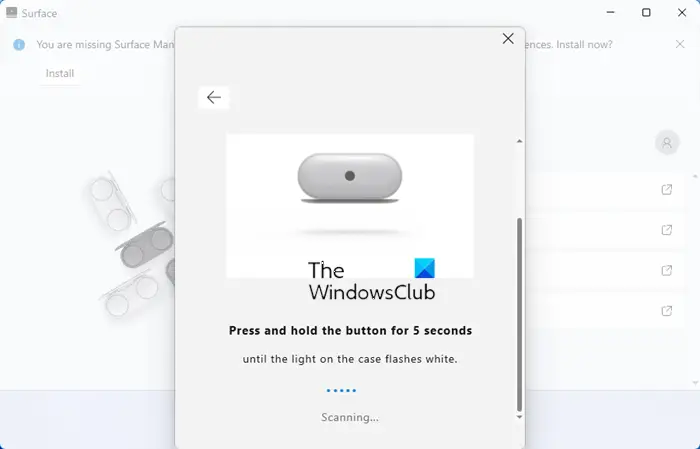 Overlooking these shortfalls, the lightweight Microsoft Store app offers the most convenient way to learn more about your Surface device. It is available as a free download from the Microsoft Store. Users can download and install it from the Microsoft Store, but if your organization uses Microsoft Store for Business instead, you will need to add it to your store's inventory and possibly include the app as part of your Windows deployment process.
The Microsoft Surface app also lets you take and attach screenshots!
Read next: Things to do after you receive your Surface device after Service.
Can you expand Microsoft Surface memory?
Yes, if you have a Surface Book, you can use a full-size SD card. Apart from that, you can use MicroSD, microSDHC and microSDXC to expand memory. You also get the option to use USB storage of any size with your Surface to store your documents, music, videos, and pictures.
What is the Surface Pro Management Extension?
Microsoft Surface Enterprise Management Mode (SEMM) is a feature of Surface devices with Surface Unified Extensible Firmware Interface (UEFI). You can use SEMM to secure and manage firmware settings in your organization. Prepare UEFI settings configurations and install them on a Surface device.