You can convert the ultra-portable Surface device into a full-sized PC for a real desktop experience. How? By plugging in your Surface Dock with the SurfaceConnect cable. The Surface Dock offers the easiest way to connect a Surface to two monitors. Besides, it possesses enough power to support other attached accessories, as it has plenty of USB ports for connecting all your favorite accessories.
So, although the screen size of your Surface is limited, you do not have to stick with it. You can connect it to a Monitor, HDTV, or Digital Projector and make your photos, videos, and presentations look bigger.
Here are some ways via which Surface Dock can take your Surface a few notches higher.
Use the Surface Dock efficiently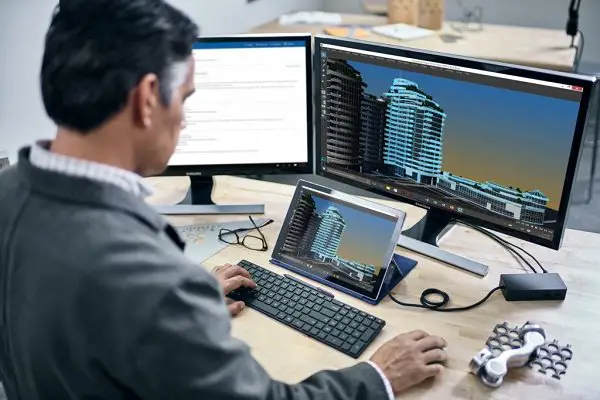 The Dock has two miniDisplayPorts (mDP), which support three screens. This allows you to perform multiple actions. For instance, you can check your emails in Outlook, take notes in OneNote, and attend a Skype meeting without having to switch screens.
The other ports allow a user to connect his keyboard, mouse, Ethernet cable and even external hard drive. The added capability of USB 3.0 ports makes the process of transferring files a breeze since the data transfer rates in USB 3.0 ports are up to 10x faster than on USB 2.0 ports.
Each USB port cut into Surface Dock has 7.5W of charging power, sufficient for giving life to your cell phone and other accessories. The best way to kill boredom is by watching movies. You can connect your TV through a miniDisplayPort of Surface Dock to HDMI adapter and get a life-like experience on a big screen. Moreover, there's an audio jack for headphones or speakers for instantly transform your living room into a home theater.
The Dock intends to make your life simpler. How? No need to plug and unplug cables every single time. Simply, plug in all your cables – miniDisplayPort (x2), Ethernet, USB (x4), power, and audio in your Surface Dock – and never deal with them again. To transform your Surface into a TV screen by connecting the single SurfaceConnect cable into the SurfaceConnect port, and you are ready to go.
You can use your Surface Pen to mark up web pages on Microsoft Edge, draw on OneNote, and create beautiful things on Creative Cloud even when you have other tasks at hand. For developers, the Surface Dock seems to be an elegant solution for turning Surface into a powerful development workstation. You can use one external monitor to keep the focus on your code and use the other monitor to handle any open documentation, emulator or apps you're testing.
When you are done with your work, you do not have to spend extra time in unwrapping things. A simple tug to the magnetic SurfaceConnect cable and you're free to go, says Microsoft.
All in all, Surface Dock empowers you to get more done. It is compatible with Surface Book, Surface Pro, and is available for purchase at retail stores, online, and through authorized resellers.