Anything which has a DNS  issue with its error code points to a network issue. If you see This webpage is not available, DNS PROBE FINISHED BAD CONFIG error in Google Chrome browser; it means that your computer is not able to connect with the website because the DNS or Domain Name Server is not able to resolve website name into IP address or not available at all. In this guide, we will help you to resolve this error in Chrome.
DNS_PROBE_FINISHED_BAD_CONFIG Chrome error
Let's first troubleshoot the PC Network and then a few fixes for Chrome, so it doesn't retain something in the cache.
PC Network Troubleshooting
1] Check your Network Cables, Restart Your Router and Reconnect
Make sure you check your cables are connected properly either to your PC or your router. If you are connected through WiFi, make sure to restart your router once. Lastly, you can always forget the WiFi you are already connected to and then reconnect.
2] Remove Proxy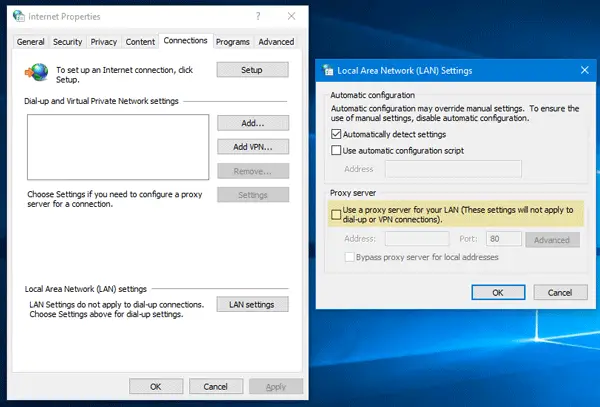 Press Windows Key + R then type "inetcpl.cpl" and hit enter to open Internet Properties.
Next, Go to Connections tab and select LAN settings.
Uncheck Use a Proxy Server for your LAN and make sure "Automatically detect settings" is checked.
Click Ok then Apply and reboot your PC.
If you are using a third-party proxy service, make sure to disable it.
3] 
Flush DNS, reset Winsock and reset TCP/IP
Sometimes the websites don't resolve because the DNS in your PC still remembers old IP. So make sure to Flush the DNS, Reset Winsock and Reset TCP/IP.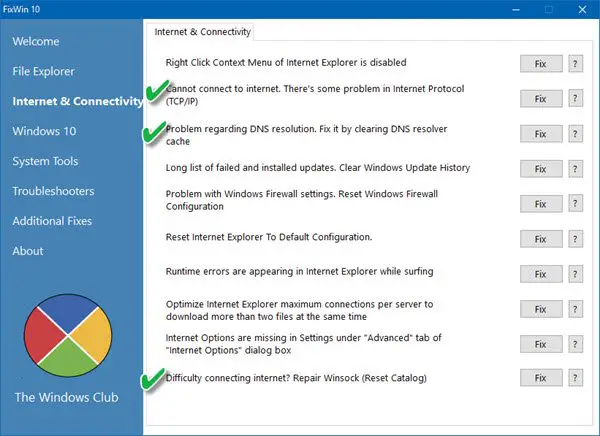 You can also use our freeware FixWin to carry out these three operations with a click.
4] Change DNS
Try changing your DNS to a public DNS like Google Public DNS, Open DNS, Yandex DNS, Comodo Secure DNS or any other and see. DNS Jumper & QuickSetDNS are free tools that will help you change your default DNS settings with a click.
Chrome Troubleshooting
1] Clear Browsing Data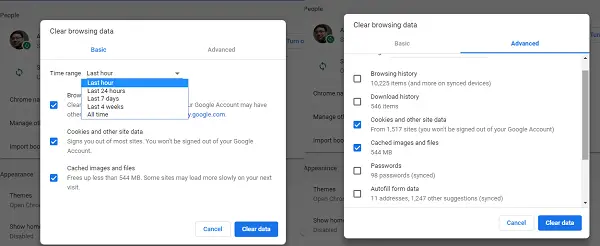 Launch Google Chrome and press Ctrl + H to open history.
On the left panel, click on Clear browsing data. This will open another pop-up where you can choose the basic settings or advanced.

You can choose between 'Last hour' to 'beginning of time'. I would suggest starting from the last hour to last week and see which one works.
You should also choose to delete Cookies and other sites and plug in data and cached images and files.

Next, click Clear browsing data and let it complete.
Exit Chrome, and restart your PC.
Relaunch, and see if this solution works for you.
2] Run Chrome Cleanup Tool
Run Chrome browser's built-in Chrome's Malware Scanner & Cleanup Tool. It helps you remove unwanted ads, pop-ups & malware, Unusual Startup pages, toolbar, and anything else that might be trying to hijack any query you are trying on the address bar.
I am sure that something here will help you fix this problem.