Diskpart is a disk management command-line tool that allows you to manage disks. It comes with a Clean option that allows deleting any existing partition, including files. When executing this command, if you get an error— Diskpart Virtual Disk Service Error: Clean is not allowed on the disk, then this post will help you resolve the problem.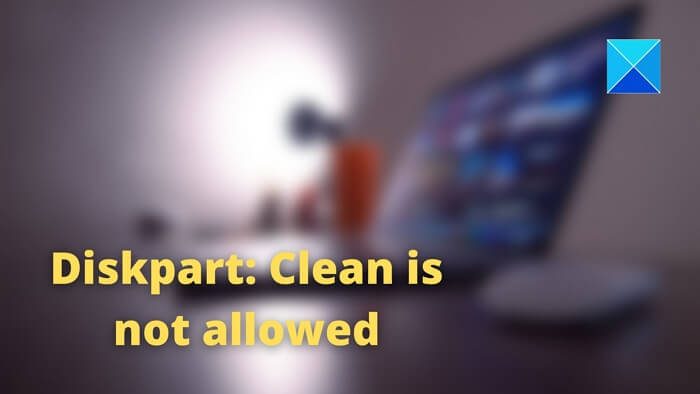 Virtual Disk Service Error
Clean is not allowed on the disk containing the current boot, system, pagefile, crashdump or hibernation volume.
Why this error occurs?
While you can delete almost anything from the disk, if the partition you are trying to delete contains system files, pagefile, crashdump or hibernation volume and Windows OS, then it will be restricted to delete. But then, if you are trying to delete the existing partition and set it up on a new one, we will have to take a different route to fix it.
Diskpart Virtual Disk Service Error: Clean is not allowed on the disk
One thing is sure; you will not be able to clean the disk if you try it from within the Windows OS. If you are trying to switch the disk, you will need to follow alternate methods.
Run diskpart clean in Recovery Mode
Custom Install Windows
Since you will be dealing with deletion of partition, ensure to take a complete backup of existing files.
1] Run diskpart clean in recovery mode
In this step, you will need to boot from the Bootable USB and go into Advanced Recovery.
Insert the Windows installation disc, and make sure the boot order is set to USB
The next screen will display the Windows installation.
Click Repair your computer > Troubleshoot > Advanced Options > Command Prompt.
Then input the diskpart commands to clean the hard disk:
diskpart
list disk
select disk [diskno]
clean
Once done, you can create a new partition on the drive to solve this problem.
2]  Custom Install Windows
If the above method doesn't work, and you are planning to switch the storage device or hard disk, then the only way out is to install Windows on the new one. However, before going ahead, if you still have access to your Windows PC, you can use the OEM software to copy the existing Windows to the new SSD and then switch.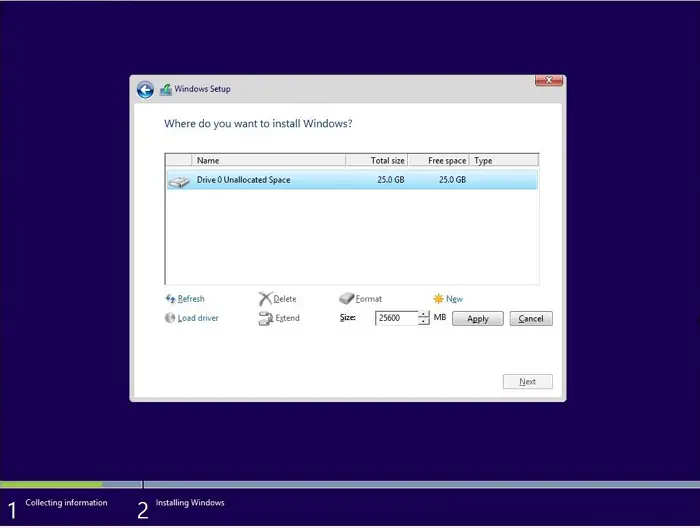 If you do not have the access, then you can choose to custom install Windows on the drive, which is having the issue. Custom Install Windows means you will need to select the drive on which Windows will be installed. During the process, you should be able to delete the drive using the interface. Even if you do not, the installation wizard will ensure to wipe everything on that partition and install it.
To install Windows, you will need to create a bootable USB drive and boot from it.
Follow the wizard to install Windows and wait for it to complete.
Related:
How to start your Windows in Recovery Mode?
You can boot into recovery mode from within Windows by going to System > Recover or using a bootable USB drive, and then choose to Repair My Computer option. While the former is useful when you can still access the PC, the latter comes in handy for broken or unbootable Windows.
What does the recover command do diskpart?
It refreshes the state of all disks in a disk group, attempts to recover disks in a disk group that is invalid, and resynchronizes mirrored volumes and RAID-5 volumes with stale data. This command operates on disks that are failed or failing.