You may have noticed now, that every time you go on to enter your password in the login field of a website that is not an HTTPS site, using Firefox browser, you will see a message – This connection is not secure, Logins entered here could be compromised. You will notice that in such cases, Firefox displays a gray lock icon with a red strike-through in the address bar as well. This means that the page you are viewing does not have a secure connection.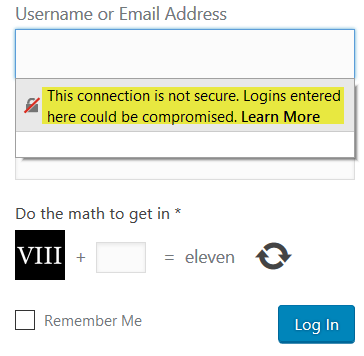 Sites that do not need you to log in or do not transmit information may have an unencrypted HTTP connection. But sites that require you to enter sensitive information like Bank details, Password, Credit Card information, etc should have a secure HTTPS connection, as otherwise, hackers can steal the information when it is being passed over the Internet.
If you see this warning, you have three options:
Continue to enter the Password
Check if the web page has a secure version by entering HTTPS in the address bar in place of HTTP.
Disable the insecure warning prompt if it troubles you.
Mozilla has introduced this insecure password Login prompt feature in Firefox 52 – and it is a great security feature that warns you about insecure logins. But then, there are many people who are looking for a way to turn off or disable this Insecure login prompt. If you are one of them, then this post should be able to help you.
Disable Insecure Password Login Warning Prompt in Firefox
Open Firefox and type about:config in the address bar and hit Enter to open the Configuration page.
Search for security.insecure_password.ui.enabled.
Once you find it, double-click on it to change it Value from True to False.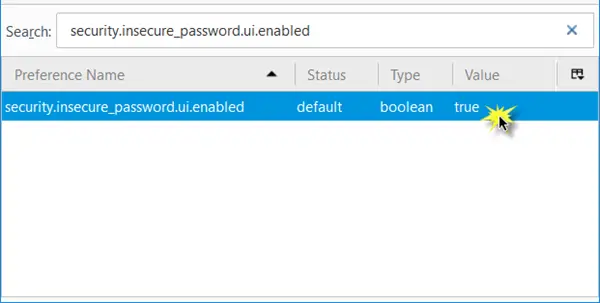 Restart Firefox and you will see that the warning prompts have been turned off.
Rivera adds in the comments: If this does not work for you, disable security.insecure_field_warning.contextual.enabled and see if that works.
We strongly recommend that your keep this warning prompt as it is a good security measure. We also suggest that you use a good free VPN software if you wish to ensure that all the data that you send over the Internet is safely encrypted.
How do I disable Insecure password warning in Firefox?
In order to disable the insecure password warning in the Firefox browser, you need to change the internal setting. First, enter about:config and accept the terms and conditions. Following that, search for security.insecure_password.ui.enabled and set the value to False.
How do I turn off Secure connection in Firefox?
To turn off the secure connection in Firefox, you need to open the Settings page first. Then, switch to the Privacy & security section and find out the HTTPS-Only Mode option. Following that, select the Don't enable HTTPS-Only Mode option.
See this post if Firefox throws up a Your connection is not secure warning.