Some time back, we wrote an article on browser-independent cookies and talked about how to delete Flash cookies. Ever since I came to know these cookies are not normal ones, I delete them after every session. Though you can use Flash Cookie Remover or Adobe Flash Settings, you can also Internet Explorer to delete Flash cookies. I use an MS-DOS command.
Disable Adobe Flash Cookies
Then it occurred to me that I can simply restrict, turn off or disable Adobe Flash cookies – preventing sites from storing such data on my computer. Flash Cookies are a type of Internet Cookie and can be configured using online and offline options. This article explains both methods.
Flash Player Settings – Local Settings
The Adobe site has an online Flash cookie Manager that allows you to specify how Flash cookies should behave on your computer. There is an option in the Control Panel too and Adobe says that the local Flash Player Manager settings supersede the settings you changed via their website.
To open the local Flash Player Settings, open the Control Panel and click on Flash Player. You will get a dialog box similar to the below image.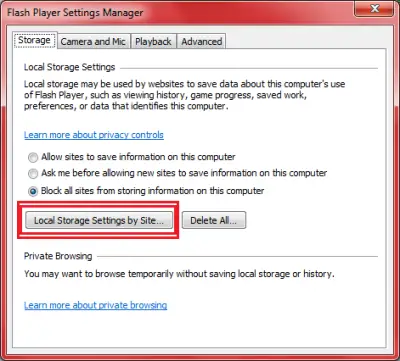 The default value is Allow All Websites to Store Data. Change it to Block All Sites from Storing Information.
To remove traces, click on Delete All… and then Delete All Site Data and Settings. Click Delete Data to delete all prior data (see image below).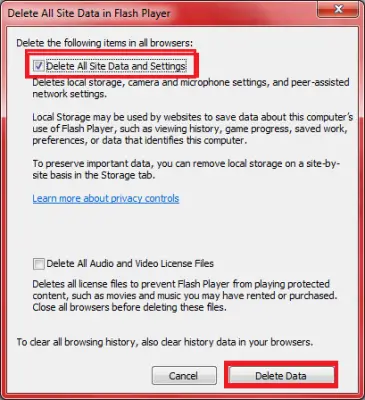 Coming back to the Storage tab of the Flash Player dialog box, you can set up permissions for certain sites whose data you think you will need. For example, if you wish to keep track of movies' seek bar on YouTube, click Local Storage Settings By Site (See Image 1). Click Add and then type the URL of sites that you permit to save data locally. In this case, data is usually a Flash cookie related to the website. To understand other options, please see our article on Flash Player Manager.
Flash Player Settings Online
Click on the Macromedia Site to access Online Global Settings for Flash on your computer. These are called Global as the changes are applied to all Flash-based websites you visit using your computer. If you have clicked on the link above, you will be taken straight to the Storage Settings.s
Once there, click to uncheck (untick) Allow Third Party Flash Content…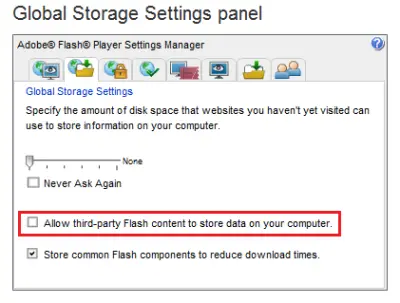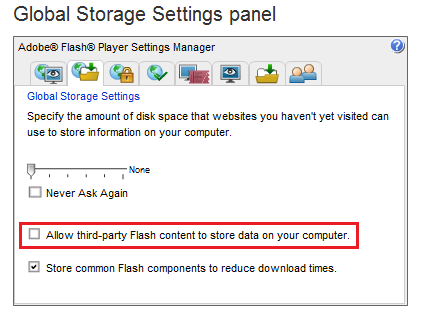 On the same screen, drag the slider to the extreme left to make sure no unwanted websites can store any data on your computer.
If you face problems in playback from any website or during any of your Flash-based online games, go to the Control Panel -> Flash Player and add your website to the list of allowed websites. You can do that using Local Storage Settings By Site.
You can also use the context menu on video sites – on a site-by-site basis – by right-clicking on any video on your preferred websites. When you right-click on any Flash video player, you get a context menu. Click Settings… and move the slider to the extreme left where it says None – to disable Flash cookies from that site.
Thus, you will be able to disable Adobe Flash cookies on your Windows computer.
NOTE: Disabling Flash cookies might not store your game progress or the last point where you left watching a video etc.