If any of your hardware has stopped working, and you see a message This device is not present, is not working properly, or does not have all its drivers installed, (Code 24) error in Device Manager, here are some possible solutions to fix this issue. This problem can occur at any time, and any hardware such as a keyboard, mouse, or even printer can stop working suddenly.
Device Driver Error Code 24 indicates that this happens if the device is installed incorrectly. The problem could be a hardware failure, or a new driver might be needed. Devices stay in this state if they have been prepared for removal. After you remove the device, this error disappears.
This device is not present, is not working properly, Code 24
So the main reasons why this issue appears are as follows:
Hardware installed incorrectly
Faulty hardware
Corrupted or outdated driver.
To fix this issue, you can do the following things.
1] Run Hardware and Devices Troubleshooter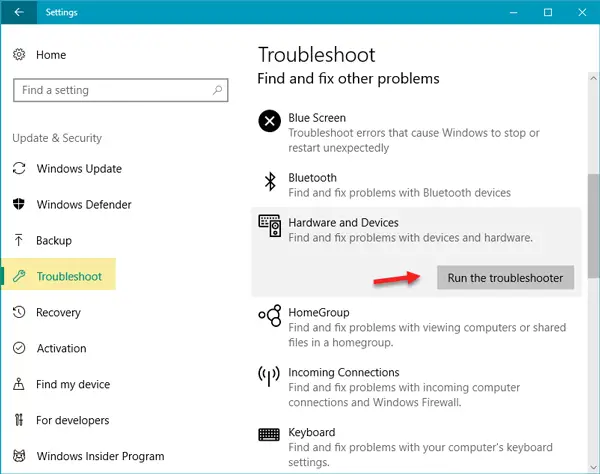 In Windows 10, it is very easy to run the Troubleshooter. Open Windows Settings panel by pressing Win + I button. After that, go to Update & security > Troubleshoot. On your right-hand side, you can find Hardware and Devices. Select it and click the Run the troubleshooter button. Following that, you need to follow the screen option to get it working.
If your keyboard or printer is not working, you can run the Keyboard Troubleshooter or the Printer Troubleshooter as well.
2] Unplug the device and verify
Sometimes faulty hardware can cause this problem on your computer. Therefore, the solution is to unplug all the hardware and plug them one by one. Thus, you can identify if you have any faulty hardware or not. If any device is not working correctly, or you receive the same error after plugging in a particular device, you will be able to identify the faulty device and maybe repair it.
Fix: SMBus controller not recognized error
3] Update or Reinstall the device driver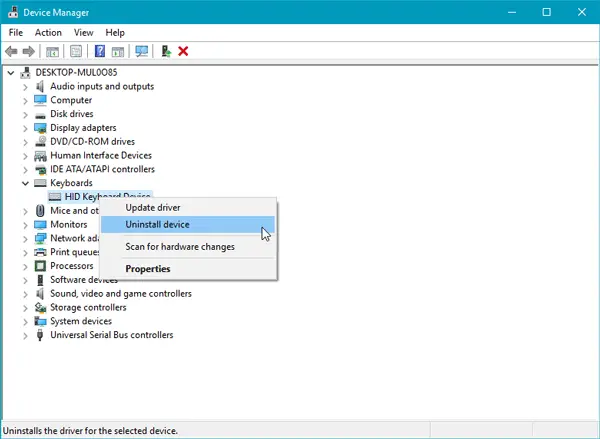 If you see this error message when checking the keyboard or mouse, you could either update your existing driver, or uninstall it and reinstall that driver and then check whether the device is working or not. You can open Device Manager > right-click on the driver > select Update driver or Uninstall device. Following that, follow the screen options to get things done. If you have uninstalled the driver, restart your computer, connect the device and select Scan for hardware changes. You will get this option under Device Manager > Action.
Let us know if this helped.
Read next: Windows cannot initialize the device driver for this hardware (Code 37).