Windows Updates ensure you're always running the most recent security patches on your PC. When these updates are released for Windows OS especially if the Security update fails to apply on your device, it becomes a PC security concern. In this post, we tackle the issue where your Windows 11 or Windows 10 computer cannot access Windows Update files by offering suggestions that can help in this situation.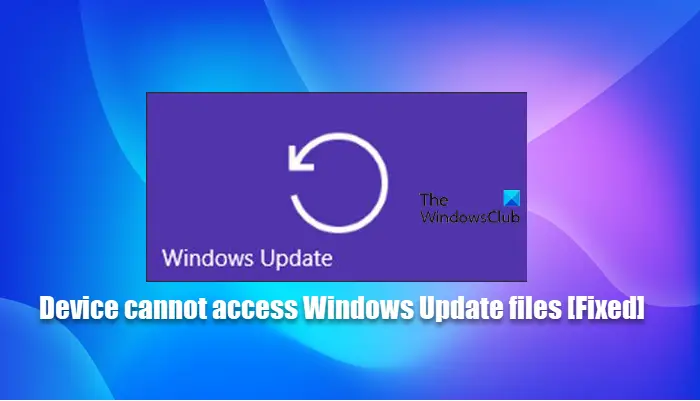 Device cannot access Windows Update files
If a Windows 11/10 device cannot access Windows Update files, you can try the following to resolve the issue to ensure the device stays updated.
General troubleshooting for Windows update issues
Manage connection endpoints
Read: Windows Update fails to install or will not download in Windows 11/10
1] General troubleshooting for Windows update issues
If you run into problems when using Windows Update, you can begin troubleshooting to resolve the issue on your Windows 11/10 computer with the following steps:
Run the built-in Windows Update Troubleshooter. To run Windows Update Troubleshooter to fix common issues, simply navigate to Settings > Update & Security > Troubleshoot > Windows Update. Once the utility completes the procedure, you can apply any recommended fixes.
Make sure the most recent SSU is installed. Although now shipping or contained in the Dynamic Updates, make sure the most recent Servicing Stack Update that matches your version of Windows from the Microsoft Update Catalog is installed on your device. You can verify the status for all updates including cumulative and rollup updates by referring to the appropriate update history for your system.
Review Windows Update log files. If you are an advanced user, you can also review Windows Update log files for further investigation.
Read: Windows 11 not showing up in Windows Update Settings
2] Manage connection endpoints
Mostly for IT or system admins, this aspect of troubleshooting where your Windows device cannot access Windows Update files requires you to ensure that Windows 11/10 devices can reach necessary Windows Update endpoints through the firewall. So, make sure the required ports are open in the firewall, and that the following protocols as shown in the table below must be able to reach the respective endpoints:
| Protocol | Endpoint URL |
| --- | --- |
| TLS 1.2 | *.prod.do.dsp.mp.microsoft.com |
| HTTP | emdl.ws.microsoft.com |
| HTTP | *.dl.delivery.mp.microsoft.com |
| HTTP | *.windowsupdate.com |
| HTTPS | *.delivery.mp.microsoft.com |
| TLS 1.2 | *.update.microsoft.com |
| TLS 1.2 | tsfe.trafficshaping.dsp.mp.microsoft.com |
The caveat here is to make sure not to use HTTPS for those endpoints that specify HTTP, and vice versa; otherwise the connection will fail. Keep in mind that the specific endpoints can vary between Windows client versions.
For more details on how you can manage connection endpoints for Windows 11/10 devices, see this Microsoft documentation.
Related post: Windows Server Update Services (WSUS) Troubleshooting
Can not access Windows Update?
When you encounter the Windows update settings not opening error, install the necessary updates or create a new user. For the situation when you can't open Windows update settings, you should utilize the Microsoft Safety Scanner, run an SFC scan or reset Windows 10.
How do I fix Windows Update files?
The general fix Windows update errors on your device could be the following:
Restart the computer and run Windows Update again.
Check for Driver or Hardware conflict.
Run Disk Cleanup to ensure sufficient storage space on your Drive.
Try the Windows Update Troubleshooter.
Stop Updates.
Clear SoftwareDistribution folder.
Download the latest Feature Update from Microsoft.
Run the System File Checker (SFC) Scan.
How do you fix Access Denied?
To fix Access is denied message on Windows 11/10, try any of the following common fixes:
Take ownership of the directory.
Add your account to the Administrators group.
Enable the hidden Administrator account.
Check your permissions.
Use Command Prompt to reset permissions.
Set your account as administrator.
Use Reset Permissions tool.
What is WSUS server?
Windows Server Update Services (WSUS) enables information technology administrators to deploy the latest Microsoft product updates. You can use WSUS to fully manage the distribution of updates that are released through Microsoft Update to computers on your network.