Most of us keep on suspending updates on Windows. The more the time passes, the closer we get to a Major New Update, leaving us anxious on – How long the installation would take? It's time to look at the Dynamic Updates in Windows 11/10.
Dynamic Updates in Windows 11/10
Dynamic Updates in Windows 11/10 are an optional and automated update process on Windows which retrieves and installs all updates in one go, eliminating the need to make numerous successive updates. This plays a key role when Windows Feature Updates are installed on a system and can be a part of a new installation or an update.
Dynamic Updates do not exclusively support Windows 11/10 but are also supported by previous versions of Windows, which include Windows 8.1 and Windows Server. These can help end users and organizations alike in ensuring their Windows devices are equipped with modern feature update content (as part of an in-place upgrade) and preserve valuable features on demand (FOD) and language packs (LPs) which may have been installed earlier. The main purpose of this feature is to compile and download the components which are relevant to the update process or the system stability during installation.
Without Dynamic Updates in Windows 11/10, a user or system administrator will need to install certain components, like updated drivers or new cumulative updates, post initial installation. On the other hand, with Dynamic Update, the user will not need to install a discrete quality update as a part of the in-place upgrade process. Note that these updates are enabled by default, but users or a system administrator can conveniently disable them.
In simple terms, using Dynamic Update in Windows 11/10 condenses the need to rub on separate updates to recently installed systems and makes it simple to equip your devices with the latest updates in one step.
Core components updated by Dynamic Update
Dynamic Updates in Windows 11/10 may consist of the following components according to Microsoft:
Setup: Fixes or any files which "Setup" needs for feature updates.
SafeOS: Fixes for the 'safe OS' which are used to update recovery environment (WinRE) in Windows.
Servicing Stack Update (SSU)/Critical DU: Addresses any Windows 11/10 servicing stack issue which is critical to complete the feature update.
Latest Cumulative Update /General Distribution Release: Installs the newest cumulative quality update.
Language Pack and Feature On Demand: Preserves the previously installed language packs and optional features by reinstalling them.
Driver: Drivers specifically targeted for Dynamic Update release.
How Dynamic Update Package work
The step for Dynamic Updates is one of the initial ones triggered during the Windows Setup installation. The process typically involves contacting Microsoft and retrieving updated content which is further applied to the installation media.
Dynamic Update content is downloaded directly from HTTPS endpoints (i.e. the Internet-facing URL hosted by Microsoft and draws the Dynamic Update content). In technical terms, Windows Setup reaches out to the HTTPS endpoint to retrieve the Dynamic Content. Once the content is retrieved it is applied to the OS installation media, consequently making the installation process simple, smooth and complete.
Enabling/Disabling Dynamic Content
Unless disabled explicitly, Dynamic Update feature is enabled by default in all Windows feature update workflows. Users are prompted automatically to choose whether to allow Dynamic Update. Windows setup displays prompt as "Get updates, drivers, and optional features" to befall dynamic Update as shown below.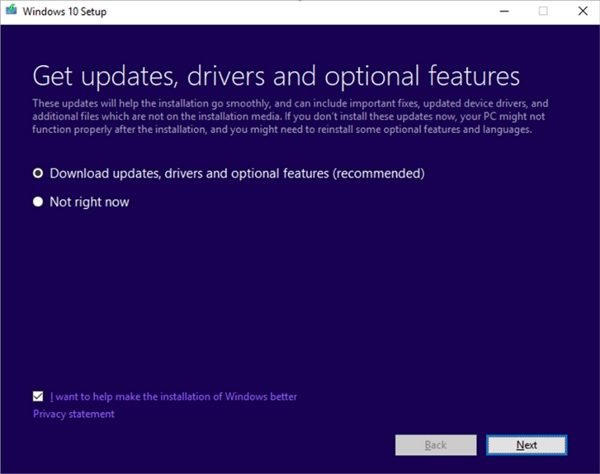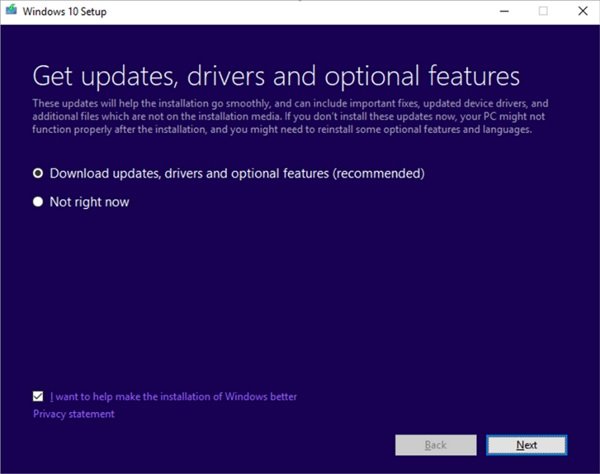 Unattended installations have a provision to disable Dynamic Updates. By default, this is set to "True" which means Dynamic Updates are enabled. To disable, the users can set it to "False". You can read the full details on microsoft.com.
Dynamic Updates in Windows 11/10 feature is advantageous as it can solve update/installation associated issues during the setup. But again, the pros come along with cons too, this feature can update the user system with extra components which might not be useful for the user.