Windows Device Manager is certainly a useful built-in tool to manage, uninstall, and disable drivers without having expert knowledge. The Device Manager seems handy and anyone with some basic knowledge of Windows can open it and use it. However, today I am going to introduce you to such a program that helps users manage installed Windows drivers, right from the Command Prompt. DevCon.exe is a free command-line utility that lets users manage drivers from the command line.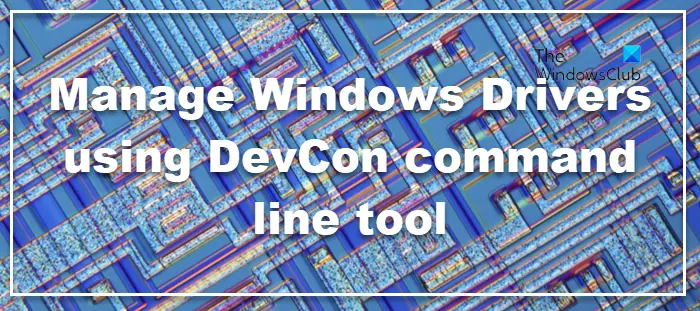 DevCon command line tool for Windows computers
DevCon is available for Microsoft Windows and Windows Server. That means that the tool is compatible with all the latest Windows versions.
To begin using this tool, you will have to first, download DevCon from the Microsoft Support website.
DevCon (Devcon.exe) is included when you install the WDK, Visual Studio, and Windows SDK for desktop apps. You will get it for a 32-bit version as well as a 64-bit version of Windows. After downloading and unzipping the file, you need to choose the version 32-bit or 64-bit, for your Windows computer. Or else, you can also put the entire unzipped DevCon folder inside your System Drive.
Next, open a Command Prompt window with administrative privileges. After opening the Command Prompt windows, enter the following command:
cd c:\devcon\i386 (For 32-bit)
cd c:\devcon\ia64 (For 64-bit)
c:\devcon is the path where you have placed the unzipped folder.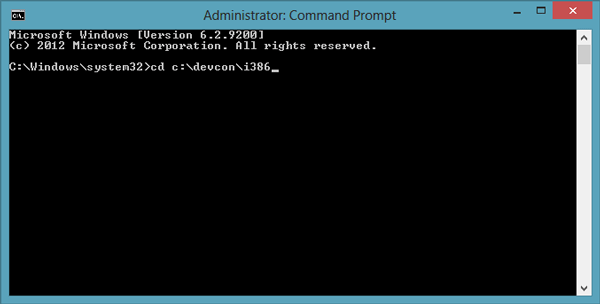 By entering this command, you have successfully started using DevCon.
Useful commands to manage Windows Drivers using DevCon
DevCon does everything that is possible to do, using Device Manager. But, it just works in a different way – using commands. Although, you can get almost all the supported commands by entering the following command, yet, here are some of them for basic management purpose.
devcon

.exe help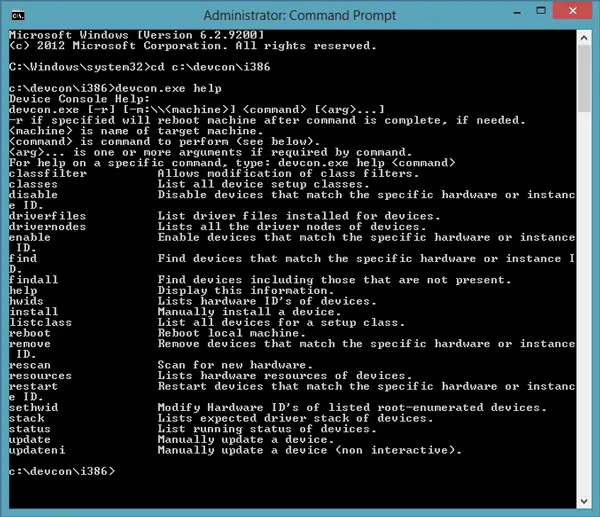 If you want to know the status of any hardware, you need to execute the following command-
devcon

.exe status [device name]
For instance-
devcon

.exe status *CDROM*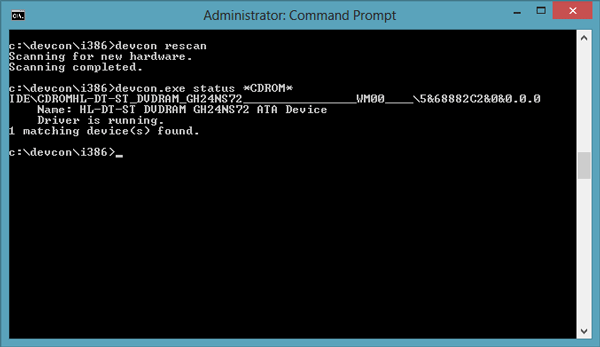 Like the Device Manager, you can enable/disable any hardware driver using this tool. For that, you will have to enter this command-
devcon

.exe enable [device name]



devcon

.exe disable [device name]
If you want to know the status, enable or disable any hardware driver, you must know the name of that hardware. In case you do not know, you can get a brief list of all names by entering the following command-
devcon

 classes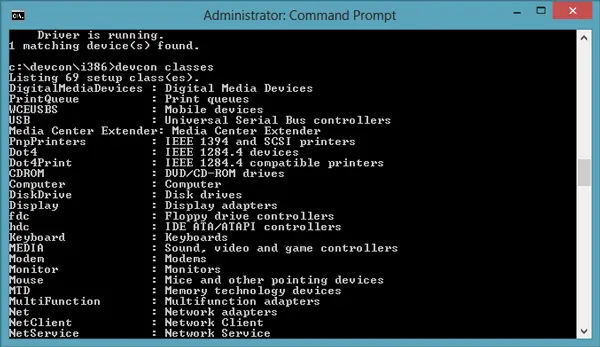 Just like Device Manager, DevCon users can also search for any hardware changes using the following command-
devcon

 

rescan
For those, who want to know more about any particular hardware or device, this command may help-
devcon

.exe –m:\\YourComputerName find 

devicename
You have to enter your computer name to specify your PC as it also works on a network computer.
Advantage of using DevCon over Device Manager
The first advantage is that DevCon utility is faster than Device Manager. The second advantage is it has more flexibility. You have more options to control your installed drivers. The third and most exciting advantage of DevCon is you can manage any driver of any Windows PC in your network from any one PC.
If you need more information, you can get the full documentation of DevCon and the download link at KB311272.
Related read: How to get a list of all Device Drivers using Command Prompt.