Cryptographic is a Microsoft Windows Service that encrypts and decrypts your data during data access. In this way, security is provided to the data by encryption so that even if a hacker steals the data, they won't be able to decipher it. However, users report that the Cryptographic Services is causing high disk and CPU usage, which is hampering the performance of their computers. In this tutorial, we will discuss how to fix this issue in detail.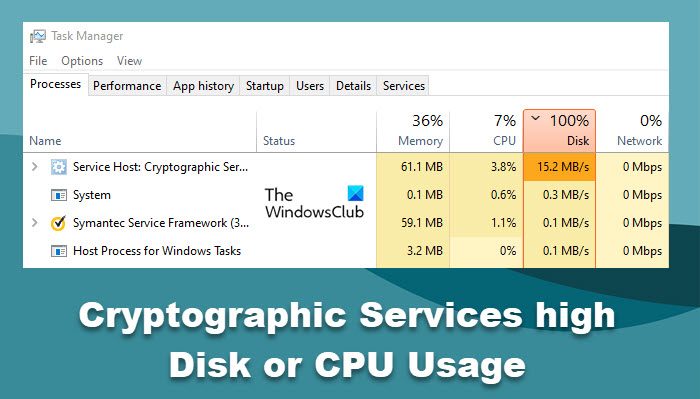 What does Cryptographic Service do?
Cryptographic Service is a legit Windows OS process that encrypts and decrypts the data on the storage. It is used to maintain the confidentiality of the data and secure it from stealing. So, when the service is enabled, even if a hacker steals your data, it won't be easy for them to decrypt it because it is encrypted.
It provides three management services: Catalog Database Service, which confirms the signatures of Windows files and allows new programs to be installed; Protected Root Service, which adds and removes Trusted Root Certification Authority certificates from this computer; and Automatic Root Certificate Update Service, which retrieves root certificates from Windows Update and enable scenarios such as SSL. If this service is stopped, these management services will not function properly. If this service is disabled, any services that explicitly depend on it will fail to start.
Fix Cryptographic Service high Disk or CPU usage
There can be many reasons for high CPU usage and high disk usage. If it is the Cryptographic Service that is causing this issue for you, use the following solutions:
Repair your System files
Reset the catroot2 folder
Scan for Malware and Viruses
Restart or Temporarily disable the Cryptographic Services
Troubleshoot in Clean Boot State.
Let us talk about the solutions in detail and see how you can execute them.
1] Repair your System files
Repair your Windows system files, to begin with. This will eliminate corrupted OS files as a possible cause.
2]  Reset the catroot2 folder
The Cryptographic service makes use of the %windir%\System32\catroot2\edb.log file for the updating process. Resetting or deleting the contents of the catroot2 folder has been known to fix this issue.
TIP: Our portable freeware FixWin allows you to reset this and most other Windows settings or functions with a single click.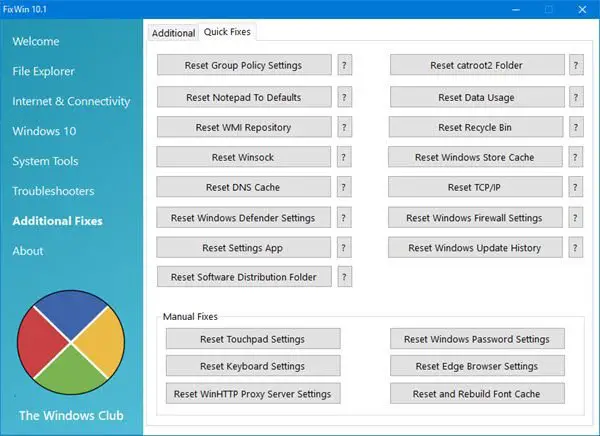 3] Scan for Malware and viruses
It is not uncommon for viruses to trigger a genuine process or look like a genuine process to cause harm to your system. The path to the legit exe file of this service is:
C:\WINDOWS\system32\svchost.exe -k NetworkService -p
If it is located elsewhere, it could be malware.
So scan your PC using your antivirus software to be safe.
4] Restart or Temporarily disable the Cryptographic Service
Cryptographic services use algorithms to encrypt and decrypt data, and this consumes a lot of resources.
We recommend you restart the Service and see if that helps.
Press Windows + R key to open the Run dialog box.
Type services.msc and then press Enter button.
Locate Cryptographic Service and right-click and then select Properties.
Now click on Stop and then on Start button.
We recommend you do not disable this service. But if you do wish to, you may do so temporarily to see if it helps.
Fix: The Windows Cryptographic Service Provider reported an error
5] Troubleshoot in Clean Boot State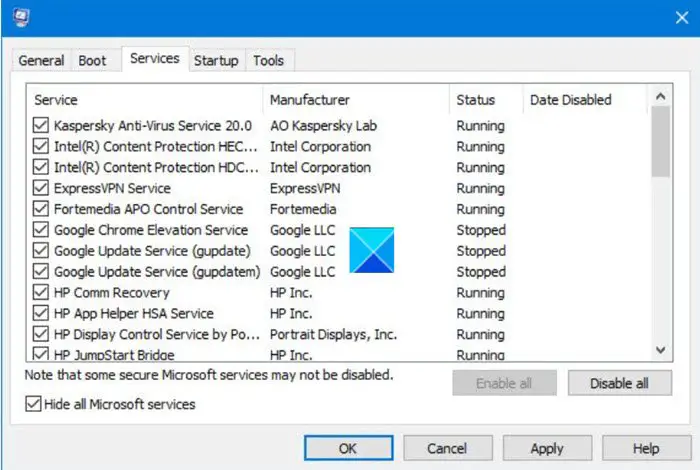 In the Clean Boot State, the computer will start with a minimal set of drivers and startup programs. All the third-party application processes and services are stopped from running and in this way, we can understand which process is causing the issue. So, perform Clean Boot and try to identify the offender manually if possible.
Disable/enable processes manually to find out which app is the culprit. Once you know which service is causing the issue, either leave it disabled or remove the app to which the service is related.
We hope that you can resolve the issue using the solutions mentioned in this article.
Read: Windows Error Reporting WerFault.exe high CPU, Disk usage
Why are my CPU and disk usage so high?
Your CPU and disk usage are high because a virus infects your system or the system files are corrupted. In that case, we recommend you check our guide on what to do when CPU and Disk usage are high.