Microsoft has finally rolled out the long-awaited Avatar for Xbox user profiles. These Avatars are not only beautiful, but they make sure Xbox gamers and users can actually project how they look in real life. It's an extremely personal touch for everyone! If you have the latest update on your Xbox One console, you should already be getting a pop-up asking you to set up. In this guide, I will give you walkthrough of how you can create an Xbox Avatar on Xbox for yourself.
Xbox Avatar Editor
When you are done creating the Avatar, instead of your profile showing up on your friend's Xbox Live, you can make your avatar fly by! What is even interesting to know is that Microsoft created this for everyone. You can pick your color, customize your arms and legs, strike a pose and so on.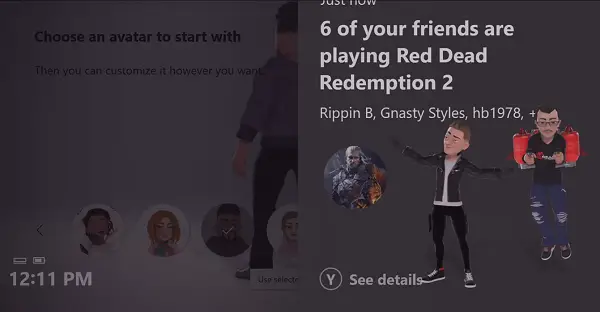 Create an Xbox Avatar on Xbox One
Instead of integrating an editor natively into the Xbox One OS, there is a separate Avatar Editor app.  If you are doing this for the first time, it will update itself first. Click on Get Started when it launches.
1] At the start, you will have a pre-selected avatar which you can change. Use your controller to different avatar profile. Press A to select it so you can see the preview on the screen. It's a full-fledged Avatar which you can rotate to see from every angle. if you rotate it long enough, the avatar will feeling dizzy and will express all kind of expressions!! Press on Use selected avatar to continue.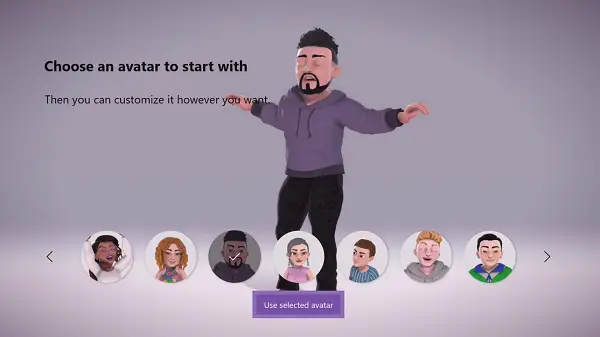 2] Now you can change the style of the Avatar by selecting a different kind of appearance, moods, photobooth, and closet dress.  What I really found awesome was that you can match your exact height, color, and body appearance. You get wheel where you choose from different skin tone which is so cool.
You can change from nose looks to eyebrows, different colors, and what not. And if you can't find something or want to do something special, there is an Avatar Store as well.
3] Avatar Store lets you purchase Avatar items or send them as gifts. It lists new entries, best rated, top paid, and top free Avatar items. Apart from this, the store also offers categorized options for Appearances, Clothing, and accessories. It's a huge market, and depending on festive seasons, you might see related stuff as well.
That said, Xbox Avatar is not new, but this update has made its worth. I would rather call it Avatar 2.0 which brings in so many features and delivers personalized touch, that it has left me impressed.
4] Not happy with your Avatar? You can create a new Avatar from scratch by going to Settings > Create new Avatar from within the app. However, you will lose your existing avatar and all the customization.
5] Lastly, you can choose how you want to appear on Xbox Live with your new Avatar. Click on and then you can choose between the old and the new avatar. You can see how much it has changed in the image we have below.
I am extremely happy with how the new Xbox Avatars look like. Now only if Microsoft can make sure to roll in Avatar Chat group or voice chat where they can talk to each other!!! Worth an idea! What do you guys think about?
Once you create an Xbox Avatar and enable, it will replace your gamerpic at many places.