If you want to create a custom Firefox profile with particular features enabled or disabled, you can use Firefox Profilemaker. It lets you create a Firefox profile with customized features so that you can enable a particular set of options at once. It allows you to download a custom profile that you need to replace in the Firefox installation directory to enable or disable certain features.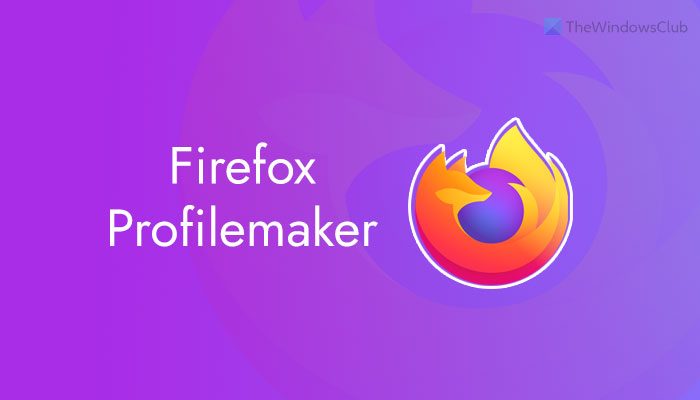 Let's assume that you need a Firefox profile with DOM storage, disk cache, browser pings, etc., disabled. At the same time, you do not want to use the Private browsing mode. Following that, you might want to enable all those features at one so that you can quickly check something on the internet. In such situations, Firefox Profilemaker seems to be a handy tool for you. It is a website from where you can download various files, including the one to replace your existing profile, addon list, etc.
How to create a custom Firefox Profile with Firefox Profilemaker
To create a custom Firefox Profile with Firefox Profilemaker, follow these steps:
Visit the ffprofile.com website.
Choose All Options or Private Browsing only option.
Go to Annoyances, Browser Features, Privacy, etc., tabs to enable or disable settings.
Click the Save & next button.
Click on the Download profile.zip option.
Unzip the content and copy them.
Open Firefox Profile directory in File Explorer.
Paste and replace the profile's files in the directory.
Restart your Firefox browser.
To know more about the aforementioned steps, continue reading.
At first, you need to visit the official website of Firefox Profilemaker. Upon visiting, you get two options in the Start tab – All Options and Private Browsing only. You need to select one option from the drop-down list.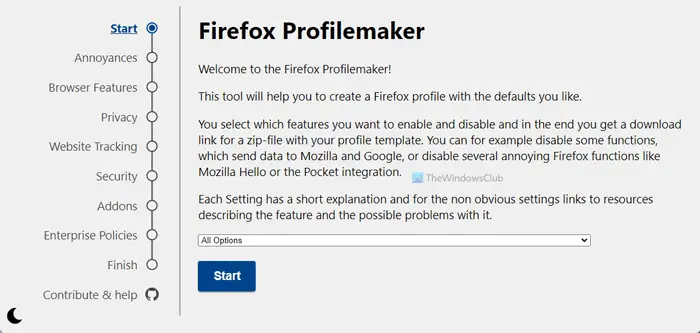 If you choose All Options, you can manage each setting as per your requirements. However, if you choose the Private Browsing only option, you will get comparatively fewer options. For this particular example, we are selecting the All Options menu.
Here you can find the following tabs:
Annoyances: It comes with a few options to disable Firefox intro tabs on the first start, enable/disable Pocket, etc.
Browser Features: From here, you can enable or disable Telemetry, health reports, shield studies, Crash Reports, DNS over HTTPS, etc.
Privacy: This tab lets you turn on or off Offline Cache, DOM storage, IndexedDB, WebGL, Link Prefetching, etc.
Website Tracking: If you want to enable or disable Do-not-Track, Mozilla Trackingprotection, firstparty isolation, Browser Pings, etc., you can find those options here.
Security
Addons: This tool lets you enable or disable certain addons according to the settings. For example, it comes with CanvasBlocker, HTTPS Everywhere, Privacy Badger, Cookie Autodelete, etc. You can select any of those addons to be installed.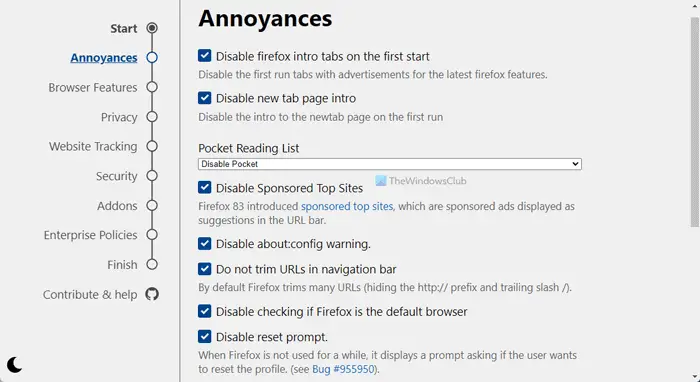 At last, in the Finish tab, you can find several options to apply the changes you have selected. The best way is by downloading the profile files. For that, click on the Download profile.zip option.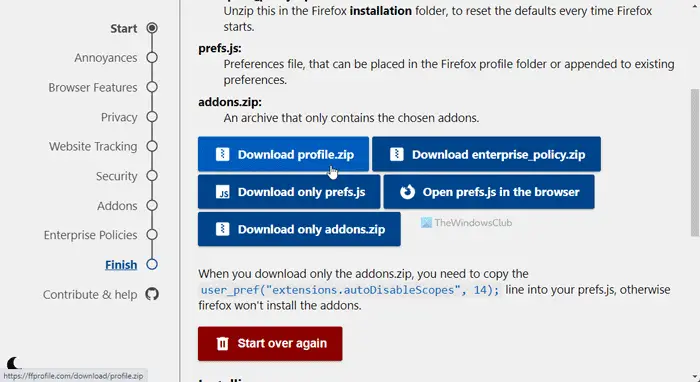 Once the download is complete, unzip all the files and copy them. Next, you need to open the Firefox profile directory. For that, press Win+R, and type this command:
%APPDATA%\Mozilla\Firefox\Profiles\
Here you need to open the current Firefox profile and paste all the items you copied earlier.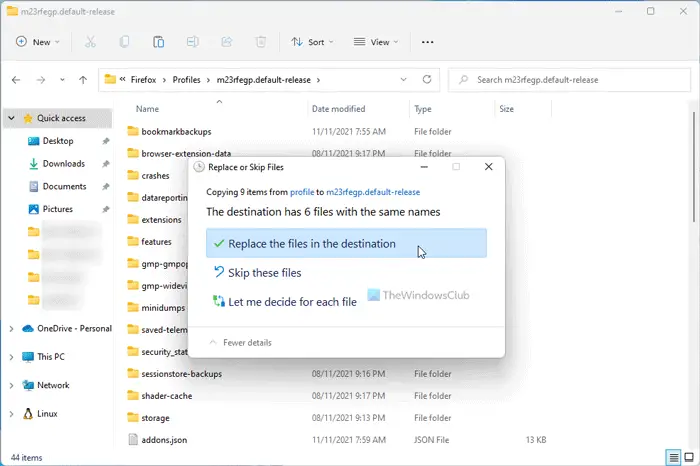 Next, restart the Firefox browser to get all the changes.
How do I start a specific profile in Firefox?
To start a specific profile in Firefox, you need to open the Firefox browser and enter this in the address bar: about:profiles. Here you can find all the profiles added to your Firefox browser. You need to click the corresponding Launch profile in new browser button.
How do I create multiple profiles in Firefox?
As of now, it is not possible to create multiple profiles at once in Firefox. However, if you want, you can create one profile at a time in the Firefox browser. You need to open the Profile Management panel in the browser and click on the Create a New Profile button. Following that, you can name your profile, choose your directory to store data, etc.
That's all! If you like, you can visit the official website at ffprofile.com.
Read: How to disable access to Profiles in Firefox in Windows.