The advent of computers and the Internet has changed the way we write. Digital writing is fast gaining acceptance in today's digital world. Among a few of the innovative technologies explored, digital writing occupies a prominent space. Microsoft has embarked on a mission to make this experience more innovative and unique. As such, it has decided to expand its Pen support through the new Windows Ink experience.
Windows Ink experience is just another change in name that the software giant uses to refer to the existing pen support, with new improvements added. For example, you could use your pen to annotate screenshots but you have to configure its settings first. So, let us in this post learn how to configure Pen shortcuts & Touch settings in Windows 10 Anniversary Update.
Pen shortcuts & Touch settings in Windows 10
First, open Settings > Devices. Here, you can see a new option – 'Pen and Windows Ink' added to the 'Devices' section.
Now, for configuring the shortcuts, open the Windows Ink Workspace. Under 'Click Once' heading, select 'Click once to open my Windows Ink Workspace notes even when the device is locked'. This setting enables you to open your Workspace even if the device is locked.
The "Double-click" and "Press and hold"  options that can be seen below the 'Click Once'. The Double-click action enables a user to send screenshots to note-taking apps like OneNote, and the "Press and hold" action fires up Cortana, instantly. You can change these settings here.
In addition to the above, you can adjust how accurately your screen should respond whenever you decide to use a pen or finger. To change this, enter 'Pen and Touch'  in the search box. Select the Action and then click on the Settings button. Next, you will be able to calibrate and configure settings for Pen and Touch.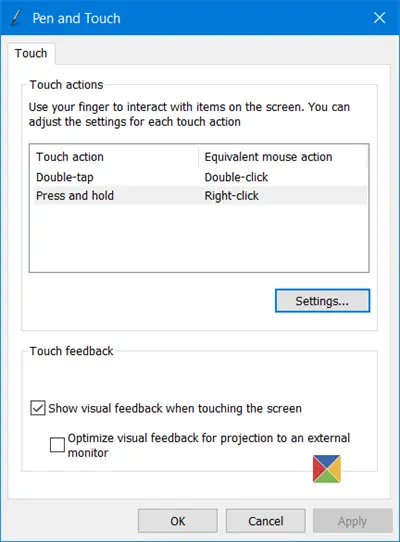 The settings available are:
1] Single click 
2] Double click – Under this, you can adjust how quickly you can tap a screen when you double-tap. You can also adjust the distance the pointer can move between tapping when you double-tap.
3] Press and hold – Here you can adjust the amount of time during the press and hold to perform a right-click action.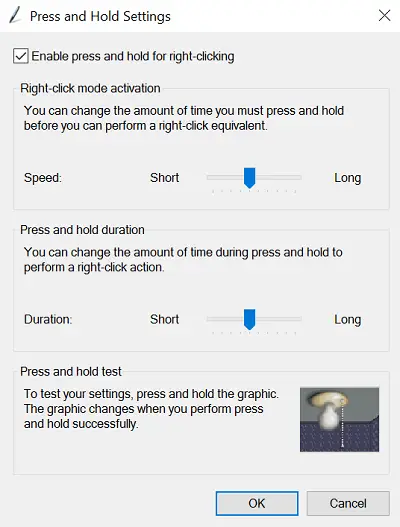 Thus, the Pen shortcuts and Touch settings let you personalize your pen experience, even more, to assure you do not miss out on the settings that rightly fits your needs.
TIP: You can also disable Pen and Touch actions if you wish to.
Now will see how you can use Windows Ink Workspace for a personal Pen experience.