If you have recently received an error message A component of the operating system has expired with error code 0xc0000605, here are some possible solutions that may help you fix your problem. This problem can occur at different times. For example, if you have recently made any change in the BIOS, you might confront this issue. It can also appear if your system has produced some unwanted changes automatically.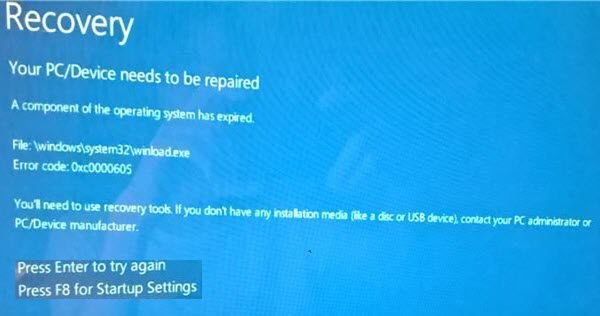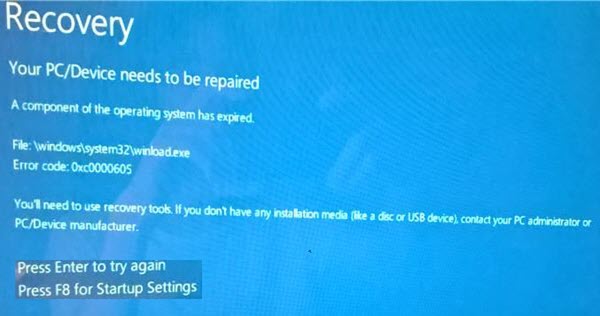 Winload.exe or Windows Boot Loader is started by the BOOTMGR boot manager process and is used by the Windows OS to load essential device drivers, etc. If this gets corrupted, you may receive this error.
A component of the operating system has expired
1] Run Startup Repair
When on the Blue Screen, press F8 to enter Startup Settings. If you cannot start your computer or you can use your PC for a few moments, you should run Startup Repair, which can fix startup related issues within moments. If you are using Windows 7, you can follow this tutorial.
2] Reset BIOS
If you have recently changed something in BIOS and then you have started getting this error message, you should revert the change. However, if you have made multiple changes and you do not remember the exact changes, you should reset BIOS.
Read: An unexpected I/O Error has occurred, Error code 0xc00000e9
3] Run System File Checker
System File Checker replaces bad system files with good system files. It is quite easy to run this command-line tool on Windows. Open Command Prompt with administrator privilege and execute this command-
sfc /scannow
It will take some time and restart your computer to fix possible corruptions.
4] Repair Windows System Image

Run DISM or Deployment Imaging and Servicing Management. It can also help you troubleshoot this issue on Windows 10. For that, open Command Prompt and execute this command-
Dism /Online /CheckHealth
It will search for missing components and try to fix them automatically.
Related: Fix Winload.efi file is missing error on Windows 11/10
5] Reset Windows 11/10
Windows has an option to reset the system without losing any files. Instead of deleting all the documents and media files, it can reset all the system settings and files. Do follow this tutorial to reset Windows 11/10.
6] Repair the OS
You can repair the Windows OS using installation media.
7] Run Blue Screen Troubleshooter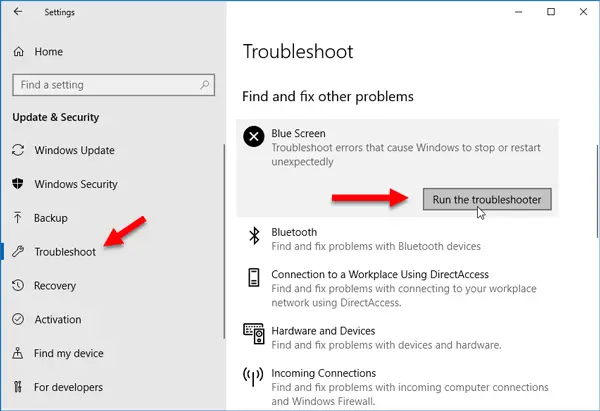 In Windows 10, you can find an inbuilt Blue Screen Troubleshooter in Settings Troubleshooters Page. To run it, press Win + I to open Settings panel, and go to Update & Security > Troubleshoot. On your right-hand side, you can an option called Blue Screen. Open the troubleshooter and follow the 0n-screen options. You may need to boot your computer in Safe Mode.
That's all! Hope they would be helpful for you.