Many gamers reported that their screen color saturation changes when playing a game. This makes them uneasy as the change in color is not aesthetic at all. One of the reasons for this peculiarity is that the display driver is unable to render colors properly. In this post, we will check what you can do if your monitor color changes while playing a game.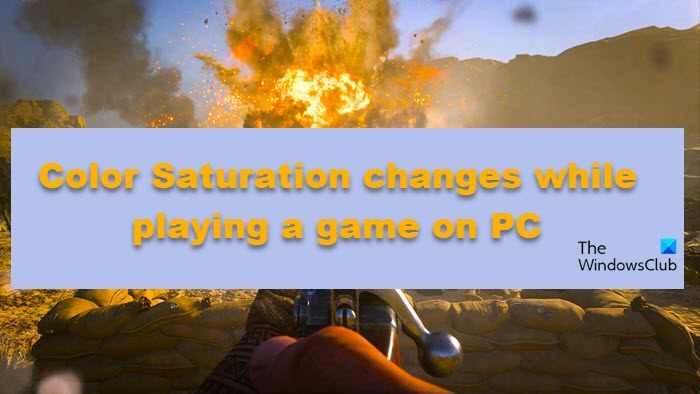 Fix Color Saturation changes while playing a game on PC
If Color Saturation changes while playing a game on your computer, first of all, reboot your computer. This will allow it to reconfigure itself and, hopefully, do the job. In case, the color keeps changing even after restarting, follow the solutions mentioned below to resolve the issue.
Update or reinstall display drivers
Disable Auto HDR
Recalibrate color settings
Select a different color setting in the game
Repair the game files
Let us talk about them in detail.
1] Update or reinstall display drivers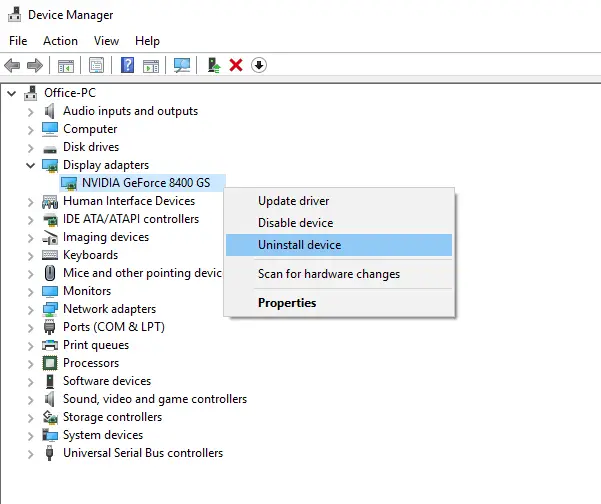 Let us first start by updating your graphics drivers. If you leave the driver outdated for a long time, some applications, including games, tend not to support it. That is why, you must keep your drivers up-to-date. So, go ahead, update your Display driver, and check if the issue is resolved.
In case, the issue is not resolved, we need to reinstall the display drivers. To do the same, follow the steps mentioned below.
Open Device Manager from the Start Menu.
Expand Display Adapters.
Right-click on the display driver and select Uninstall device > Uninstall.
Note: Your screen will go black for a few seconds.
Once your screen appears again, right-click on Display Adapters and select Scan for hardware changes. 
This way, Windows will scan for the correct driver and install it. In case the driver is not installed, download it from the manufacturer's website.
2] Disable Auto HDR
Windows has a feature called Auto HDR, that improves the display quality of some games using machine learning. In case, the feature is broken, has some bug, or is not supporting that particular, you will experience peculiarity. That is why, to resolve the issue, we need to turn off Auto HDR. Follow the steps mentioned below to do the same.
Open Settings by Win + I.
Navigate to Display.
Go to HDR.
Now, disable Use HDR and Auto HDR.
This should do the job for you.
3] Recalibrate color settings
Next up, let us recalibrate the color settings of your computer. Sometimes, the display itself is saturated, and once a game launches with a different color profile, colors appear really saturated. So, let us recalibrate color settings using the settings mentioned below.
Search out "Color Calibration" from the Start Menu.
Now, keep on clicking Next until the Adjust gamma screen appears.
So, adjust the gamma and click on Next.
Follow the on-screen instructions to complete the process.
Now, search out "Color Management" from Start.
Go to Advanced and then to Change System Defaults.
Select an ICC profile and click on Set as Default Profile.
Finally, reboot your system, open the game, and check if the issue is resolved.
Read: How to configure the best HDR settings for gaming
4] Select a different color setting in the game
Many games tend to have a built-in color setting that increases the saturation of the game. You can go into the game's settings, and check if there is a color profile that's pleasing to your eyes.
Read: Color Calibration keeps resetting in Windows 11
5] Repair the game files
If nothing works, the last thing we need to do is repair the game files. You don't have to reinstall the game to repair it; instead, verify the integrity of game files using your launcher.
We hope you can resolve the issue using the solutions mentioned in this post.
Read: Best Windows 11 Gaming Settings
How do I fix the color saturation on my monitor?
If your monitor's color saturation is slightly off, you can pretty easily calibrate the screen. You can check the third solution mentioned earlier to learn how to calibrate your screen. In case, you don't want to do that, restore default Display Color settings.
Read: Best Gaming Browsers for Windows PC
Is saturation good for gaming?
Some games tend to increase the saturation, whereas, some of them, increase the saturation of some of the components of the game. They do this to make it easier for our eyes to spot their targets. However, the developers do include various color settings. Go through the game settings to select a different one.
Also read: Windows computer shuts down while gaming.