If Chrome tabs are not showing names or text, this article will help you. The problem occurs when a user is trying to load a page or settings but is unable to see names or text in the tabs or in the address bar. Some users have reported that the issue occurs when they update Google Chrome. This is a strange issue, but we have working solutions for you.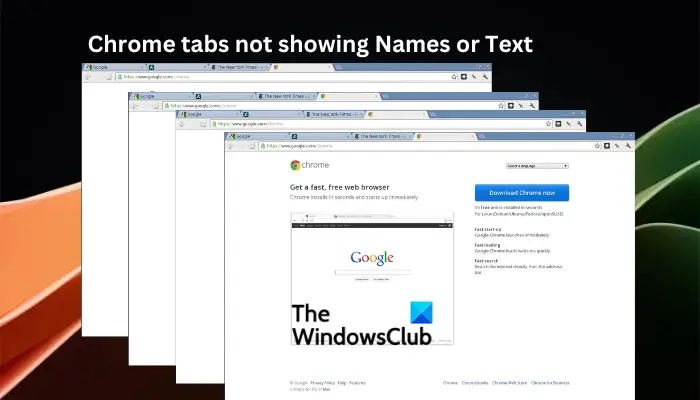 Google Chrome commands over 60% of the browser market share, and if there is an issue affecting a portion of the users, then a solution needs to be in place immediately. The idea of switching to another browser is not an option because you get exceptional experience in Chrome; hence, we need to fix the problem quickly.
Why are Chrome tabs not showing names or text?
A user can open dozens of tabs in Chrome, and they need to see names in the tabs to help them switch from one site to another. The following causes could be the reasons why the Chrome browser is not showing names or text in the tabs.
Problematic extensions. There are some Chrome extensions that interfere with how Chrome works. They can cause various issues, including tabs not displaying names or text.
Incorrect preferences and configuration. Of course, the wrong settings can cause the Chrome tab not to show names or texts. You might not know where this happened, and you can resolve it by resetting your Chrome settings.
There could be other causes for this error that are browser- or account-specific. We will give you solutions that will cater to all these issues shortly.
Fix Chrome tabs not showing Names or Text
If Chrome tabs are not showing names, the text is not displaying in the URL address bar, or whatever you type in the address is not showing; try the following solutions to fix the issue successfully.
Start with preliminary steps
Disable extensions
Temporarily disable security software
Try another Google account profile
Reset Chrome settings
Reinstall Google Chrome
Let us now look at these solutions one by one in detail.
1] Start with preliminary steps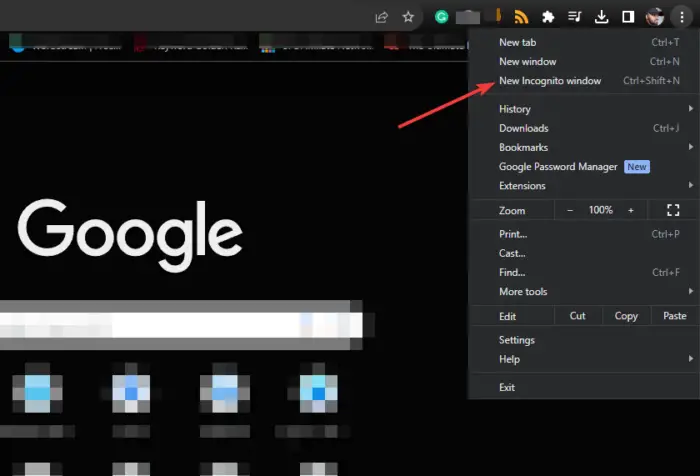 Before performing advanced solutions, we recommend that you do the following;
Restart your browser and load the websites again.
Open a new Incognito window to determine if the third-party cookies are causing the issue. If tabs are showing names and texts in Incognito mode, you can now clear browsing data.
Reload your pages and see if you are still encountering the issue.
Close all other programs running in the background or open Chrome in Safe Mode in Windows.
If you continue to experience the error, try other solutions below.
2] Disable extensions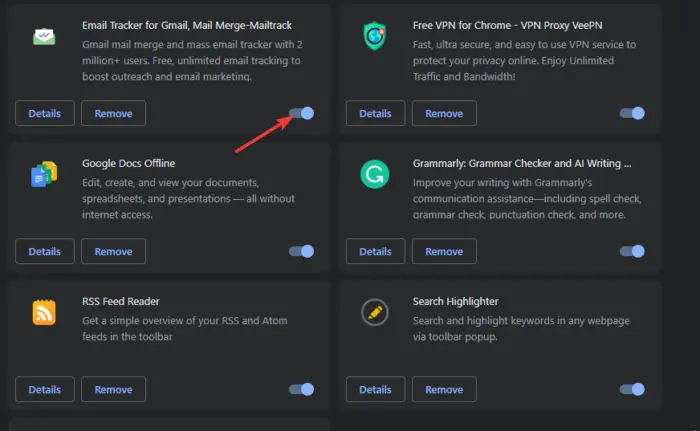 Disabling Chrome extensions ensures that none are interfering with how Chrome works. This is a trial-and-error solution because you have to disable one at a time to determine which one is causing the issue. But, you can start with those that seem suspicious, especially those you recently installed.
Type chrome://extensions/ in the URL address bar and press Enter on your computer keyboard. Toggle off the button next to each extension at a time while testing if you can view the names and text in Chrome tabs.
3] Temporarily disable security software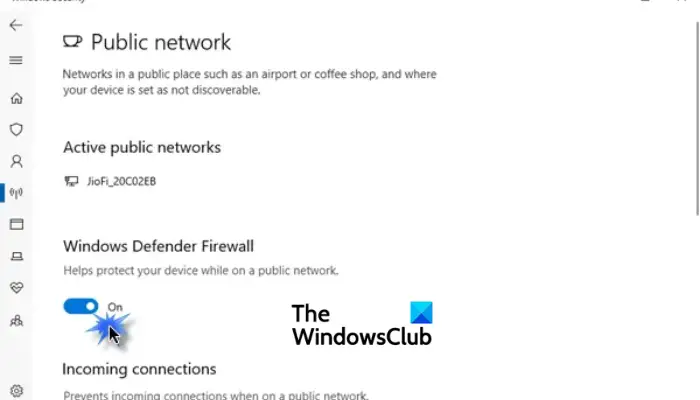 Security apps like antivirus and antimalware programs may have built-in settings that cause Chrome tabs not to show names and text. To check, you need to disable them and re-enable them after a short while.
Turning off the firewall or disabling Microsoft Defender on your Windows computer is not advisable unless it is temporary to troubleshoot issues.
4] Try another Google account profile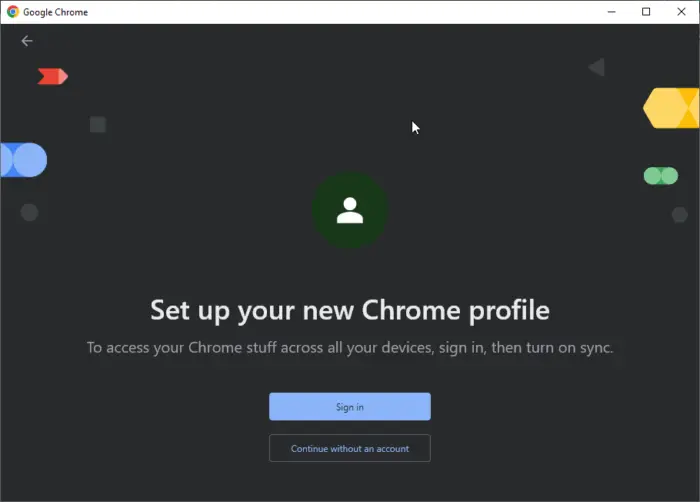 Using or creating another Google account profile is a good way to determine if your account is corrupted or has other issues causing the problem. This is not a solution, but it will help you decide to contact Google Support if your account is the culprit.
5] Reset Chrome settings
When you reset Chrome settings, you disable some Chrome shortcuts, turn off extensions, and clear all temporary site data and cookies. However, resetting does not delete history, bookmarks, saved auto-fills, or passwords. We recommend that you perform this solution to fix Chrome if it's not displaying names and text in the tabs. To do this, follow the simple steps below:
While in the Chrome window, click the three dots next to your profile picture.
Locate and click on Settings.
Scroll down and select Reset settings.
Click on the Restore settings to their original defaults.
A new wizard will appear; select Reset settings.
6] Reinstall Google Chrome
If no other solution works for you, including updating Chrome, you can reinstall it. First, you need to remove it from your Windows PC and then install it again. To do this, follow the steps below;
Uninstall Chrome
Open the Windows Settings app by pressing the Windows button + I.
Select the Apps option, and on the left side, select Apps & features.
Next, locate and click on Google Chrome, and then select Uninstall.
Install Chrome
We hope you have fixed the Chrome tabs not showing names or text on your PC.
Fix: New Tabs not opening or loading in Chrome
Why is Chrome showing boxes instead of text?
Chrome is showing boxes instead of text because it is corrupted, there is a bug, or browsing data is damaged. To fix this, restart your browser, clear the cache and cookies, or reset Chrome settings to the original defaults.
Fix: Chrome tabs open or reload automatically
How do I restore Chrome tabs?
To restore Chrome tabs, click on the three dots on the top right side and hover the cursor over History. Closed tabs will show up and to restore them you only need to click. You can also use the shortcut Shift + Ctrl + T. When it shuts down incorrectly, it will give you a notification to restore tabs the next time you launch the browser.