If you are a Windows 11/10 user and your device supports biometric sign-in options, like Facial and Fingerprint Recognition, you may receive a full-screen notice after signing into your Windows device. This full-screen notice contains the message "Choose if you want to keep signing in with your face or fingerprint." By displaying this full-screen notice, Windows will ask you to select a method to sign in to your device. This article discusses what this full-screen message is about and what you can do after receiving this message.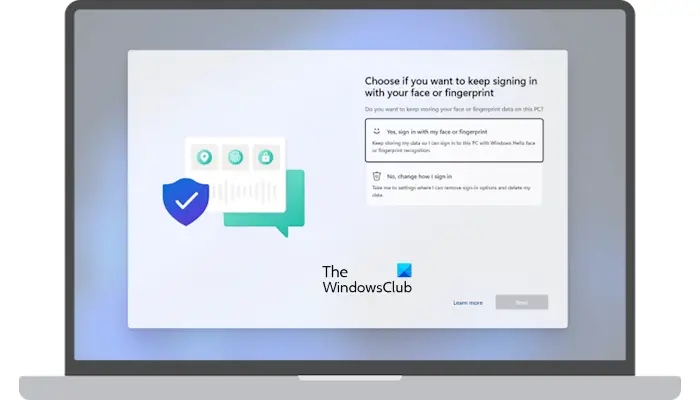 The complete message is followed by a question:
Choose if you want to keep signing in with your face or fingerprint.
Do you want to keep storing your face or fingerprint data on this PC?
Choose if you want to keep signing in with your face or fingerprint
Windows 11/10 computers offer different types of sign-in options to users. Windows Hello is among these signing options. It is a more personal and secure way to get instant access to your Windows 11/10 devices via PIN, Facial recognition, or Fingerprint Scanning. Users whose computer systems support Facial or Fingerprint recognition technologies may receive this prompt after signing in to their devices.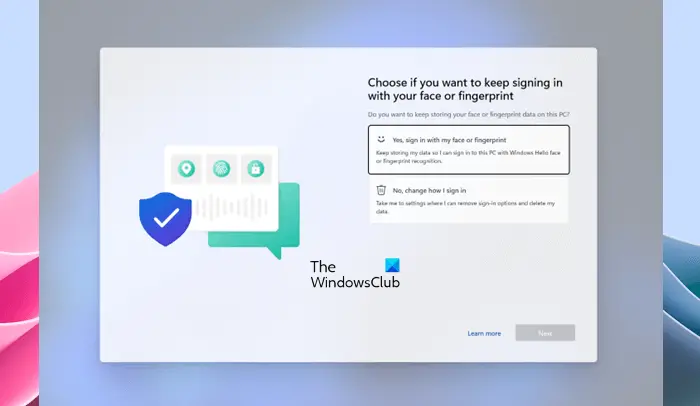 It is a full-screen prompt. Hence, it cannot be minimized or closed. If you receive this prompt, you have to select one of the following options:
Yes, sign in with my face or fingerprint. Keep storing my data so I can sign in to this PC with Windows Hello face or fingerprint recognition.
No, change how I sign in. Take me to settings where I can remove sign-in options and delete my data.
After selecting any one of the above-mentioned options, click Next. If you select the first option and click Next, you have to do nothing after that. However, Windows may ask you to scan your Finger or Face to sign in to your device.
If you select the second option, Windows will open the Settings app. Here, you have to follow additional steps to change the way you want to use to sign in to your Windows computer.
You can also change the sign-in options later in Windows 11/10 Settings. For example, if you want to remove Fingerprint Recognition, follow the steps provided below: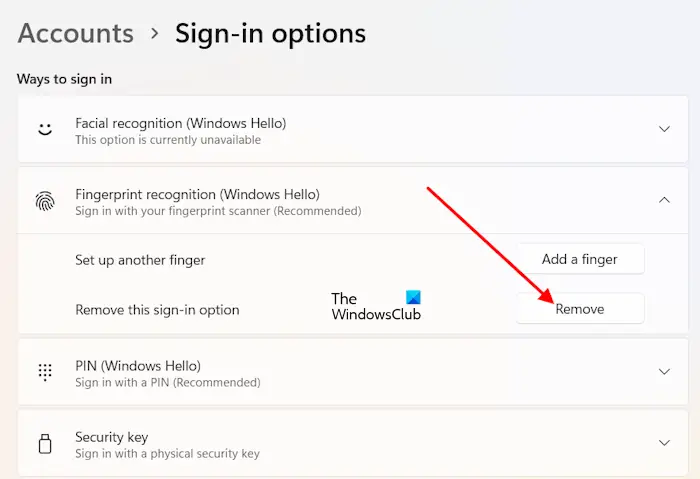 Open Windows 11/10 Settings.
Go to "Accounts > Sign-in Options."
Click Fingerprint recognition (Windows Hello).
Click Remove.
When you will receive this full-screen prompt
You will see this full-screen prompt after signing in to your system in any of the following two scenarios:
You have recently updated or upgraded your system to the later version of Windows 11 or Windows 10.
You have not signed in to your system for over 1 year by using Windows Hello with Face or Fingerprint recognition, and have installed the Windows Updates released on 13 June 2023 or later.
That's it. I hope this helps.
What is Windows Hello fingerprint?
Windows Hello fingerprint is the technology used to sign in users to Windows devices by scanning their fingerprints. Users can add fingerprints of more than one finger. After setting up Windows Hello fingerprint, place your finger on the fingerprint scanner on your device to sign in.
How do I enable fingerprint logon in Windows 10?
You can enable Windows Hello Fingerprint recognition on Windows 11/10 via Settings, provided your device should have a fingerprint scanner. Open Settings and go to "Accounts > Sign-in Options." Select Fingerprint recognition to set up fingerprint login on your device.
Read next: Fingerprint Reader not working in Windows.