This post will show you how to change the Drive letter in Windows 11/10. For each hard drive partition, a letter like C, D, E, etc., is assigned automatically. If you want to change or rename some drive letter, then you can try any of the simple options covered in this post.
Change drive letter in Windows 11/10
There are 5 different ways covered in this post to change or rename a drive letter in Windows 11/10. These are:
Using Command Prompt
Disk Management
PowerShell
Registry Editor
Drive Letter Changer software.
1] Using Command Prompt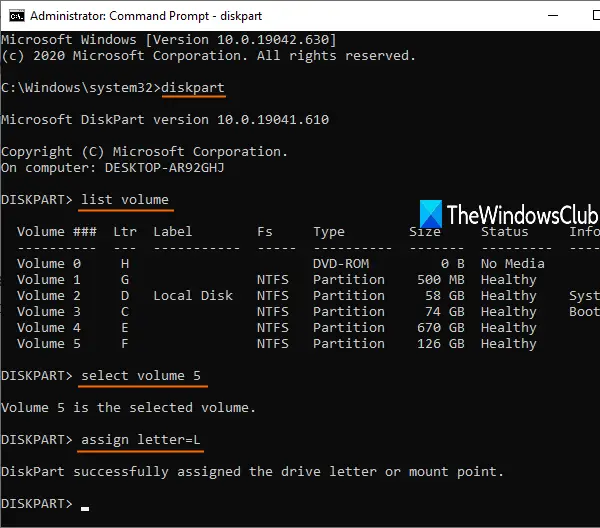 Follow these steps to change a drive letter using CMD or Command Prompt window:
Type diskpart command and hit the enter key
Execute list volume command to see the list of all hard drives including their volume numbers and letters
Run select volume 5 command. Replace 5 with any other volume number for which you want to change the drive letter
Execute assign letter=L command. Here again, replace L with any other alphabet.
This will change the drive letter immediately.
If the Drive letter is missing or hidden, then you can try some easy options to fix such an issue and then see the newly assigned letter.
2] Using Disk Management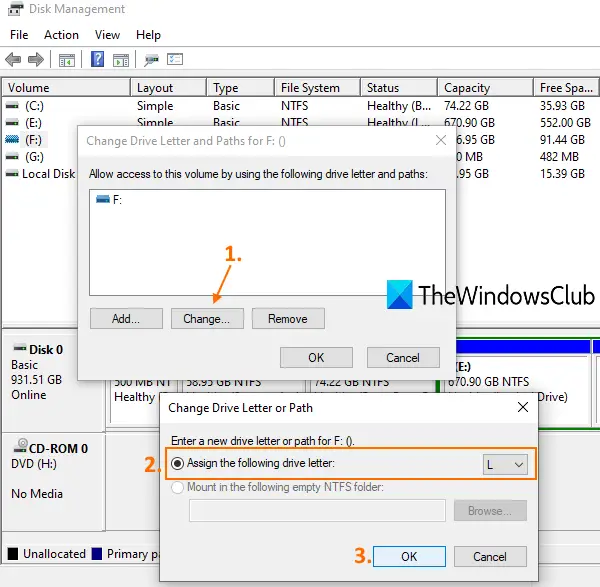 Type diskmgmt in the Search box and use the Enter key.
In the Disk Management window, the list of all volumes or drives, volume type, capacity, free space, etc., are visible. Right-click on a volume and use Change Drive Letters and Paths option.
A small box appears. Here, use the Change button, and another box will open. Now you can select the new letter using the drop-down menu and press the OK button.
Finally, confirm the change using the Yes button.
Read: How to Show Drive Letters first before Drive Names.
3] Using PowerShell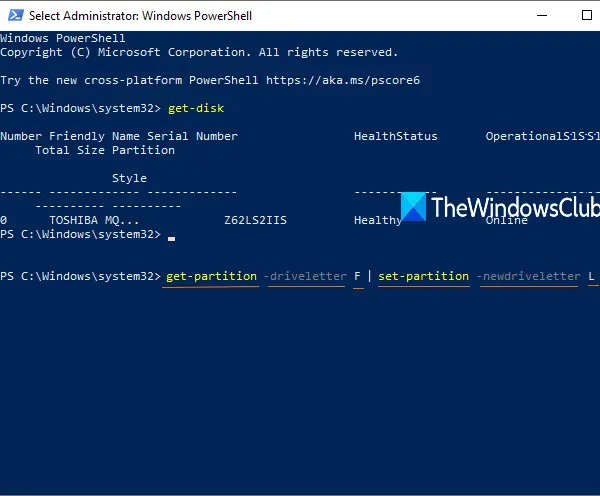 This option is also useful to change drive letters, but it doesn't show volume numbers and letters. So, you first need to check which drive letter you want to change. After that, use these steps:
Run elevated PowerShell window
Now execute this command:
Get-partition -driveletter F | set-partition -newdriveletter L
Make sure to replace F and L with your actual drive letter and new drive letter.
4]  Using Registry Editor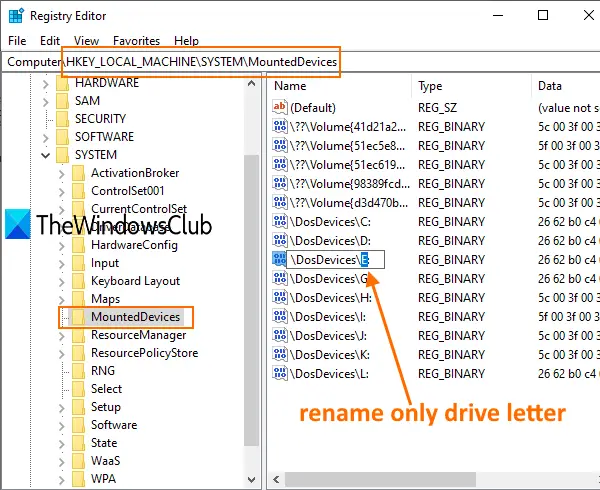 This method requires a PC reboot after applying the changes. The steps are:
Launch Registry Editor by typing regedit in the Search box.
Go to MountedDevices Registry key. Its path is:
HKEY_LOCAL_MACHINE\SYSTEM\MountedDevices
On the right section, you will see DWORD values like \DosDevices\D: for all the hard drives along with drive letters. Right-click on a value and use the Rename option.
You need to only rename the drive letter with a new letter and leave everything as it is. For example, change \DosDevices\D: with \DosDevices\L: and save it.
5] Using Drive Letter Changer software
Drive Letter Changer is a free and portable tool. If you want to try some freeware to change drive letters in Windows 10, then this tool is nice. This tool also shows which letters are already assigned to other hard drives and which letters are available or free.
Grab this tool and execute its EXE file to launch its interface. It will show the list of all the drives. Select a drive and it will show the Change drive letter menu. Access that menu and the list of assigned and free drive letters will be visible to you. Select a letter and confirm your action using the Yes button to change the drive letter.
You can also use this tool to directly open the Disk Management window, Restart File Explorer, etc.
Hope these ways will help you easily change drive letters in Windows 11/10.
Related read: How to change Drive Icons in Windows 11/10.