If you are unable to or cannot move desktop icons in Windows 11/10 then this post is sure to help you. In this post, we will show how to fix the issue. Like many users, you might have also faced this issue that when you drag n drop some desktop icon(s) or shortcuts from one place to another, the icons aren't moved and bounced back to their original positions and Windows automatically arranges desktop icons.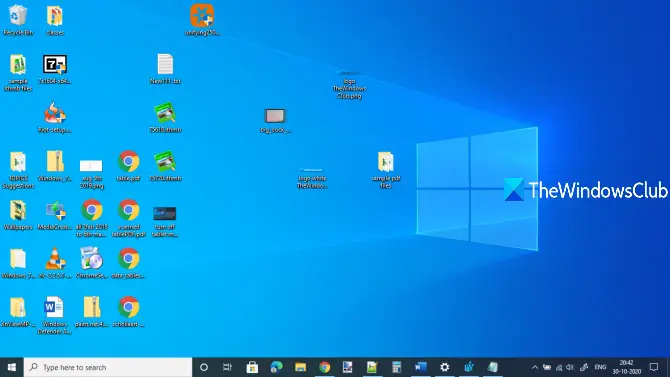 Can't move desktop icons in Windows 11/10
Here are a few things you could try to resolve the issue:
Test the mouse or touchpad
Uncheck Auto arrange icons
Uninstall any desktop organizer software
Reset Folder Options
Change Display Resolution
Set scaling size for text, apps, etc
Change desktop icon size
Change icon spacing using Registry
Turn off Allow themes to change desktop icons
Update Graphics Driver.
1] Test mouse or touchpad
This basic test is helpful to check if your mouse or laptop touchpad is working fine. You will be able to find if the left and right mouse buttons and middle-click or scroll wheel is working or not.
Open Notepad and then write some text. After that, select that text using the left mouse button, and do a right-click to check if you're able to open right-click context menus. You can also scroll up and down to test your mouse wheel. If all the buttons are working, your mouse or touchpad is OK. Otherwise, you should change your mouse.
2] Uncheck Auto arrange icons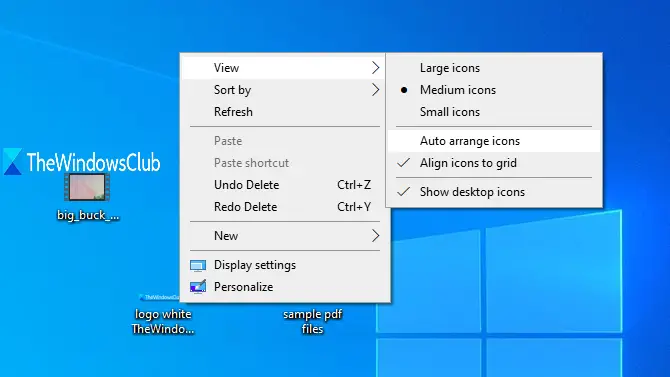 This is the most likely reason behind the error when Windows users are not able to move desktop icons. When the auto-arrange option is turned on, the icons are moved to their positions automatically as soon as you try to change their positions. You can turn it off using the following steps:
Right-click on an empty area of the desktop
Access View menu
Uncheck Auto arrange icons option in the context menu.
This should solve your problem.
3]  Uninstall any desktop organizer software
If you have installed some third-party software to organize desktop shortcuts and icons, then that might be the reason that you can't move icons on the desktop in Windows 10. So, you should uninstall that software and reboot your PC to check if the problem is solved.
Open Settings app using Win+I hotkey and access Apps & features section to find and uninstall such a program.
4] Reset Folder Options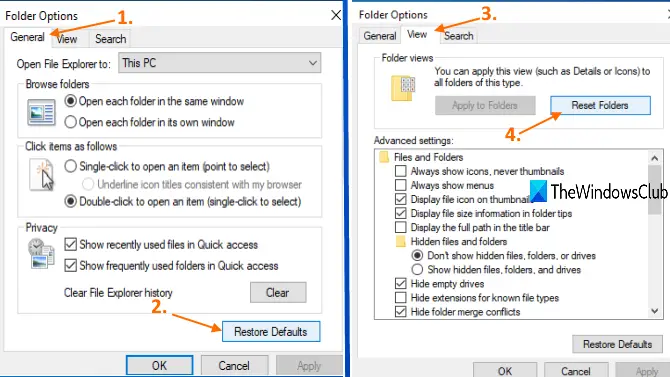 This method is also helpful to solve this issue for many users. What you need to do is reset Folder options to default mode. For that, use these steps:
Open This PC using Win+E hotkey
Access View menu and click on Options
In the General tab of the Folder Options box, click on Restore Defaults
In the View tab of Folder Options, click on the Reset Folders button
Press Apply and OK buttons to save the changes.
Read: Desktop Not responding or Frozen
5] Change Display Resolution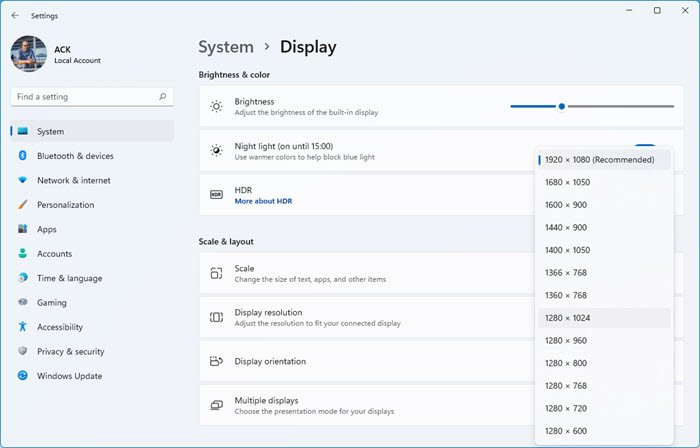 To do this:
Open Windows 11 Settings
Click on System settings
Select Display from the right side
Scroll down till you see Display resolution
From the drop-down select the screen resolution you want.
Windows 10 user?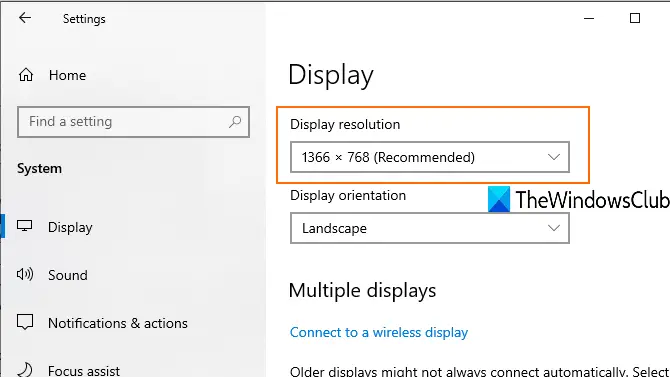 Access Settings app (Win+I), go to System category and open Display page. There you will be able to change the display resolution. Set the resolution to the recommended size.
6] Set scaling size for text, apps, etc.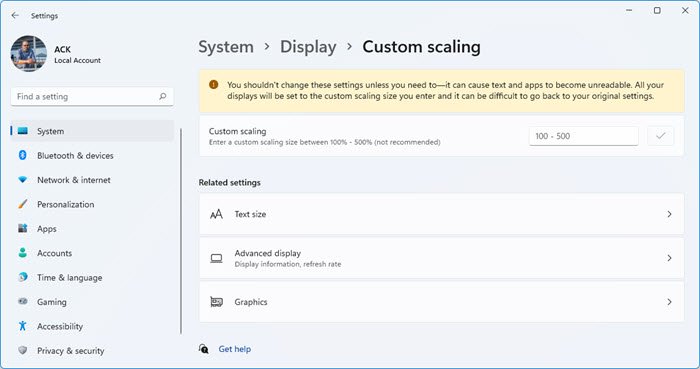 (Windows 11)
Changing the scaling size for text, apps, and other things might also help in fixing this issue. Open the Settings app and access the Display page. On the right-hand part, set scaling to 100% (Recommended) size for text, apps, etc.
If desktop icons not moving using the recommended scaling, then you can set custom scaling. For that, click on the Advanced scaling settings option and enter a custom scaling size between 100%-500%.
In Windows 10 the Settings are here-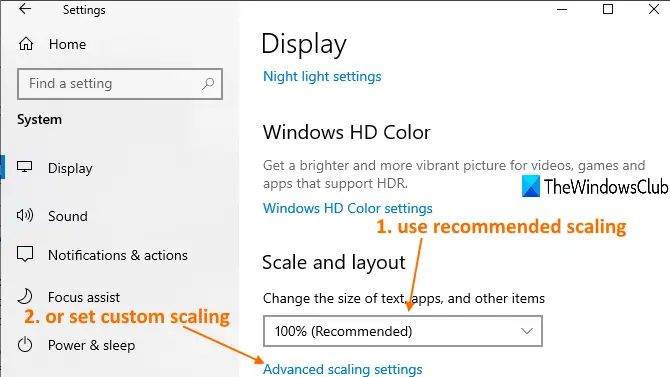 And here-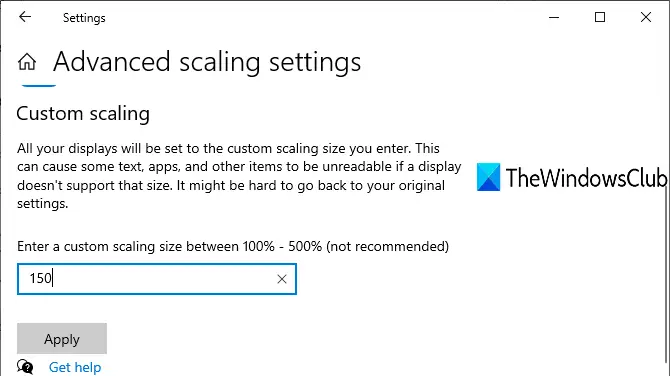 Apply the settings, sign out, and sign in again to your Windows 10 PC to see the change.
7] Change desktop icon size
If there are a lot of icons on the desktop and their size is set to large, then those desktop icons cover the entire desktop. In that case, you are not able to move desktop icons. So, simply change their size to medium or small. For this, right-click on the empty area of the desktop, and access the View menu to change the size.
8] Change icon spacing using Registry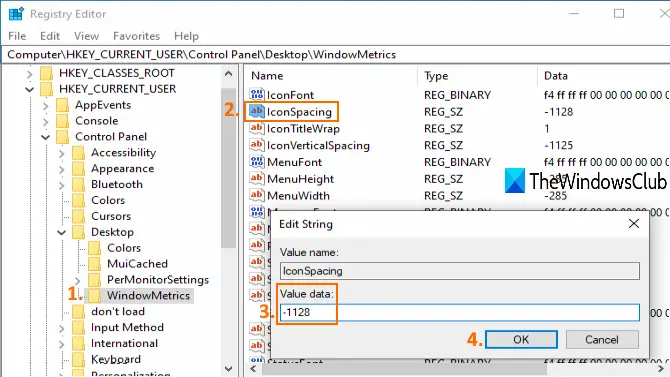 If there is too much spacing set between desktop icons, then also icons won't move. For such a case, you need to use Registry Editor to change icon size for desktop shortcuts. As it is a Registry tweak, you should create a system restore point or backup Registry to overcome unwanted changes.
Open Registry Editor and then access the WindowMetrics key. The path is:
HKEY_CURRENT_USER\Control Panel\Desktop\WindowMetrics
On the right section, double-click on the IconSpacing string value. Note down the default value data (which is -1128) so that you can use it later. Now enter any value between -2730 and 480. The higher the value, the larger will be icon spacing. Set value data and save it.
Now restart your PC to apply the changes. You might need to change values multiple times until you get the correct spacing for your desktop icons.
9] Turn off allow themes to change desktop icons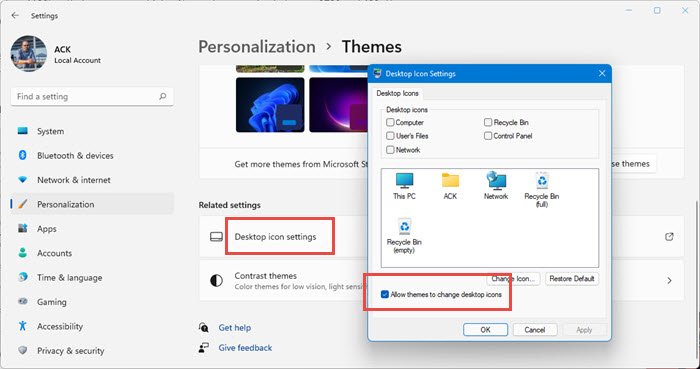 It might be possible that some theme installed on your Windows 10 PC is causing the trouble that you are not able to move desktop icons. So, you should prevent themes from changing desktop icons by accessing Desktop Icon Settings.
This is how it looks in Windows 10: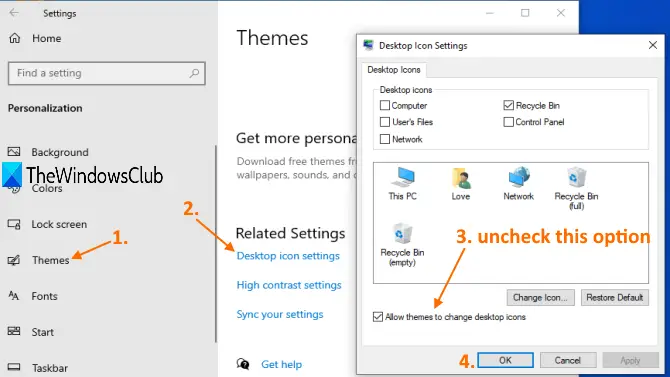 10] Update Graphics Driver
If your Graphics Drivers are outdated, this can also cause the problem that desktop icons are not moving. So, you should update Graphics Drivers that might solve this problem.
These are the options that have helped users to fix this problem. Hope some of these fixes will help you too.