The Drag and Drop feature in Windows OS is used to move or copy files or folders from one location to another. If for some reason, it stops working, then performing some of the primary functions becomes difficult. If drag and drop is not working and you are not able to move or drag-and-drop files or folders in Windows 11/10, then here is what you need to do to fix the problem.
Can't drag and drop files or folders in Windows 11/10
If you can't move or drag and drop files and folders in Windows 11/10, then one of these solutions is sure to help you:
Push the Esc key and see
Troubleshoot in Clean Boot State
Change Drag Height and Width
Disable UAC using Registry.
Let us see these suggestions in detail.
Drag and drop not working in Windows 11/10
1] Push the Esc key and see
One of the users in our forum reported that pressing the Esc key before performing a drag and drop resolves the problem. In his case, it seemed that there was an application in the background that blocked drag and drop. Pushing the Esc button released that lock.
So you may click on any file with the left mouse button and keep the button held down. Then press the Escape key.
The solution has been known to fix the Windows drag-and-drop function issue. Do it for the file/folder you want to move on the computer.
Next, you need to check on all the background applications. If they are related to keyboard or hotkeys, then you may have to remove it or disable it.
Read: How to move Files and Folders in Windows 11/10
2] Troubleshoot in Clean Boot
Perform a Clean Boot and again check if the issue gets resolved or stays. If it does, then it is some program in the startup which is interfering with the smooth functioning of Windows. In the Clean Boot state, try to identify the culprit and disable or remove it.
3] Change Drag Height and Width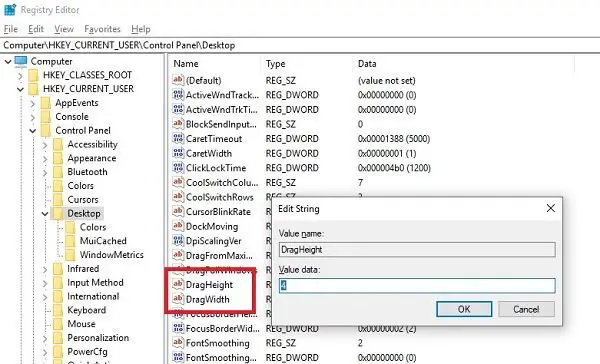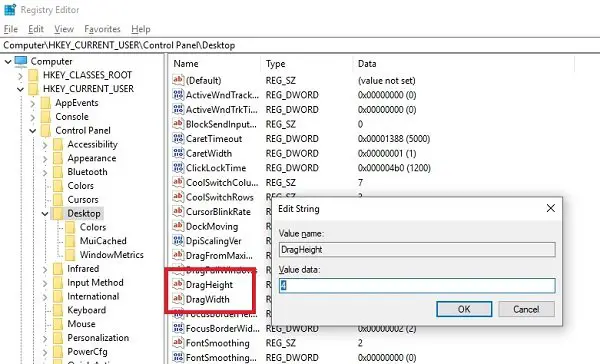 Open Registry Editor and navigate to the following key:
HKEY_CURRENT_USER\Control Panel\Desktop
On the right pane, choose to modify both DragHeight and DragWidth values.
Change the value to a very high number. Make it, say, 50.
These values are nothing but pixel size for drag and drop. Increasing the size might help.
4] Disable UAC using Registry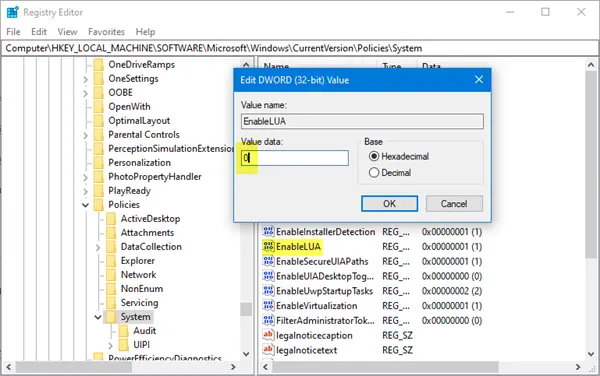 If you cannot drag and drop files or folders, then editing this Registry key may also help you. Open regedit and navigate to:
HKEY_LOCAL_MACHINE\SOFTWARE\Microsoft\Windows\CurrentVersion\Policies\System
Change the value of EnableLUA from 1 to 0.
This will disable UAC and so can only be e temporary measure.
If none of this helps, you may want to Run System File Checker and DISM with a click, using our freeware Ultimate Windows Tweaker.
We hope these tips were easy to follow and that you could enable Drag and Drop in Windows 11/10.
This post will help you if Outlook Drag and Drop attachments is not working.
Related reads:
Tweak Windows to show no content while dragging
How to disable drag and drop in Windows.