Yeti from Blue is one of the best-selling value-for-money Microphones. If you are someone who records podcasts, you have your audio recording studio, or you are a YouTuber, Blue's Yeti is a great choice for you. Many users often find that their Yeti microphone does not work properly. This might be occurring due to several factors. These factors are both software as well as hardware-based. Let us check them out one by one.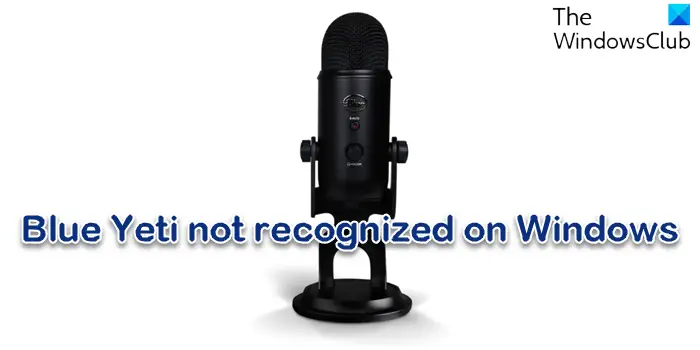 Blue Yeti microphone not working, detected or recognized
If Blue Yeti Microphone Drivers are not detected, recognized or installed on your Windows 11/10 computer, follow these sugestions to fix the issue:
1] Set Blue Yeti as Default Device
Open Sound settings box
Navigate to the Recording tab.
Locate Blue Yeti microphone
Right-click and select Set as Default Device.
Click Apply and OK to confirm the changes.
Reboot your computer
See if this has helped.
2] Check for software issues
The only constraint that comes up when a plugged-in hardware device is not working properly is the driver issue. So, first of all, we need to make sure that it is detected by the computer or not.
To do that, just right-click on the volume icon in the system icons list. And then click on Sounds.
Or you can just simply search for Sounds in the Cortana Search Box and then click on the result called as Sound, and that is targeting to the Control Panel.
Now from the group of tabs, click on Recording tab. Then make sure that the default microphone selected is the Yeti.
The normal configuration would look as in the screen snippet below-
If that looks fine, try speaking something to check if the volume level bar is showing any activity or not. If it is not, try checking the physical buttons and dials on the microphone itself. And then check if that works for you.
Alternatively, you can check by installing other free software like Audacity.
3] Check for hardware issues
For this, there is not much that you should be doing. You can just try to connect and disconnect the microphone physically and check if you find any improvements. If this does not help you will have to take it to the technician.
4] Run Recording Audio Troubleshooter

Run Recording Audio Troubleshooter and see if it can fix the problem.
5] Reinstall Blue Yeti's Drivers
If you do not find your default microphone as the Yeti, you can try to re-install the drivers. Make sure that you select the Audio inputs and outputs. And then select your Yeti microphone.
You will have to first Uninstall the driver and then either allow Windows to reinstall them automatically or download the audio drivers from Blue's website.
All the best!